About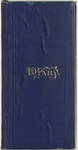 A collection of diaries and reminiscences from Sandy Spring community members. As you explore you'll find travel logs and ledgers, childhood memories and daily activities, some dating as early as 1823.
Works
Original, bound diary of William W. Moore used from January to December 1916 to record daily activities largely related to farm enterprises including a daily record of farm staff. Social visits and various personal matters also recorded.
Collaboration is restricted.
362 pages: 32% complete (45% transcribed, 12% needs review)