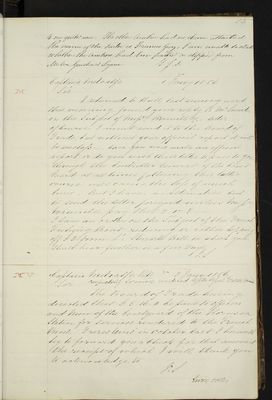 15 [ ] [ ] quite new. The other Anchor had no chain attached The name of the sailor is [ ] grory, I am unable to state whether the anchors had been [ ] or slipped from [ ] [ ] [ ] and [ ] G.J.S.
Captain Metcalfe 1 [ ] 1856 Sir
I returned to Hully last evening word this morning found your reply to Mr. [ ] on the subject of [ ] [Bramble?] of.s letter. of [course? ] I must send it to the Board of Trade but without your official report it will be [useless? ]. Can you now make an official report or do you wish their letter to pass to you through the Controller General of the Coast Guard at all times following this latter course, will cause the [loss? ] of much time. but I have no alternative but to send the letter forward unless [M ? ] Bramble pay the [ L?] 2..17.3 I have an order on the subject of the French Fishing Boat reducing or rather lopping off [L? ] 3 from L [ ] [ ] [ ] Bill on which you shall hear further in a few Days. J. [ ]
Captain Metcalfe [N M] 3 [Jany} 1856 respecting Services rendered to the [ ] [ Freres?] [Uins? ] Sir The Board of Trade having directed that [L] 5.. 16..[0?] be paid to officers and [mens?] of the coastguard of the [Ho4msea] Station for services rendered to the French Vessel "Freres [ Uins"] in October last I herewith beg to forward you a check for the amount the receipt of which I will thank you to acknowledge to J. [L?] turn over
Last edit over 2 years ago by
Jackie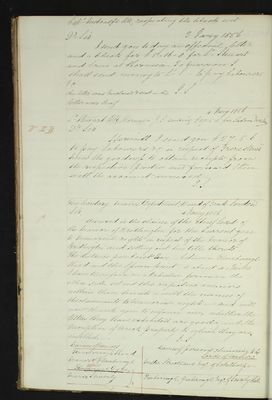 Cap'-Metcalfe [RN?,] respecing the check sent
Dr Sir 3 [January? 1856]
I send you today an official letter and a check for [L] 5..16 - 0 for [L '?] [ ] and [Creco?] as Hormsea To [Issorroso] J shall send money [lo-L'- ?] to pay [labourers?] [T?] C this letter was [enclosed?] I sen in the [J.?] S letter over leaf
4 [January] 1856
L'-Stewart [D.N.?] Hornsea J. [S.?] sending L 27.5.6 for [Laborers?} on [Fretes?Unis?]
Dr Sir
Herewith I send you L 27.5.6 to pay Labourers [? ?] in respet of Freres [Unis] have the [ goodness?] to obtain receips from the respective [parties?] and forward them with the account [annected?] [J.L.?]
The Secretary Marine Department Board of Trade London Sir 4 [January?] 1856
[Anneted?] is the [claims?] of the Chief Lord of the Manor of Bridlington for the current year to [Imorial? rights in respect of the Manor of Bridlington and setting out his title thereto The distance per Coast line, - between Flamborough Head and the [Spurnpoint?] - is about - 40 miles I have therefore in a [tabouler?] forms on the other sides set out the respective [manors] within those limits - with the names of the claimants to Manorial rights - and will now thank you to inform me whether the titles they have [etbibided?] are good and the Description of Wreck property to which they are, [entitled] [J.S.?] Names of Manors Names of persons claiming to be Flamborough Head Lords of Manors Manor of Flamborough Walter Strickland Esq. of Cokethorpe Flamboroyal Dyke Yarborough,Yarborough Esq. of [Seroerby?]Hall Manor [Severby?]
Last edit over 2 years ago by
Jackie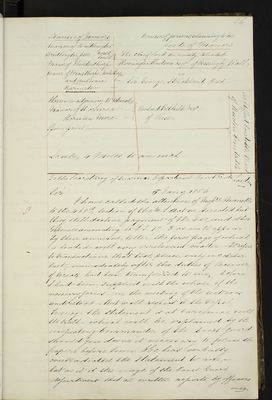 16 Names of Manors homes to persons claiming to be Manor of Biridlington Lords of Manors Bridlington pier - north south Manor of [Heilderthorpe?] The chief lord annually selected Manor of Braisthorpe,[Wilsthorpe?] Herrington Hudson Esq.of [Bessingby?]Hall and aubourn Sir George Strickland Bart [Barmston?]
Hornsea adjoinging to [Atricke?] Sir Clifford Constable Bart Manor of Hornsea Richard Bethell Esq. of Burton Constable
[Spoon? ] Joint of [Rise?]
Scales and Miles to an inch
To the Secretary of [ Marinae] Department Board of Trade London Sir 5 [January] 1856
I have called the attention of [Megs?] Bramble to the 468th section of the M.S. act as directed but they will decline payment of the Fee and other Expenses amounting to L [2?]:17:3 as will appear by their [annexed?] letter the first page of which is loaded with very irrelevant matter. [Hafers?] to transactions that took place early in October [last?] immediately after the duties of Receiver of Wreck had been transferred to me before I had been supplied with the whole of the necessary forms - on the working of the act is as understood-But with respect to the [Vefel?] [hancy?] the statement is at Variance with the truth - which will be explained by the inspecting Commander of the Coast - guard should you deem it necessary to place the papers before him. He has verbally contradicted the statement to me but as it is the usage of the Coast Guard department that all written reports by officers over
Last edit over 2 years ago by
Jackie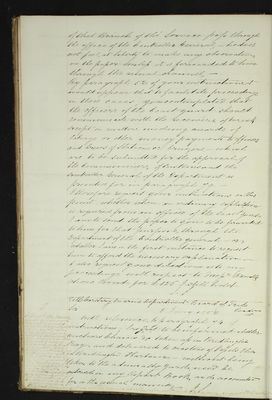 of that Branch of the Service [pap?] through the office of the Controller General - he does not feel at Liberty to make any observations on the paper [unlef?] it is forwarded to him through the usual channel - By paragraph 52 of your instructions it would appear that to facilitate proceedings in these cases, you contemplate that the officers of the Coast guard should communicate with the receivers of wreck expect in matters involving [awards] of Salvage or other money payments to officers and [brews?] of stations or [bruezers?] which are to be submitted for the approval of the Commissioner of Customs and the Controller General of the Department as provided for in paragraph 79. I therefore request your instructions on this point - whether when an ordinary explanation is required from an officer of the Coast guard I am to send the paper to you to be forwarded to him for that purpose through the Department of the Controller general or whether I am in the first instance to request him to afford the necessary explanation I also request your directions as to my proceedings with respect to [Mefs?] Bramble whose bonds for L15 I still hold [J L?]
To the Secretary [Marnie?] Department - Board of Trade London Sir 5 [January] 1856
With reference to paragraph [7? 4] of instructions; I [request] to be informed whether anchors chains [ ?] taken up in Bridlington Bay and delivered to Masters of Vaples then in Bridlington [Harbor?] without being taken to the [admirally?] yards need be [antered?] in my Report Book and [accounted?] for in the usual manner [J.L.?]
Last edit over 2 years ago by
Jackie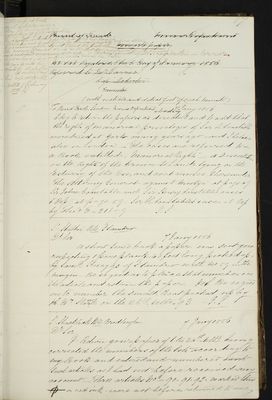 (with initials and date at foot of each minute) 7 [January 1856]
To Board Trade London Marine Department to Secretary
I beg to return the papers as directed and to add that the rights of [manorial] privileges of Sir C. Constable were tried at York many years ago and I believe also in London. The cases are referred to in a Book entitled, [Memorial?] Rights - a dissertation on the Rights of the [brown?] to Lands lying on the Estuary of the [Dee?] and coal mines there under The Attorney General against [Inostya?] at page [6?]9 Sir John Constable and Sir Henry Constable's cases 5 Rep at page 59. Sir H. Constable's cases - 5 Rep by [Tho J F?]-218-9 [J.L.?]
[L'-Llutbin Rh Flambro?] 7 [January[ 1856 Dear Sir
A short time back a paper was sent to you respecting 1 pine plank 40 feet long picked up by Sam [A?] Knapps of Flambro with [no?] 5 q in the margin. Be so good as to place that number on the article and return the paper. [?] Be so good as to number the small Boat picked up by H [?] Stork on the 26th. [Ulto=q 3?] [J.?]L.
L'- Shackloak [R.M?][Bradlinglon?] 7 January 1856 Dear Sir
[I?] Return our paper of the 26th .[??] having corrected the numbers of the lots according to my Book and entered and numbered {} Such articles as I had not before received any account. Three articles [nos.?] - g0 -g1-g2. Marked thus {o?} in red ink - were not before returned to me
Last edit over 2 years ago by
UVA School of Law Library