1923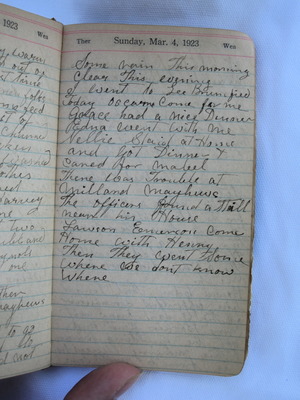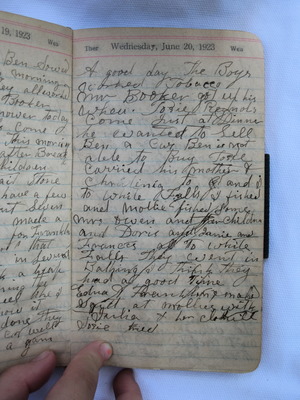 Last edit over 6 years ago by
dy957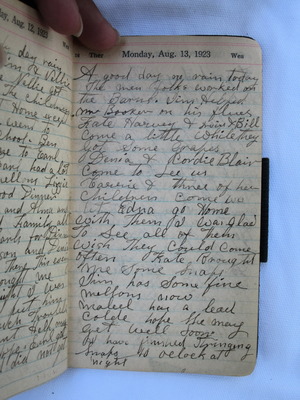 A good day. No rain today. The men folks worked on the barns. Jim helped Mr. Booker on his flues. Kate Harvey and Irvin and Bill come a little while. They got some grapes. Denia and Cordie Blair come to see us. Carrie and three of her children come. We let Edna go home with them. I was glad to see all of them. Wish they could come often. Kate brought me some snaps. Jim has some fine mellons now. Mabel has a bad colde. Hope she may get well soon. I have finished stringing snaps. 10 oclock at night.
Last edit over 6 years ago by
Ben Brumfield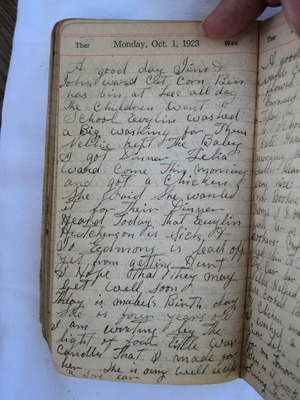 A good day. Jim and John Ward cut corn. Ben has bin at Lees all day. The children went to school. Evylin washed a big washing for them. Nellie kept the baby. I got dinner. Lelia Ward come this morning and got a chicken. She said she wanted it for their dinner. Heard today that Evylin Hutcherson is sick. Jo Edmons is bad off yet from getting hurt. I hope that they may get well soon. Today is Mabels birth day. She is four years old. I am writing by the light of four little wax candles that I made for her. She is very well except a sore ear.
Last edit over 6 years ago by
Ben Brumfield