Pages That Need Review
1855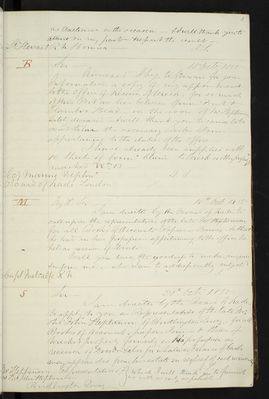 2
as Auctioneer on the occasion - & I will thank you to attend on my [part?] & report the result -
L.J.
Lt. Stewart R L Hornsea
15 Oct. 1855
Sir -
Annexed I beg to forward for your Information a copy of my appointment to the office of Receiver of Wreck, for so much of this Port as lies between [Spurn?] Point & [Flambro?] Head in the room of Mr Stephenson lately deceased - & will thank you to cause to be sent to me the necessary Books & Forms - appertaining to the duties of the office -
I have already been supplied with 10 sheets of form "Claim to Wreck or other property", marked Wm 13-
J.S.
Sect Marine Deptmt Board of Trade London
Marginalia: B
18th. Oct 1855
[My?] [d?] Sir -
I am directed by the Board of Trade to call upon the representatives of the late Mr Stephenson for all Books of Accounts Papers, Forms - &c that he had in his possession appertaining to the office he held as receiver of Droits.
Will you have the goodness to make inquiry & inform me, - who I am to address on the subject
J.S.
Capt Metcalfe R.N.
Marginalia: VI
20th. Oct. 1855
Sir -
I am directed by the Board of Trade to apply to you as Representative of the late Mr [Mr?] John Stephenson of Bridlington Quay, for all Books of account, papers Forms & [?] of Wreckes property formerly in his possession as receiver of Droits & also for whatever balance of Cash may appear due from his estate in respect of such receivership which I will thank you to furnish me with as early as possible -
J.S.
Mr Stephenson - Representative of [?] Mr John Stephenson Bridlington Quay
Marginalia: S
Last edit almost 2 years ago by
Siobhan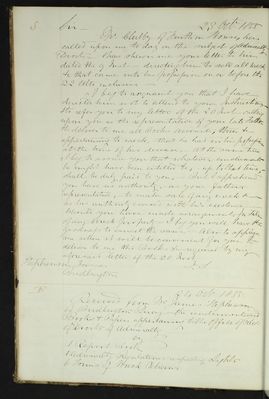 23 Oct. 1855
Sir -Mr. Clubby of [Firth?] on [Howser?] hascalled upon me today on the subject of Admiralty[Drorts?] thus shewn me your letter to him dated the 9 Inst - directing him to sell all wreck &c that came into his possession on or before the22 [?] inclusive -
I beg to acquaint you that I havedirected him not to attend to your Instructions, -[?] refer you to my letter of the 20 Inst - calling upon you as the representation of your late Fatherto deliver to me all Books Accounts, Notes &cappertaining to wreck, that he had in his possessionat the time of his decease, - at the same time I beg to assure you that whatever emolumentshe might have been entitled to, - up to that time, -shall be duly paid to you, - But I apprehendyou have no authority, - as your fathersrepresentative, - to make sale of any wreck &cas his authority ceased with his existence -should you have made arrangements for Sale of any wreck property - I beg you will have thegoodness to cancel the same - Also to apprizeme when it will be convenient for you to deliver to me the Books &c required by myaforesaid letter of the 20 Inst
J.S.
Stephenson JamesBridlington
Marginalia: S
24 Oct 1855
Received from Mr James Stephensonof Bridlington Quay the undermentionedBooks & Papers appertaining to the Office of Recr.of Droits of Admiralty
viz1 Report Book
1 Admiralty Regulations respecting Sights
6 Forms of Wreck Returns
Marginalia: B
Last edit about 1 year ago by
Susan R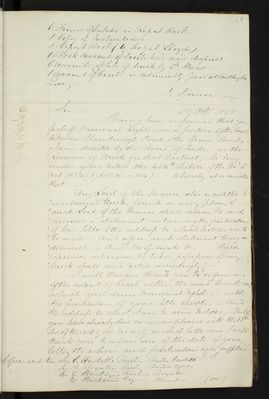 3
6 Forms of Entries in Report Book 1 Copy of Instructions 1 Report Book to Secy at Lloyds) 1 Book account of [Droits?] recd and [disposal?] 6 Accounts of Sale of Wreck by Lt. Stewart 1 Account of [droits?] in [Admiralty Zan at Bridlington?] [Quay?]
J. Sparrow
---------------------
Marginalia [6 / C?] B S B [H / II?] Y
29 Oct. 1855
Sir -- Having been informed that you possess Manorial rights over a portion of the Coast between Flamborough Head & the [Spurn Point[s?,] --- ?] I am directed by the Board of Trade, -- as the Receiver of Wreck for that District, -- to bring under your notice the 454th Section of the [M. S?] Act of 1854 (17 & 18 _?_ c 104) -- Whereby it is enacted that
"Any Lord of the Manor who is entitled to "unclaimed Wreck, found on any place [etc. / &c?] -- "such Lord of the Manor shall deliver to such "Receiver a statement containing the particulars "of his Title & the address to which notices are to "be sent -- and upon such statement being so "delivered -- and Proof made [etc. / &c?] -- such "Receiver whenever he takes possession of any "Wreck shall send notice accordingly," --
I will therefore thank you to inform me of the extent of Coast within the said limits over which you claim Manorial rights, --with the particulars of your Title thereto, -- and the address to which I am to send notices, -- Unless you have already done so in compliance with the [10th?] Sec of the act 9 & 10 [?] -- in which latter case I will thank you to inform me of the date of your letter & to whom such particulars were supplied J.S. Copies sent to - [Sir C Constable ? Burton Constable] [Sir H. Boynton ? Burton Agnes] [Sir ?. Strickland ? Boyton] [W. Strickland Esq. Flambro] - (over)
Last edit almost 2 years ago by
David Kaminski