Pages That Need Review
Index
Books & Forms - from Board of Trade 2 " recd from Mr Stephenson 3-4 Boynton Sir H - Bt as to Manorial Rights 3Bethell R. Manl Rights [?] Bramble [?] repecting Expenses 19 Bramble [?] 20.21.22.23 Bramble respecting anchor &c 148/1855 24, 28 Barron Mr Patrington Haven 26 Brambles & Son to [furnish form ?] 8. 50 Brambles & Son acknowledgement £2.16.11 1/2 53 Bell W.S. Principal Off Selby to obtain Signature of Mr Standering for Boat 84 Buckle W.H.Esq. Post Office Order for Owner of Vessel "Pet" for a Boat 92. Brown & Atkinson Messrs respg Vessel "Stockton Packet" 122 "Benjamin" Vessel. Letter to Captn Palmes Bridlington 136 " Form W R i a transmitted 136 "Beta" Vessel 127 Bethel Richd Esqr Rise Park Wreck Claims for 153. 156. 157
Last edit 20 days ago by
A.Commoner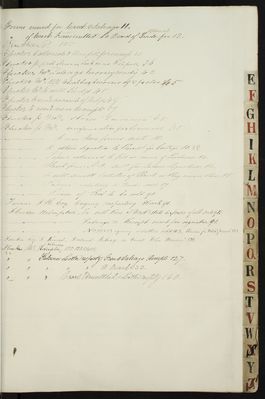 Forms [?] for Wreck & Salvage 11 2 of Wreck transmitted to Board of Trade ^ approval for 12 Flucker P. [10?] Flucker to all wreck & their fill forms up 31 Flucker p. first item in List so as [?] 36 Flucker Mr Falsage money ready 42 Flucker Mr [?] What has become of 2 poles 45 Flucker Mr to sell kedge 48 Flucker to send account of kedge 49 Flucker to send new Receipts 57 Flucker P. Mr stores "Lorinia" 68 Flucker P [?] compensation for Services 68 " to use new forms sent 80 " to obtain signature to receipt for Cartage 80. 82 " Papers returned to fill in name of Purchaser 84 " Wreck forms [? ] sent for [Saloors?] Signatures 84 " to sell small Article of Wreck as they come on Shore 85 " Papers relating to Goods sold 87 Farrar I.H Esq. Enquiry respecting Wreck 91 Flucker Holmpton, To sell Piece of Mast I state Expenses of all sorts 91 " " Salvage &c Receipt sent for signature 91 " " Nos 22 & 23 equiry whether sold 103 Claims for Watch Vessel 121 Fenton Esq J Kinsale, Ireland Salvage on Vessel "John [Meness?]" 121 Flucker Mr {Holmpton} ^ Kilnsea, 122, 123, 124, 125 " Kilnsea respectg Iron & Salvage Receipts 127 " " " " a Board 132 " " " Vessel "Almathea" Letter respectg 140
Last edit 18 days ago by
A.Commoner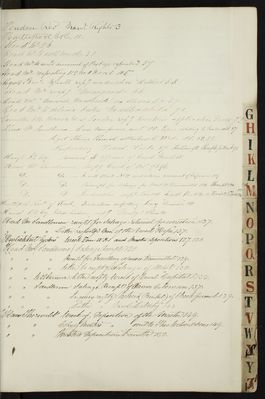 Hudson Revd Manl Rights 3 Hartlepool C & C 11 Hoad Mr 26 Hoad Mr to sell wreck 31 Hoad Mr to send amount of Postage expended 37 Hoad Mr respecting 112 No 1 Deal 45 Hyall Bros {N Castle? ] respg an anchor "Hibbert" 63 Hoad Mr respg "Margaret" 66 Hoad Mr "Marie Mathilde" on shore 67.67 Hoad Mr to deliver [Cake?] "Martha Alida" 71 Hamilton J.B. Receiver Genl, London respg Rimton's application [Trees?] 72 Hoad Mr Sandlemere - to use new forms sent 80. Papers relating to Goods sold 87 ditto ditto to get Stamp Receipts attached to W.8 - 81.82.83 Respecting Vessel Vesta 87. Tallow 92. Recepts for Wreck 93. Haigh Js Esqr reward to officers of Coast Guard 88 Hoad Mr Sandlemere respg Cask of oil 95.96 ditto ditto to sell Boat No 21 and return amount of Expenses 109 ditto ditto receipt for salvage for Boat 21 transmitted 110 Receipt 124 ditto ditto Instructions respg Boat 111 To sell Plank 120.121. Boat 123. [?] 124.125 Hartlepool Recr of Wreck, Declaration respecting Brig "Commerce" 121 Hamel F.G Esq Solicitor London respg Danby & others 121 Hoad Mr Sandlemere receipt for Salvage returned for correction 127 ditto ditto Letter respectg 3 Men of the Vessel "Hope" 127 "Herrlichkeit Godens" Wreck Form WR1 and [Masters?] depositions 127.128 Hoad Mr (Sandlemere) Salvage Receipts 128 ditto ditto Receipt for travelling expenses transmitted 129 ditto ditto letter to resptg Salvage of Mast 132 ditto Withernsea letter respctg Wreck of Vessel "Capital" ditto Sandlemere Salvag Receipt of James Coleman 137 ditto ditto Inquiry resptg Notices (Printed) of Wreck found 139 ditto ditto Letter resptg Vessel "Liberty" 143 ["Hans Thorwald"?] Wreck of, Deposition of the master 149 ditto Copy of Master's Deposition sent to Thos Wilson & Sons 149 ditto Masters Depositions [transttd?] 150
Last edit 18 days ago by
A.Commoner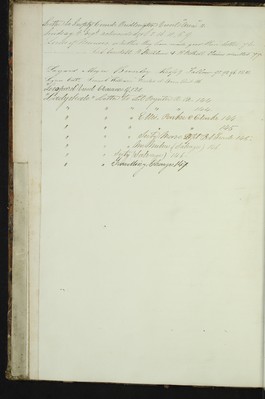 Letter to Insptg Comdr Bridlington Vessel "Ana" 11 Lindsay G. Esqr acknowledge £2.16.11, 59 Lords of Manors whether they have made good their titles 76 ditto Sir C.Constable. W. Strickland & R.Bethell. Claims admitted 77
Layard Major Beverley Respg Tallow 91.92.96.111.115 Lynn Coltr Smack "William" wrecked at Spurn Point 116 "Leopard" Vessel Clearance of 128 "Lady Seale" Letter to Lt Poynter R.N. 144 .... line repeated "Lady Seale" Letter to Lt Ellis, Parker & Clarke 144 ... line repeated 145 "Lady Seale" Letter to Secty Mare Dpt Bd Trade 146 "Lady Seale" Letter to Mr Milne (Salvage) 146 "Lady Seale" Letter Secty (Salvage) 146 "Lady Seale" Letter Travelling Changes 147
Last edit 14 days ago by
A.Commoner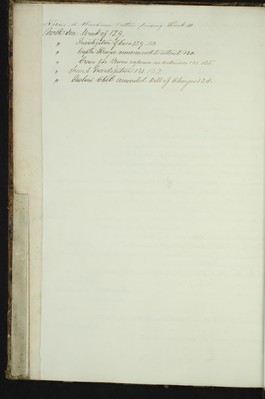 Notices to Beachmen & others finding Wreck.III.
North Sea Wreck of 129. " Investigation of Loss 129.130. " Captain Kruger summoned to attend 130. " Crewe for [Mens?] expenses as witnesses 131.135. " Second Investigation 131.132. " Justices Clerk amended Bill of Charges 138.
Last edit 2 months ago by
kibrij
Rothesey A.C Esqr, Registrar Doctors Commons 7 Rotherey [? ?] Esqr Doctors Commons £65 Friendship sent 40 Rent. Warehouse Yard Rent charged on Wrecked Goods 78 Remittance £50 to Paymaster General 78 Randolph Captn respecting vessel [run down?] 82 Receiver of Wreck Southampton respg Boat washed on shore near Withernsea 90 Receipts for Salvage transmitted to Mr Flucker 128 "Rebecca Ann" Vessels Stores Letter to Wm Brooks Esqr Grimsby 136 "Rebecca & Elizabeth" letter to L.D. Poynter resptg Salvage 137 " £5 note to be distributed to Coast Guard 142 "Ruby" Vessel papers forwardd to Shields 156
Last edit 18 days ago by
A.Commoner
1855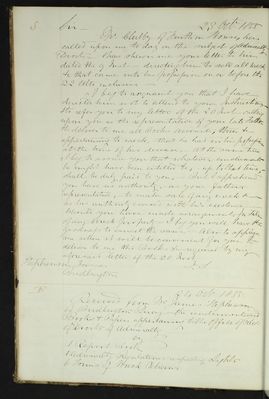 23 Oct. 1855
Sir Mr. Clubby of [Firth?] on [Howser?] has called upon me today on the subject of Admiralty [Drorts?] thus shewn me your letter to him dated the 9 Inst - directing him to sell all wreck &c that came into his possession on or before the 22 [?] inclusive -
I beg to acquaint you that I have directed him not to attend to your Instructions, [?] refer you to my letter of the 20 Inst - calling upon you as the representation of your late Father to deliver to me all Books Accounts, Notes &c appertaining to wreck, that he had in his possession at the time of his decease, - at the same time I beg to assure you that whatever emoluments he might have been entitled to, - up to that time, shall be duly paid to you, - But I apprehend you have no authority, - as your fathers representative, - to make sale of any wreck &c as his authority ceased with his existence should you have made arrangements for Sale of any wreck property - I beg you will have the goodness to cancel the same - Also to apprize me when it will be convenient for you to deliver to me the Books &c required by my aforesaid letter of the 20 Inst
J.S.
Stephenson James Bridlington
Marginalia: S
24 Oct 1855
Received from Mr James Stephenson of Bridlington Quay the undermentioned Books & Papers appertaining to the Office of Recr. of Droits of Admiralty
viz 1 Report Book
1 Admiralty Regulations respecting Sights
6 Forms of Wreck Returns
Marginalia: B
Last edit over 1 year ago by
Susan R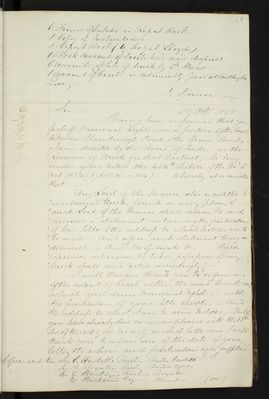 3
6 Forms of Entries in Report Book 1 Copy of Instructions 1 Report Book to Secy at Lloyds) 1 Book account of [Droits?] recd and [disposal?] 6 Accounts of Sale of Wreck by Lt. Stewart 1 Account of [droits?] in [Admiralty Zan at Bridlington?] [Quay?]
J. Sparrow
--------------------
Marginalia [6 / C?] B S B [H / II?] Y
29 Oct. 1855
Sir - Having been informed that you possess Manorial rights over a portion of the Coast between Flamborough Head & the [Spurn Point[s?,] --- ?] I am directed by the Board of Trade, -- as the Receiver of Wreck for that District, -- to bring under your notice the 454th Section of the [M. S?] Act of 1854 (17 & 18 _?_ c 104) -- Whereby it is enacted that
"Any Lord of the Manor who is entitled to "unclaimed Wreck, found on any place [etc. / &c?] - "such Lord of the Manor shall deliver to such "Receiver a statement containing the particulars "of his Title & the address to which notices are to "be sent -- and upon such statement being so "delivered -- and Proof made [etc. / &c?] -- such "Receiver whenever he takes possession of any "Wreck shall send notice accordingly," -
I will therefore thank you to inform me of the extent of Coast within the said limits over which you claim Manorial rights, --with the particulars of your Title thereto, -- and the address to which I am to send notices, -- Unless you have already done so in compliance with the [10th?] Sec of the act 9 & 10 [?] -- in which latter case I will thank you to inform me of the date of your letter & to whom such particulars were supplied J.S. Copies sent to - [Sir C Constable ? Burton Constable] [Sir H. Boynton ? Burton Agnes] [Sir ?. Strickland ? Boyton] [W. Strickland Esq. Flambro] - (over)
Last edit over 2 years ago by
David Kaminski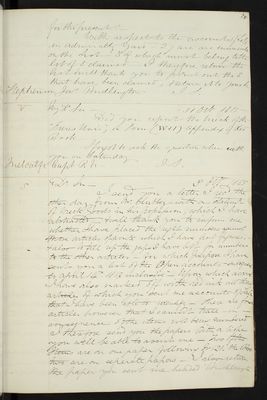 for the present
With respect to the account of Lots in Admiralty Yard - 27 are are enumerated on the List - 3 of which must belong to the lot of 5 claimed - I therefore return the list & will thank you to point out the 3 that have been claimed, & return it to [?] Stephenson [?] Bridlington J.S.
My Dr Sir - 31 Oct 1853
Did you report the Wreck of the "Freres Unis", on Form (W & 1) appendix of Red Book -
I forgot to ask the question when with you on Saturday
Metcalfe Capt R.N. J.S.
Dr Sir 3 Oct. 1855
I send you a letter I recd the other day from Mr Clubbey - with a statemt of Wreck Goods in his Possession, which I have abstracted - & will thank you to inform me whether I have placed the right numbers against those articles opposite which I have put figures, & also to fill up the gaps I have left for numbers to the other articles - for which purpose I have sent you a list of the Open accounts - subsequent to April 14th 1854 inclusive - Upon which account I have also marked off with red ink all those articles of which you sent me accounts of Sale that I have been able to identify - there are four articles however that I cannot trace in consequence of the items not being numbered I therefore send you the papers with a hope you will be able to assist me - Two of the Items are on one paper following No. 121. the other two are on seperate papers - I also return the paper you sent me headed "Bridlington
Marginalia V (next to letter dateed 31 Oct) S (nest to letter dated 3 Oct)
Last edit 20 days ago by
A.Commoner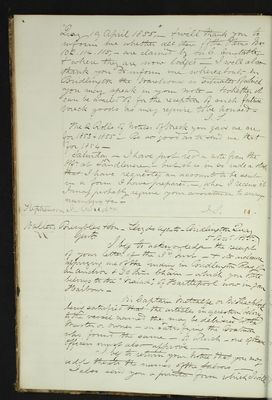 Quay 19 April 1855" - & will thank you to inform me whether all three of the Items Nos 102, 114, 115 - are claimed by Sir C. Constable, & where they are now lodged - I will also thank you to inform me whereabouts in Bridlington the warehouse is situated of which you may speak in your note - & whether it can be availed of for the reception of such future wreck goods as may require to be housed - J.S.
The 2 Rolls of Notices of Wreck you gave me are for 1853 & 1855 - Be as good as to send me that for 1854 -
Saturday - I have just recd a note from the Offr at Sandlemere, - but it is in so rude a state that I have requested an account to be sent in a form I have prepared. - when I receive it I may probably require your assistance to arrange numbers [?] Stephenson [?] Bridn
Walters Brambles & Son - Lloyds Agents - Bridlington Quay Gents 5 Nov 1855
I beg to acknowledge the receipt of your letter of the 3rd Inst - & its inclosure apprizing me of the finding in Bridlington Bay of an anchor and 30 [?] chain - which you state belongs to the "Naiad", of Hartlepool now in your Harbour -
On Captain Metcalfe or Mr Shacklock being satisfied that the articles in question belong to the vessel named they may be delivered to the Master or owner - on satisfying the Boatman who found the same - of which - one of those Officers must also approve -
I beg to return your notice that you may add {thereto} the names of the Salvors I also send you a printed form which I will
Marginalia W
Last edit 17 days ago by
A.Commoner