About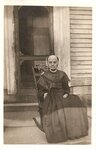 This commonplace book of poetry was compiled by sisters of the Shaker community in Enfield, New Hampshire, between 1890 and 1921. In the notebook, handed down from Caroline Whitcher to Mary Ella Briggs to Rosetta Cummings, favorite poems have been carefully copied down from a variety of sources. Some of the authors are well-known, including Louisa May Alcott, Ella Wheeler Wilcox, or Alfred Lord Tennyson. Others remain to be attributed or may be original. Many entries can be traced to publications such as the Woman's Journal, the Christian Register, and the Boston Journal. The majority of the attributed poems are by women.
The commonplace book offers rich insights into the circulation, reception, and cultural life of poetry among the Shaker sisters at Enfield at the beginning of the twentieth century. The book also reveals how a small collective in rural New Hampshire interacted with the poetry of "the world's people," or a much wider community of arts and letters. Poems feature titles such as "Woman's Battle," "Woman-Hood," "My Work," and "A Prayer for Faith." Some are marked for specific occasions. The collection provides insights into common concerns as well as the rhythms of life in an agrarian, egalitarian, and devoutly religious community.
Today, Shaker culture is renowned for the minimalist architecture and fine furniture that exemplifies their well-known hymn, "Tis a gift to be simple." Although only a few practicing Shakers remain (at the Sabbathday Lake village in Maine), their movement continues to exert a profound influence in American design and culture. In Enfield, just a few miles from Dartmouth, the Enfield Shaker Museum now hosts exhibits, tours, workshops, guest stays, and other events.
The Shaker commonplace book is held in the Rauner Special Collections Library. Transcribing the notebook will lay the groundwork for a new, digital resource. Students, researchers, museum archivists, and the greater public are all invited to engage with the literary lives of the Enfield Shaker sisters.
Photo of Rosetta Cummings, credit: Enfield Shaker Museum.
Transcription Tutorial
Works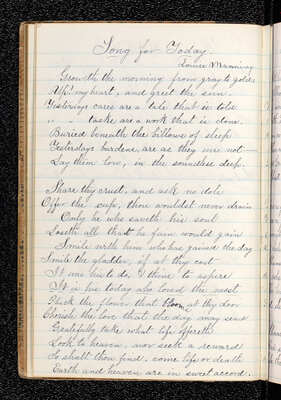 Collaboration is restricted.
166 pages: 8% complete (7% indexed, 100% transcribed, 92% needs review). Metadata needs review.
Subject Categories