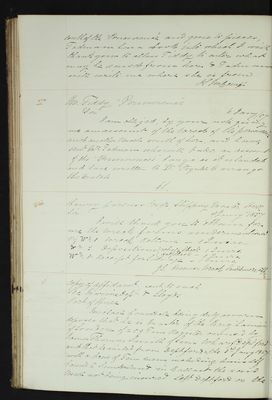 south of the "Perseverance" and gone to pieces, T_____ has a book into which into which I will thank you to allow Tiddy to enter what may be saved from her and T_____ will write me where she is from JS ?
Mr. Tiddy "Perseverance" 6 January/57 I am obliged, by your note giving me an account of the wreck of the "Perseverance" and another vessel south of her, and have sent Mr. T______, who will [make] an account of the "Perseverance's" cargo as it is landed and have written to S__ P____ to arrange the watch JS
Henry Corlass [name from Christie's Shipping Register, 1858] Shipping Master, Hull 7 January 1857 Sir, I will thank you to obtain for me the wreck forms undermentioned viz W 1 wreck ********* - 1 Quire W 2 Depositions } whole sheets 1 Quire } half sheets - 1 Quire W 8 Receipt for [?Salvage] - 1 Quire JS Receiver Wreck ??
copy of affidavit sent to each Marine ? & Lloyds Port of Hull Michael Coverdale being duly sworn deposes that he is Master of the Brig "Lavinia" of London of 259 ? Register ordered by James Thomas Smith of [?Inns] Wharf Deptford on the 3rd of January 1854 with a Crew of Ten men, including himself bound to [?Sunderland] in Ballast the said vessels not being insured left Deptford on the
Last edit 12 months ago by
etalbott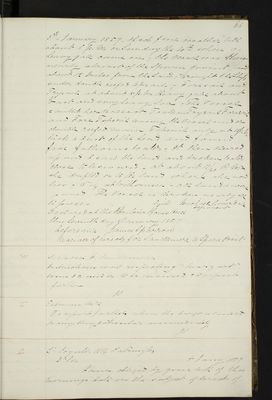 3rd January 1857. Had fine weather till about 5 p.m. on Sunday the 4th when a heavy gale came in; the vessel was then nearly abreast of the Spurn Point and about 12 miles from the [?Land]. Brought the ship under double reefed topsails, Foresail and Topsails at about 8 p.m. Heavy gales about ____ and very heavy sea; the vessel ______ her Ballast, Took in Topsail, Foresail, and Fore Topsail leaving the vessel under double reefed ____ Topsail only at 11 p.m. ____ [about?] of the ____ and forward five fathoms water; it then cleared up and I saw the land and broken water close to leeward at about 11/30 P.M. She drifted on to the land where she now lies - viz _____ - all [?aboard] were saved. The vessel is broken - nearly all to pieces. Signed Michael Coverdale [deposition?] Declared at the _______ House Hull this Seventh day of January 1857 before me James Sparrow Receiver of wreck for Sandlemere to Spurn Point
Wilson F. Sandlemere Instructions sent respecting "Margaret' ?? under ?? second and report further. JS
T________ Mr. To report further when the Cargo is landed or anything particular ___________ __________ JS
L'Poynter __ ___________________ Dr Sir 8 January 1857 I am obliged by your note of this {?mornings ????????? of wreck of]
Last edit 12 months ago by
etalbott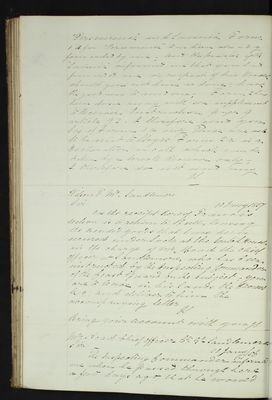 "Perseverance" and "Lavinia" Form for "Perseverance" has been also and y forms ordered by me; and the Master of the "Lavinia" informed me that you had forwarded one ? [?repeat] of his vessel should you not have so done, have the goodness to send me. Form 2 has been done ? my will see supplement to Receiver's of g article g2. I therefore send you Six of Form 1a only. Those to be sent to Lloyds. Form 2a is a Declaration on oath which can be taken by a Wreck Receiver only; I therefore do not send any JS
Wilson F.M. Sandlemere Sir On the receipt hereof, Francis Wilson is to return to Hull, leaving the Bonded goods that have been secured under Lock at the Watch House in charge of Mr. _____. the chief officer at Sandlemere, who has been instructed by the Inspecting Commander of the Coast Guard on the subject; you are to leave in his hands the ____ [?Key] and deliver to him the accompanying letter. JS Bring your account with you. JS
Mr. H____ Chief Officer ?? Sandlemere Sir 10 January/56 The Inspecting Commander informed me when he passed through here a few days ago that he would
Last edit 12 months ago by
etalbott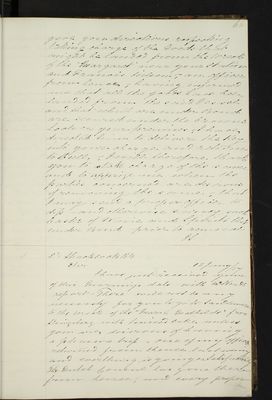 give you directions respecting taking charge of the goods that might be [?loaded] from the wreck of the "Margaret" near your station and Francis Wilson, an officer from hence, having informed me that all the goods have been landed from the said vessel and that which are under bond are secured under the Crowns Lock on your premises. I have directed him to deliver the key into your charge and return to Hull. I will therefore thank you to take charge of the same and to apprize me when the parties concerned are desirous of receiving the same, thus I may send a proper officer to ___ and otherwise survey such Casks of Wine and Spirits thus under Bond prior to removal JS
L S______ D Sir 12 January/57 I have just received yours of this mornings date with Mr. H____'s report. There will not be any necessity for you to go to Sandlemere to the wreck of the "Maria Mathilde" from ________ with [?aniseed cake] unless you are desirous of having a pleasure trip ; one of my officers returned from thence last evening and everything is going on satisfactorily. The Dutch Council has gone there from hence and every proper
Last edit 12 months ago by
etalbott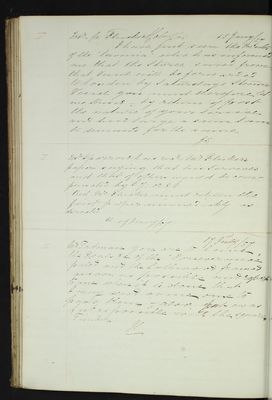 Mr. Js. ________ I have just seen the Master of the "Lavinia" who has informed me that the Stores saved from that vessel will be forwarded to London by Saturdays steam vessel you must therefore let me Know by return of post the nature of your service and how large a sum I am to demand for the same. JS
Mr. Sparrow __ rec'd Mr. F______
Last edit 12 months ago by
etalbott