About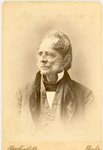 Letters, diaries, scrapbooks and more associated with the Stabler family of Sandy Spring.
Works
Bound scrapbook compiled by Anna McFarland Stabler of Sandy Spring, Maryland from approximately 1875 to 1912. The scrapbook largely contains newspaper clippings on a variety of topics wit a few personal momentos and additional ephemera.
Some pages still need work. Help out!
184 pages: 71% transcribed, 20% needs review
Store ledger, 1819-1821 for J.P Stabler & Co. (Sandy Spring Store) located in Sandy Spring, Md. Ledger shows names of customers, items purchased, and prices. J.P Stabler & Company (commonly known as Sandy Spring Store) was opened in 1819 by James P. Stabler and Caleb Bentley. It served as the...
Some pages still need work. Help out!
191 pages: 6% transcribed, 1% needs review