Search for dog*
1918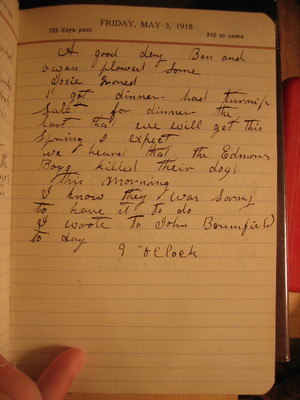 1919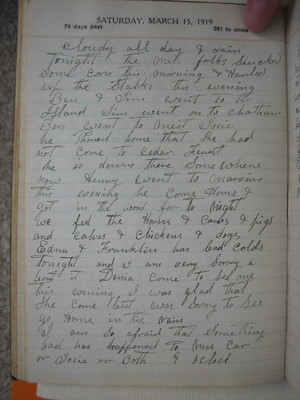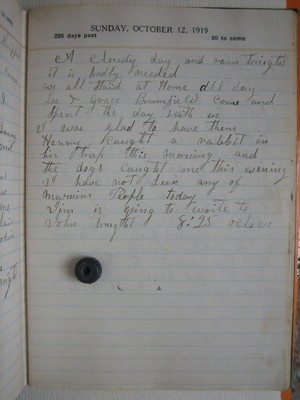 1921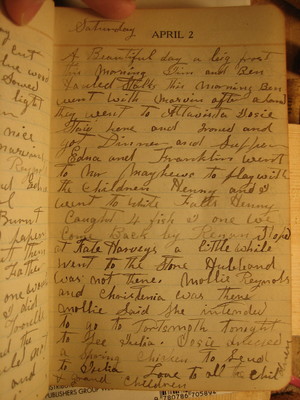 1920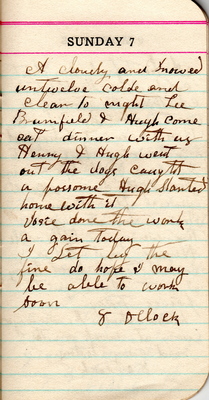 A cloudy and snowed untwelve. Colde and clear to night. Lee Brumfield & Hugh come eat dinner with us. Henry & Hugh went out. The dogs caught a possome. Hugh started home with it. Josie done the work a gain today. I set by the fire. Do hope I may be able to work soon.
8 oclock
Last edit about 10 years ago by
Linda Tucker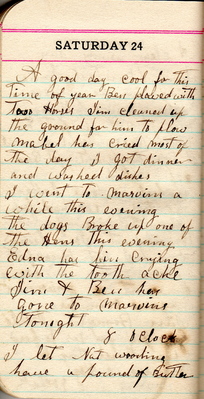 A good day. Cool for this time of year. Ben plowed with two horses. Jim clean up the ground for him to plow. Mabel has cried most of the day. I got dinner and washed dishes. I went to Marvins a while this evening. The dogs broke up one of the hens this evening. Edna has bin crying with the tooth ache. Jim & Ben has gone to Marvins tonight.
8 oclock
I let Nat Wooding have a pound of butter.
Last edit almost 10 years ago by
Linda Tucker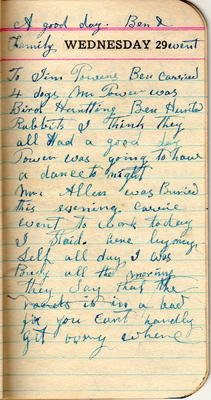 A good day. Ben & family went to Jim Powers. Ben carried 4 dogs. Mr Power was bird huntting. Ben hunted rabbits. I think they all had a good day. Power was going to have a dance to night. Mrs Allen was buried this evening. Carrie went to work today. I staid here by my self all day. I was busy all the morning. They say that the roads is in a bad fix. You cant hardly get every where.
Last edit about 9 years ago by
Linda Tucker
1923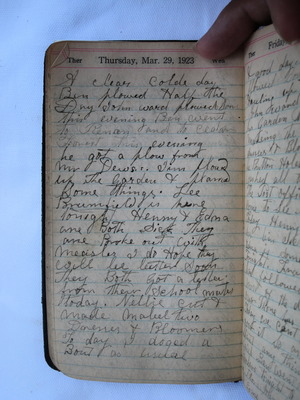 A clear colde day. Ben plowed half the day. John Ward plowed some this evening. Ben went to Renan and Cedar Forest this evening. He got a plow from Mr. Dews. Jim plowed up the garden and planted some things. Lee Brumfield is here tonight. Henry and Edna are both sick. They are broke out with measles. I do hope they will be better soon. They both got a lettr from their school mates today. Nellie cut and made Mabel two dresses and bloomers today. I doged a bout as usual.
Last edit almost 7 years ago by
Nathani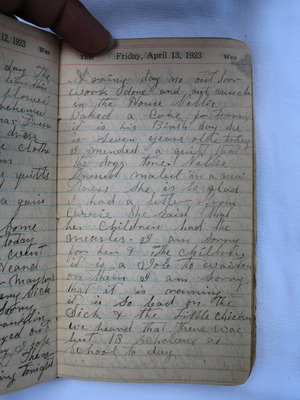 A rainy day. No out door work done and not much in the house. Nellie baked a cake for Franklin[?]. It is his birth day. He is seven years olde today. I mended a quilt that the dogs tore. Nellie dressed Mabel in a new dress. She is so glad. I had a letter from Carrie. She said that her children had the measles. I am sorry for her and the children. It is a job to wait on on them. I am sorry that is is raining. It is so hard on the sick and the little chickens. We heard that there was but 13 scholars at school to day.
Last edit almost 7 years ago by
Nathani