Search for "the engine"
1921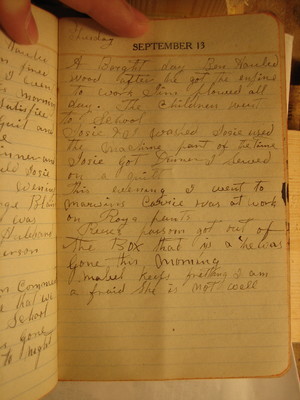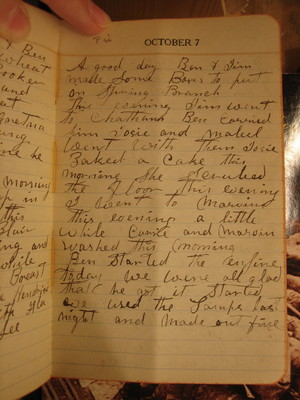 A good day. Ben & Jim made some boxes to put on spring branch.
This evening Jim went to Chatham. Ben carried him. Josie and Mabel went with them. Josie baked a cake this morning. She scrubed the floor this evening. I went to Marvins this evening a little while. Carrie and Marvin washed this morning.
Ben started the engine today. We were all glad that he got it started. We used the lamps last night and made out fine.
Last edit about 8 years ago by
Ben Brumfield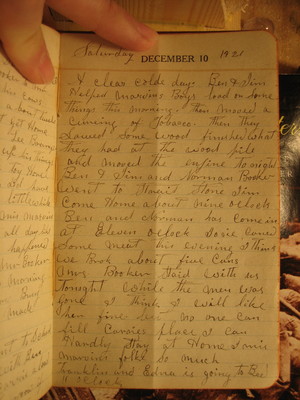 A clear colde day. Ben & Jim helped Marvins boys load on some things this morning then moved a cureing of tobacco. Then they sawed some wood. Finished what they had at the wood pile and moved the engine to night. Ben & Jim and Norman Booker went to Strait Stone. Jim come home about nine oclock. Ben and Norman has come in at eleven oclock. Josie caned some meat this evening. I think we brok about five cans. Mrs Booker staid with us tonight while the men was gone. I think I will like her fine but no one can fill Carries place. I can hardly stay at home I mis Marvins folks so much. Franklin and Edna is going to bed. 11 oclock
Last edit over 10 years ago by
Linda Tucker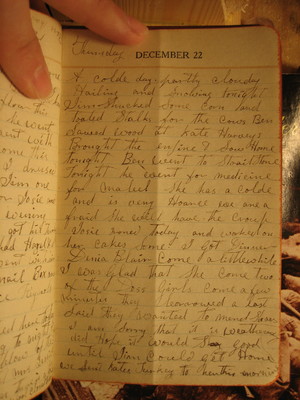 A colde day partly cloudy. Hailing and snowing tonight. Jim shucked some corn and toated stalks for the cows. Ben sawed wood at Kate Harveys. Brought the engine & saw home tonight. Ben went to Strait Stone tonight. He went for medicine for Mabel. She has a colde and is very hoarse. We are a fraid she will have the croup. Josie ironed today and worked on her cakes some. I got dinner. Denia Blair come a little while. I was glad that she come. Two of the Doss girls come a few minutes. They borrowed a last. Said they wanted to mend shoes. I am sorry that it is weathering. Did hope it would stay good until Jim could get home. We sent Kates turkey to her this morning.
Last edit over 10 years ago by
Linda Tucker
1920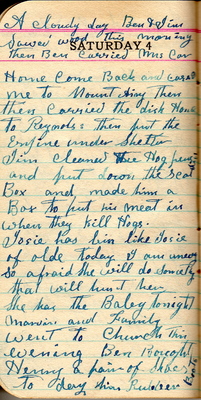 A cloudy day. Ben & Jim sawed wood this morning then Ben carried Mrs Car home. Come back and carried me to Mount Airy then they carried the disk home to Reynols then put the engine under shelter. Jim cleaned the hog pens and put down the seat box and made him a box to put his meat in when they kill hogs. Josie has bin like Josie of olde today. I am uneasy, so afraid she will do something that will hurt her. She has the baby tonight. Marvin and family went to church this evening. Ben bought Henry a pair of shoes to day. [?] rubber boots.
Last edit almost 9 years ago by
Linda Tucker
1922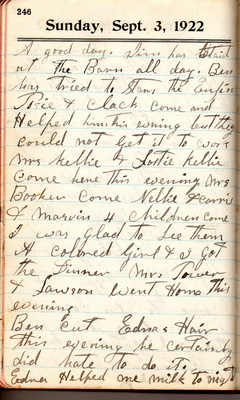 A good day. Jim has staid at the barn all day. Ben has tried to start the [engine?]. Posie & [Clack?] come and helped him this evening but they could not get it to work Mrs Kellie & Lottie Kellie come here this evening. Mrs Booker come. Nellie & Carrie & Marvin & children come. I was glad to see them. A coloured girl & I got the dinner. Mrs Power & Lawson went home this evening.
Ben cut Edna's hair this evening. He certainly did hate to do it. Edna helped me milk to night.
Last edit almost 6 years ago by
mkstewart
1923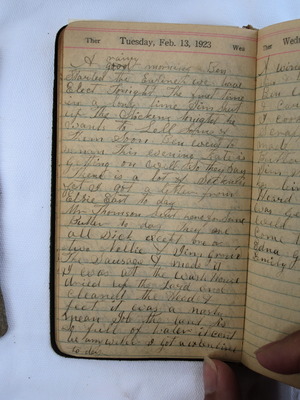 A rainy morning. Ben started the engine. We have elect tonight. The first time in a long time. Jim shut up the chickens tonight. He wants to sell some of them soon. Ben went to Renan this evening. Kate is getting on well so they say. There is a lot of sickness yet. I got a letter from Elsie East today.
Mr. Thomson sent here for some butter today. They are all sick except for one or two. Nellie and Jim ground the sausage and made it . I was at the wash house. [??iled] up the lard and cleaned the heads and feet. It was a nasty mean job. The lard is so full of water. It can't be any wetter. I got a valentine today.
Last edit over 7 years ago by
Nathani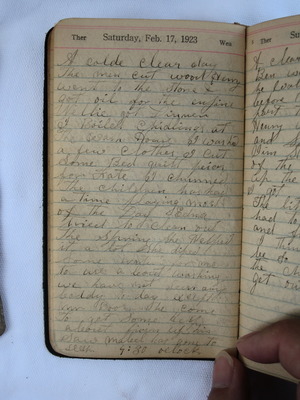 A cold clear day. The men cut wood. Henry went to the store and got oil for the engine. Nellie got dinner. I boiled chitterlings at the wash house. I washed a few clothes. I cut some bed quilt pieces for Kate. I churned. The children has had a time playing most of the day. Edna tried to clean out the spring. She helped it a lot. She dipped some water for me to use about washing. We have not seen anybody today except for Booker. He come to get some help about fixing up his saw. Mabel has gone to sleep. 9:30 oclock
Last edit over 7 years ago by
Nathani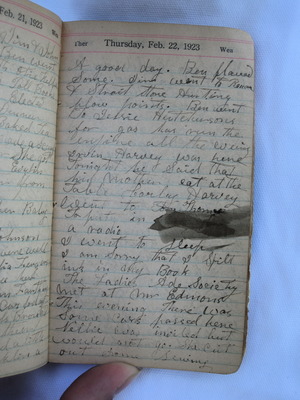 Last edit almost 7 years ago by
starrsum