Search for "her baby"
1918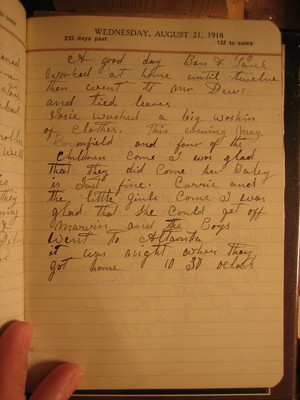 A good day. Ben and Paul worked at home until twelve then went to Mr Dews and tied leaves.
Josie washed a big washin of clothes. This evening Mag Brumfield and four of the children come. I was glad that they did come her baby is just fine. Carrie and the little girls come. I was glad that she could get off. Marvin and the boys went to Altavista.
It was night when they got home.
10 30 oclock
Last edit about 10 years ago by
Ben Brumfield
1919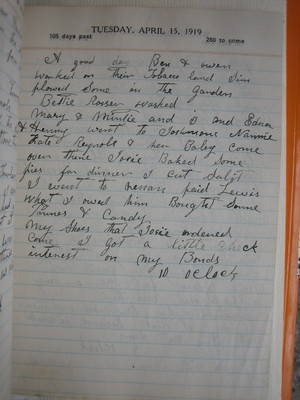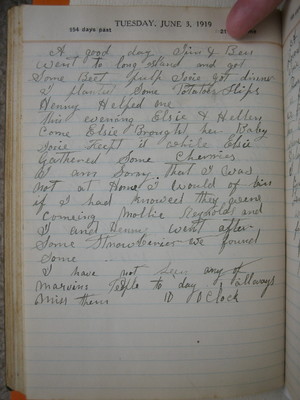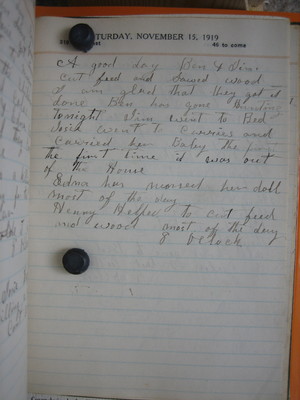 1921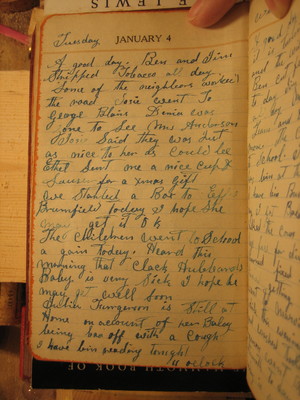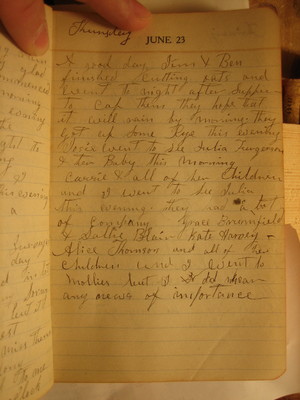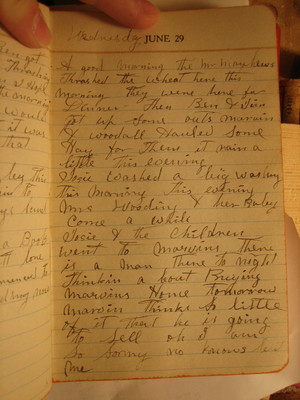 A good morning. The Mr Mayhews thrashed the wheat here this morning. They were here for dinner. Then Ben & Jim got up some oats. Marvin & Woodall hauled some hay for them. It rain a little this evening.
Josie washed a big washing this morning. This evening Mrs Wooding & her baby come a while.
Josie & the children went to Marvins. There is a man there to night thinkin a bout buying Marvins home tomorrow. Marvin thinks so little of it that he is going to sell. Oh I am so sorry. No knows but me.
Last edit almost 10 years ago by
Ben Brumfield
1920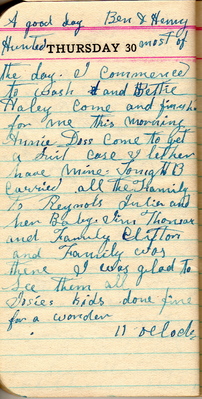 A good day. Ben & Henry hunted most of the day. I commenced to wash and Bettie Haley come and finished for me this morning. Annie Doss come to get a suit case. I let her have mine. Tonight B carried all the family to Reynols. Julia and her baby, Jim [?] and family, Clifton and family was there. I was glad to see them all. Josies kids done fine for a wonder. 11 oclock
Last edit over 9 years ago by
Linda Tucker
1922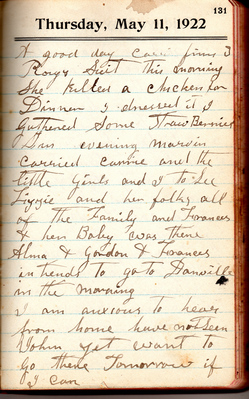 A good day Carrie finished Roys suit this morning she killed a chicken for Dinner I dressed it I gathered some Straw Berries This evening Marvin carried Carrie and the little girls and I to see Lizzie and her folks all of the Family and Frances & her Baby was there Alma & Gordon & Frances intends to go to Danville in the morning I an anxious to hear from home have not seen John yet want to go there tomorrow if I can.
Last edit over 7 years ago by
Lydia B
1923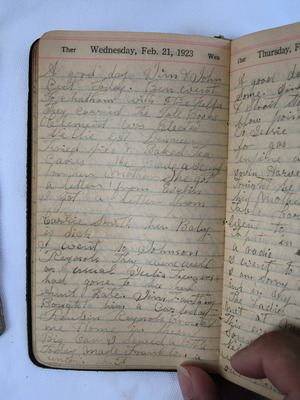 Last edit almost 8 years ago by
Nathani