Search for "flower garden" "flower garden"
1919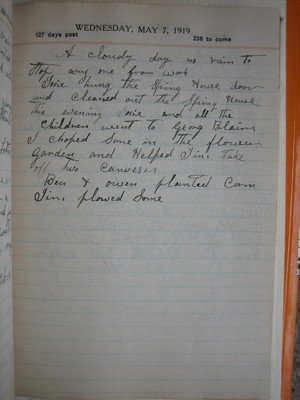 1922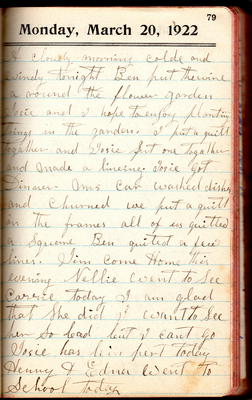 A cloudy morning. Colde and windy tonight. Ben put the wire a round the flower garden. Josie and I hope to enjoy planting things in the garden. I put a quilt together and Josie put one together and made a lineing. Josie got dinner. Mrs Car washed dishes and churned. We put a quilt in the frames. All of us quilted a square. Ben quilted a few lines. Jim come home this evening. Nellie went to see Carrie today. I am glad that she did. I want to see her so bad but I cant go. Josie has bin pent today. Henry & Edna went to school today.
Last edit almost 6 years ago by
mkstewart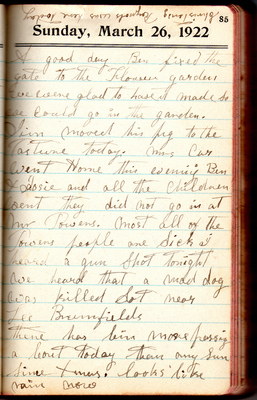 A good day. Ben fixed the gate to the flower garden. We were glad to have it made so we could go in the garden. Jim moved his pig to the pasture today. Mrs Car went home this evening. Ben & Josie and all the children went. They did not go in at Mr Powers. Most all of the Powers people are sick. I heard a gun shot tonight. We heard that a mad dog was killed. S[h]ot near Lee Brumfields.
There has bin more passing a bout today than any Sun[day] since Xmas. Looks like rain now.
Chris Tenigs Reynols was here today.
Last edit almost 6 years ago by
mkstewart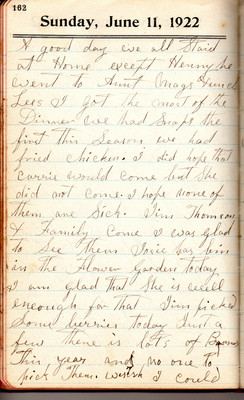 A good day we all staid at home except Henry. He went to Aunt Mags & Uncle Lees. I got the most of the dinner. We had snaps the first this season. We had fried chicken. I did hope that Carrie would come but she did not come. I hope none of them are sick. Jim Thomson & family come. I was glad to see them. Josie has bin in the flower garden today I am glad that she is well enough for that. Jim picked some berries today just a few. There is lots of Berries this year and no one to pick them. [Wish?] I could
Last edit over 6 years ago by
Jaime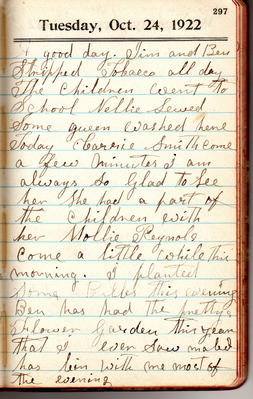 A good day. Jim and Ben stripped tobacco all day. The children went to school. Nellie sewed some. Queen washed here today. Carrie Smith come a few minutes. I am always so glad to see her. She had a part of the children with her. Mollie Reynols come a little while this morning. I planted some bulbs this evening. Ben has had the prettys flower garden this year that I ever saw. Mabel has bin with me most of the evening.
Last edit almost 6 years ago by
mkstewart