Search for "has a daughter" "her little baby" Edieth*
1918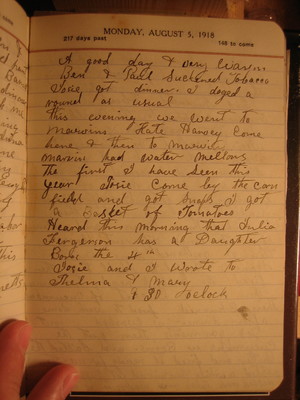 1919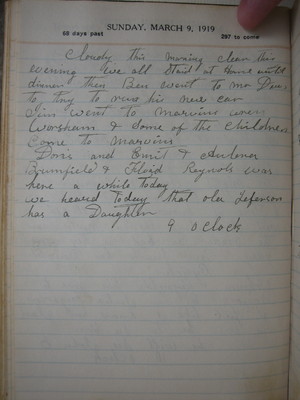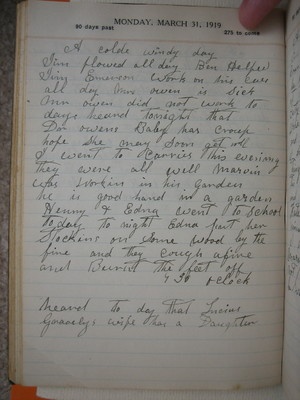 1922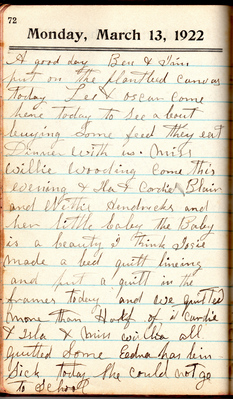 A good day. Ben & Jim put on the plantbed canvas today. Lee & Oscar come here today to see a bout buying some feed. They eat dinner with us. Miss Willie Wooding come this evening & Ila & Cordie Blair and Nettie Hendricks and her little baby. The baby is a beauty. I think Josie made a bed quilt lineing and put a quilt in the frames today and we quilted more than half of it. Cordie & Isla & Miss Willie all quilted some. Edna has bin sick today. She could not go to school.
Last edit about 6 years ago by
Ladybug1492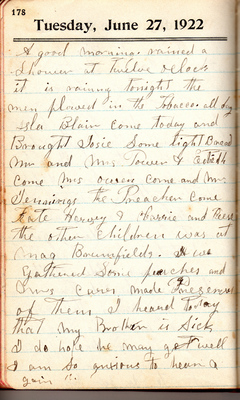 A good morning. Rained a shower at twelve oclock. It is raining tonight. The men plowed in the tobacco all day. Isla Blair come today and brought Josie some light bread. Mr. and Mrs. [Tower?] & [Edieth?] come. Mrs. Owen come and Mr. [Jennings?] the preacher come. Kate Harvey & [Carrie?] and Reese the other children was at [?] Brumfields. We gathered some peaches and Mrs. [?] made preserves'of them. I heard today that my brother is sick. I do hope he may get well. I am so anxious to hear a gain.
Last edit over 6 years ago by
gutterpeach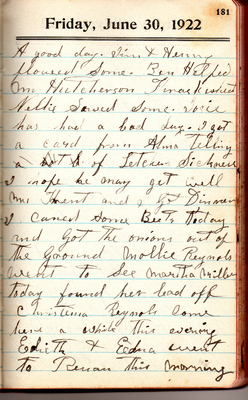 A good day. Jim & Henry plowed some. Ben helped Mr. Hutchenson [?] wheat. Nellie save some. Josie has had a bad day. I got a card from Alma telling [??] of [L?] sickness. I hope he may get well. Mrs. Trent and I got dinner. I churned some beets today and got the onions out of the ground. Mollie [Reynols?] went to see Martha Miller today. Found her had off. [Christina?] [Reynols?] come here a hill this evening. [Edieth?] & Edna went to [R?] this morning.
Last edit over 6 years ago by
gutterpeach2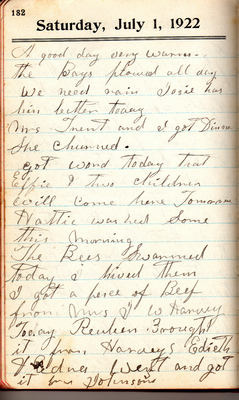 A good day very warm. The boys plowed all day. We need rain. Josie has bin better today. Mrs. Trent and I got dinner. She churned. Got word today that Effie & two children will come here tomorrow. Hattie washed some this morning. The bees swarmed today. I hived them. I got a [?] of beef from Mrs. [?] W. [?] today. Reuben brought it from Harveys. Edieth [?] went and got it from [?]
Last edit over 6 years ago by
gutterpeach2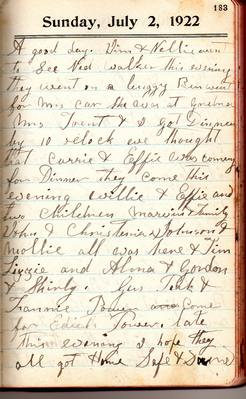 A good day. Jim & Nellie went to see Ned Walker this evening. They went on a buggy. Ben went for Mrs. Car. She was at [?] Mrs. Trent & I got dinner by 10 oclock. We thought that Carrie & Effie was coming for dinner. The come this evening. Willie & Effie and two children [?] & family [?] Mollie all was here & Jim Lizzie and Alma & Gordon & [Shirly?]. [?] Fannie [?] [?] come for Edieth. [?] late this evening. I hope they got home safe & sound.
Last edit over 6 years ago by
gutterpeach2