Search for presents* present*
1918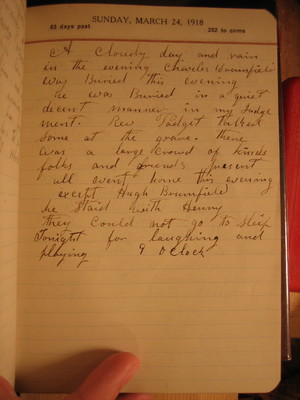 A cloudy day and rain in the evening. Charles Brumfield was buried this evening.
He was buried in a quiet decent manner in my judge ment. Rev Padget talked some at the grave. There was a large crowd of kinds folks and friends present.
All went home this evening except Hugh Brumfield. He staid with Henry.
They could not go to sleep tonight for laughing and playing.
9 oclock
Last edit over 11 years ago by
Data Cleanup Script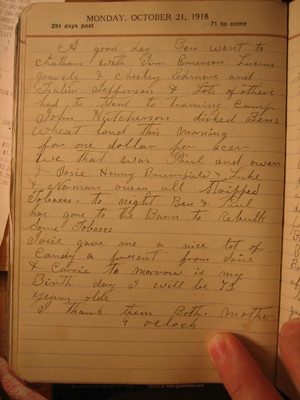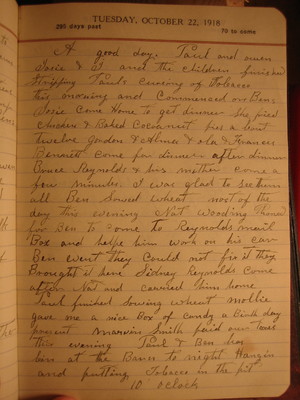 1921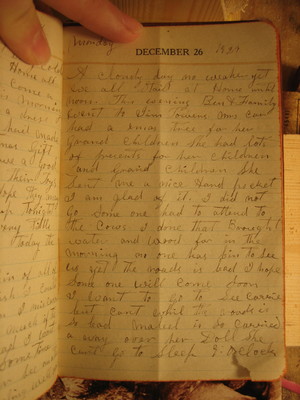 A cloudy day. No weather yet. We all staid at home until noon. This evening Ben & family went to Jim Powers. Mrs Car had a Xmas tree for her grand children. She had lots of presents for her children and grand children. She sent me a nice hand pocket. I am glad of it. I did not go. Some one had to attend to the cows. I done that. Brought water and wood for in the morning. No one has bin to see us yet. The roads is bad. I hope some one will come soon. I want to go to see Carrie but cant whil the roads is so bad. Mabel is so carried a way over her doll she cant go to sleep. 9 oclock
Last edit over 10 years ago by
Linda Tucker
1920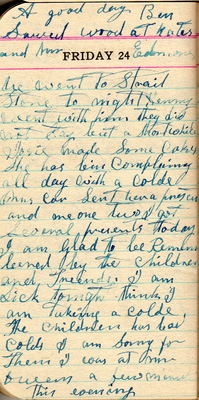 A good day. Ben sawed wood at Kates and Mr Edmons. He went to Strait Stone to night. Henry went with him. They did not stay but a short while. Josie made some cakes. She has bin complaining all day with a colde. Mrs Car sent her a present and me one two. I got several presents today. I am glad to be remembered by the children and friends. I am sick tonight. Think I am taking a colde. The children has had colds. I am sorry for them. I was at Mr Owens a few minutes this evening.
Last edit about 9 years ago by
Linda Tucker
1922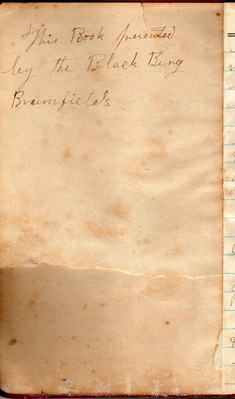 This Book presented by the Black Burg Brumfields
Last edit almost 8 years ago by
Ben Brumfield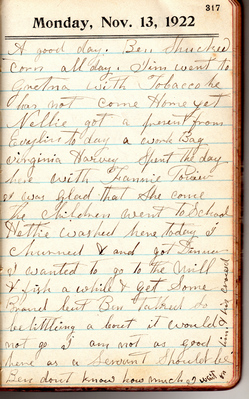 A good day. Ben shucked corn all day. Jim went to Gretna with tobacco. He has not come home yet. Nellie got a present from Evylin today. A work bag. Virginia Harvey spent the day here with Fannie Power. I was glad that she come. The children went to school. Hettie washed here today. I churned & and got dinner. I wanted to go to the mill & fish a while & get some [brand] but Ben talked so belittling a bout it. Would not go. I am not as good as a servant should be. Ben dont know how much I wait on him and his crowd.
Last edit almost 6 years ago by
mkstewart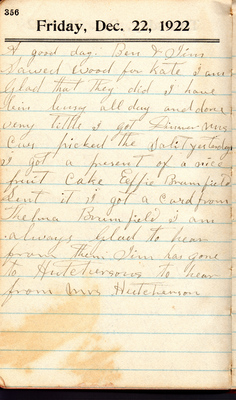 A good day. Ben & Jim sawed wood for Kate. I am glad that they did. I have bin busy all day and done very little. I got dinner. Mrs Car picked the salit yesterday. I got a present of a nice fruit cake. Effie Brumfield sent it. I got a card from Thelma Brumfield. I am always glad to hear from them. Jim has gone to Hutchersons to hear from Mrs Hutcherson.
Last edit almost 6 years ago by
mkstewart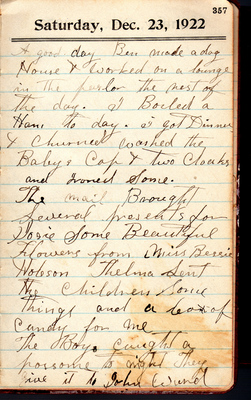 A good day. Ben made a dog house & worked on a lounge in the parlor the rest of the day. I boiled a ham to day. I got dinner & churned. Washed the babys cap & two cloaks and ironed some. The mail brought several presents for Josie from Miss Bessie Hobson. Thelma sent things and a box of candy for me. The boys caught a possome to night. They give it to John Ward.
Last edit almost 6 years ago by
mkstewart
1923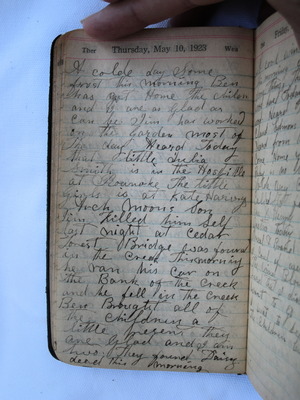 A colde day. Some frost this morning. Ben has got home. The chilen and I are as glad as can be. Jim has worked on the garden most of the day. Heard today that little Julia Smith is in the hosptille at Roanoke. The little girls is at Kate Harveys. Arch Moons son Jim killed him self last night at Cedar Forest Bridge. Was found in the creek this morning. He ran his car on the bank of the creek and he fell in the creek. Ben brought all of the children a little present. They are glad and I am two. They found Daisy dead this morning.
Last edit almost 7 years ago by
Nathani