Search for face* "hogs face" "hog face"
1919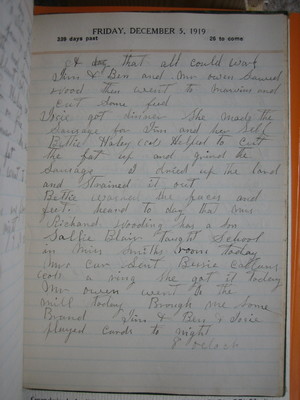 1921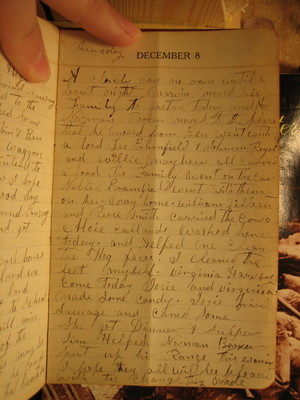 A cloudy day. No rain until a bout night. Marvin moved his family to Gretna today and Norman Booker moved to the place that he moved from. Ben went with a load. Lee Brumfield & Johnson Reynolds and Willie Mayhew all carried a load. The family went on the car. Nellie Brumfield went with them on her way home. William Gilbert and Reese Smith carried the cows. Alcie Callender washed here today and helped me clean the hog faces. I cleaned the feet myself. Virginia Harvey come today. Josie and Virginia made some candy. Josie fried sausag and caned some. She got dinner & supper. Jim helped Norman Booker put up his range this evening. I hope they all will be pleased with the change they made.
Last edit over 10 years ago by
Linda Tucker
1920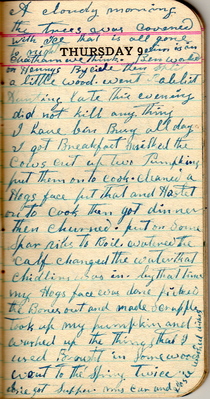 A cloudy morning. The trees was covered with ice that is all gone to night. Jim is in Chatham we think. Ben worked on Henrys bycicle then split a little wood. Went rabbit hunting late this evening. Did not kill any thing. I have bin busy all day. I got breakfast, milked the cows, cut up two pumpkins, put them on to cook, cleaned a hogs face, put that and haslet on to cook then got dinner then churned, put on some spar ribs to boil, watered the calf, changed the water that chidlins was in. By that time my hogs face was done. Picked the bones out and made scrapple. Took up my pumpkin and washed up the things that I used. Brought in some wood. Went to the spring twice. Josie got supper. Mrs. Car and Josie washed dishes.
Last edit about 9 years ago by
Linda Tucker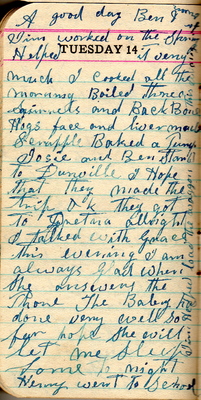 A good day. Ben & Jim worked on the spring. Helped it very much. I cooked all the morning. Boiled three sqirrels and back bone, hogs face and liver. Made scrapple, baked a tung [?] Josie and Ben started to Danville. I hope that they made the trip ok. They got to Gretna allright. I talked with Grace this evening. I am always glad when she answers the phone. The baby has done very well so far. Hope she will let me sleep some to night. Henry went to school. Jim helped load the waggon this evening for Owens.
Last edit about 9 years ago by
Linda Tucker
1923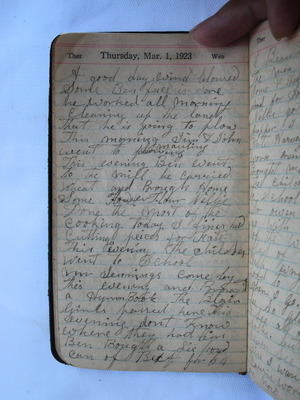 A good day. Wind blowed some. Ben face is sore. He worked all morning cleaning up the land that he is going to plow. This morning Jim and John went to mauling. This evening Ben went to the mill. He carried wheat and brought home some flour. Nellie done the most of the cooking today and finished cutting pieces for Kate. This evening the children went to school. Mr. Jennings come by this evening and brought a hymn book. The Blain girls passed here this evening. Don't know where they had bin. Ben bought a six pound can of beef for [?].
Last edit over 7 years ago by
Nathani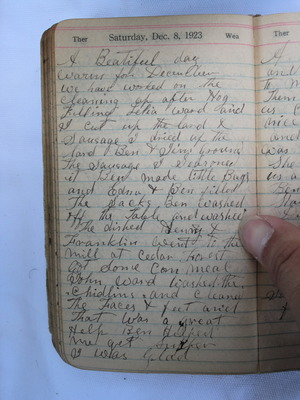 A beautiful day. Warm for December. We have worked on the cleaning up after hog killing. Lelia ward and I cut up the lard and sausage. I dried up the lard. Ben and Jim ground the sausage. I seasoned it. Ben made little bags and Edna and Ben filled the sacks. Ben washed off the table and washed the dished[?]. Henry and Franklin went to the mill at Cedar Forest. Got some corn meal. John Ward washed the chidlins and cleaned the faces and feet and that was a great help. Ben helped me get supper. I was glad.
Last edit almost 6 years ago by
Nathani