Search for "Mr Laynes" "Mr Layne"
1918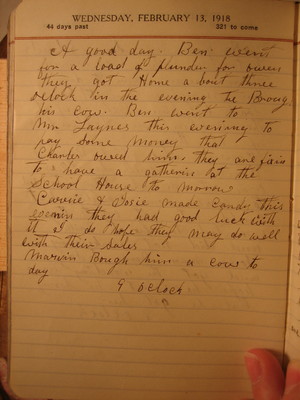 A good day. Ben went for a load of plunder for Owen. They got home a bout three oclock in the evening. He brought his cow. Ben went to Mr Laynes this evening to pay some money that Charles owed him. They are fixin to have a gatherin at the School House to morrow. Carrie and Josie made candy this evenin. They had good luck with it. I do hope they may do well with their sales.
Marvin bough him a cow to day.
9 oclock
Last edit about 10 years ago by
Ben Brumfield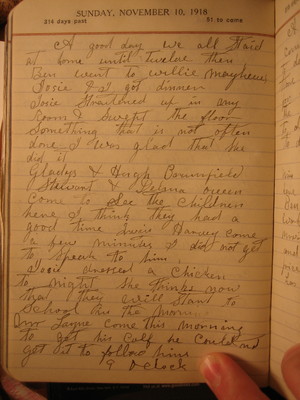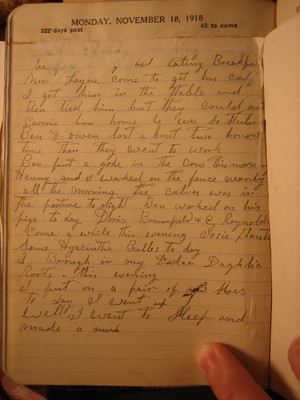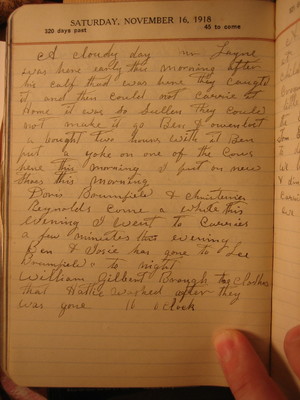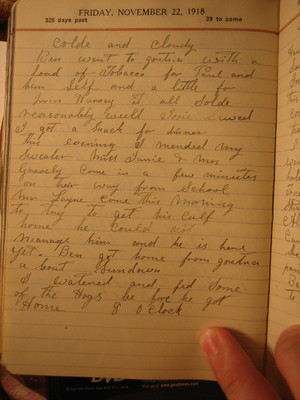 1919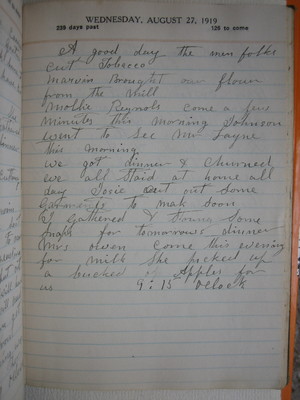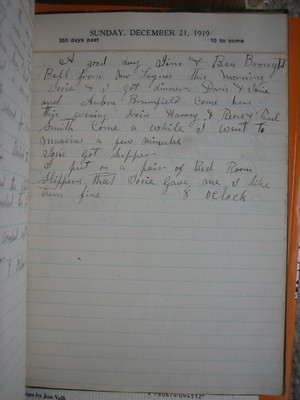 1921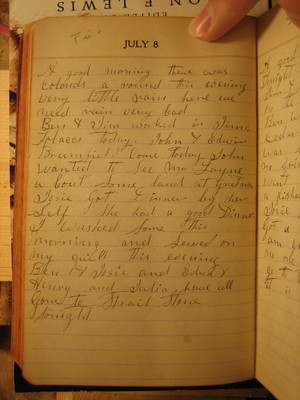 1920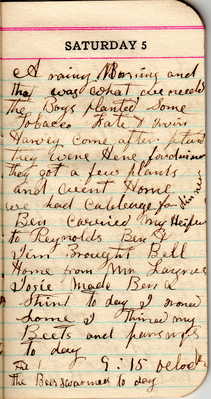 A rainy morning and that was what we needed. The boys planted some tobacco. Kate & Irvin Harvey come after plants. They were here for dinner. They got a few plants and went home. We had cabbage for dinner. Ben carried my heifer to Reynolds. Ben & Jim brought Bell home from Mr Laynes. Josie made Ben a shirt to day. I ironed some. I thined my beets and parsnips to day. 9:15 oclock The bees swarmed to day.
Last edit almost 10 years ago by
Linda Tucker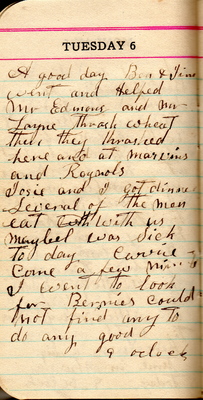 A good day. Ben & Jim went and helped Mr Edmons and Mr Layne thrash wheat then they thrashed here and at Marvins and Reynols. Josie and I got dinner. Several of the men eat with us. Maybel was sick to day. Carrie come a few minutes. I went to look for Berries. Could not find any to do any good. 9 oclock
Last edit over 9 years ago by
Linda Tucker
1923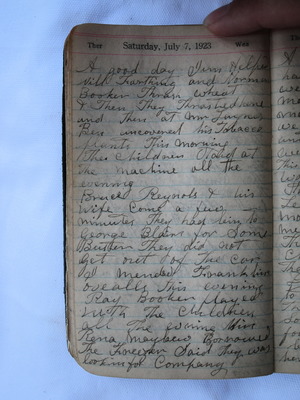 A good day. Jim helped [Will?] Farthing and Norman Booker thrash wheat and then they thrashed here and then then at Mr. Laynes. Ben uncovered his tobacco plants this morning. The children staid at the machine all the evening. Bruce Reynols and his wife come a few minutes. They had bin to George Blains for some butter. They did not get out of the car. I mended Franklin's overalls this evening. Ray Booker played with the children all the evening. Miss Rena Mayhew borrowed the freezer. Said they was lookin for company.
Last edit almost 7 years ago by
Nathani
A beautiful day. I come home this morning and found the men cutting tobacco. Nellie was getting dinner. I did not do any thing much a bout dinner. This evening I wormed tobacco. Lelia Ward helped me. The worms is trying to eat up the late tobacco. Evylin helped unload some tobacco this evening for the first time in her life I guess. Lelia Ward washed for me today. I went to Mr Bookers and got some snaps for tomorrows dinner. Mr Layne was hunting his hog. Franklin tried to help him drive it home.
Last edit over 6 years ago by
Nathani