Search for "Gladis Brumfield" "Gladys Brumfield" Gladys* Gladdis* Gladis* Gladice*
1918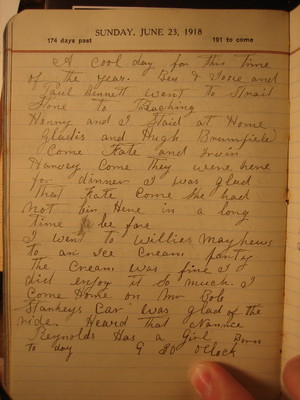 1919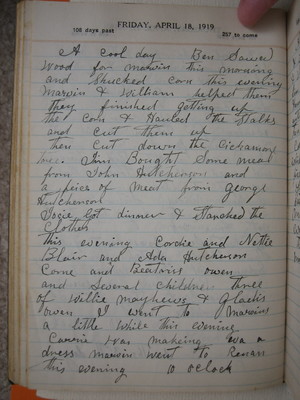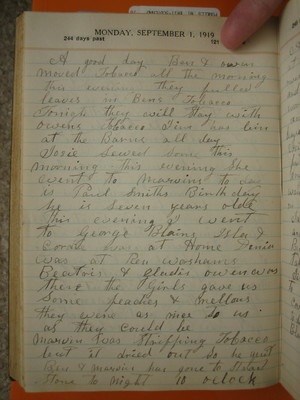 1921
Last edit over 6 years ago by
dy957
1922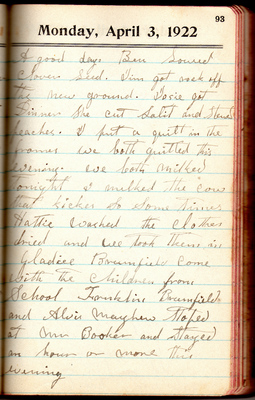 A good day. Ben sowed clover seed. Jim got rock off the new ground. Josie got dinner. She cut salit and stewed peaches. I put a quilt in the frames. We both quilted this evening. We both milked tonight. I milked the cow that kickes so some times. Hattie washed the clothes dried and we took them in. Gladice Brumfield come with the children from school. Franklin Brumfield and Alvin Mayhew stoped at Mr Booker and stayed an hour or more this evening.
Last edit almost 6 years ago by
mkstewart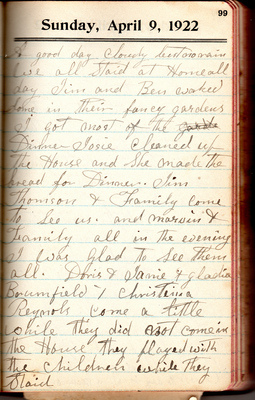 A good day. Cloudy but no rain. We all staid at home all day. Jim and Ben worked some in their fancy gardens. I got most of the dinner. Josie cleaned up the house and she made the bread for dinner. Jim Thomson & family come to see us. And Marvin & family all in the evening. I was glad to see them all. Doris & Jamie & Gladice Brumfield & Christina Reynols come a little while. They did not come in the house. They played with the children while they staid.
Last edit almost 6 years ago by
mkstewart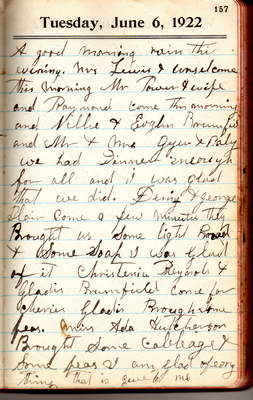 A good morning rain this evening. Mrs. Lewis & [Ansel] come this morning. Mr. Tower & wife and Raymond come this morning and Nellie & Evylin Brumsfield and Mr. & Mrs. Gyer & Baly. We had dinner enough for all and I was glad that we did. Denny & George Blair come a few minutes. They brought us some light bread & some soap. I was glad of it. Christenia Reynolds & Gladis Brumfield come for cherries. Gladis brought some peas. Miss Ada Hutchenson brought some cabbage & some peas. I am glad of every thing that is gave to me.
Last edit over 6 years ago by
jmcloone - UTSA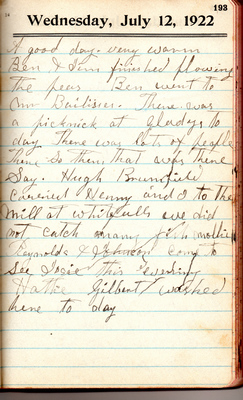 A good day - very warm. Ben & Jim finished plowing the peas. Ben went to Mr Bailisses. There was a picknick at [Gladys?] to day. There was lots of people there so them that was there say. Hugh Brumfield carried Henry and I to the mill at Whitefalls. We did not catch many fish [mollies?]. Reynolds & [Johnson?] come to see Josie this evening. Hattie Gilbert washed here to day.
Last edit about 6 years ago by
mkstewart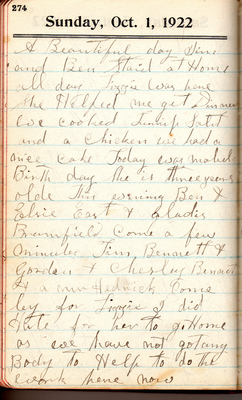 A beautiful day. Jim and Ben staid at home all day. Lizzie was here. she helped me get dinner. We cooked Turnip salit and a chicken. We had a nice cake. Today was Mabel's Birth day. She is three years olde. This evening Ben & Elsie East & Gladis Brumfield come a few minutes. Tim Bennett & Gordon & [Chesley?] Bennett & a Mr Hedrick come by for Lizzie. I did hate for her to go home as we have not got any body to help to do the work here now.
Last edit almost 6 years ago by
mkstewart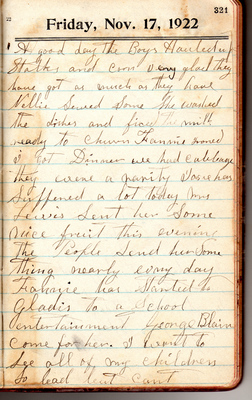 A good day. The boys hauled up stalks and corn. Very glad they have got as much as they have. Nellie sewed some. She washed the dishes and fixed the milk ready to churn. Fannie ironed. I got dinner. We had cabbage. They were a rarity. Josie has suffered a lot today. Mrs Lewis sent her some nice fruit this evening. The people send her some thing nearly every day. Fannie has started to [?] Gladis to a school entertainment. George Blair come for her. I want to see all of my children so bad but cant.
Last edit almost 6 years ago by
mkstewart
1923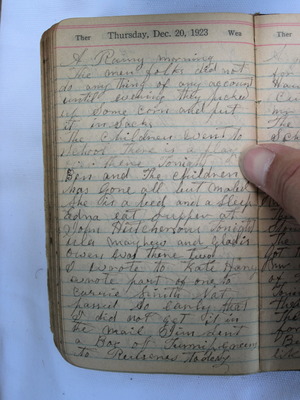 A rainy morning. The men folks did not do any thing of any account until evening. They picked up some corn and put it in sacks. The children went to school. There is a play over there tonight. Ben and the children has gone all but Mabel. She is a bed and a sleep. Edna eat supper at John Hutcherson's tonight. [E]Ula Mayhew and Gladis Owen was there two. I wrote to Kate Harvey. Wrote part of one to Carrie Smith. Nat passed so early that I did not get it in the mail. Jim sent a box of turnip greens to Ruben's today.
Last edit almost 6 years ago by
Nathani