Search for "was up" "high water" "washed down" "awful rain"
1919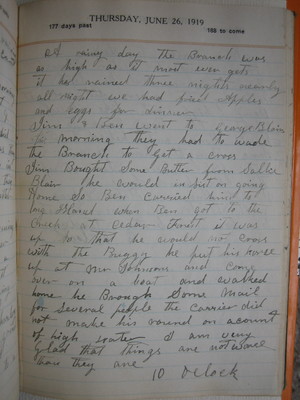 A rainy day. The branch was as high as it most ever gets. It has rained three nights nearly all night. We had fried apples and eggs for dinner.
Jim & Ben went to George Blairs this morning. They had to wade the branch to get a cross.
Jim bought some butter from Sallie Blair. He would insist on going home so Ben carried him to Long Island. When Ben got to the creek at Cedar Forest it was up so that he would not cross with the buggy. He put his horse up at Mr Johnsons and come over on a boat and walked home. He brough some mail for several people. The carrier did not make his round on account of high water. I am very glad that things are not worse than they are.
10 oclock
Last edit over 10 years ago by
Ben Brumfield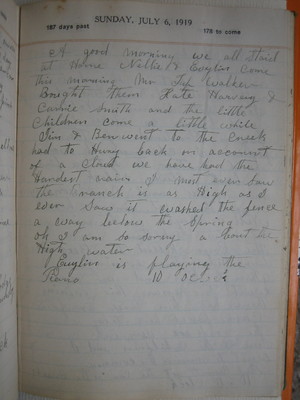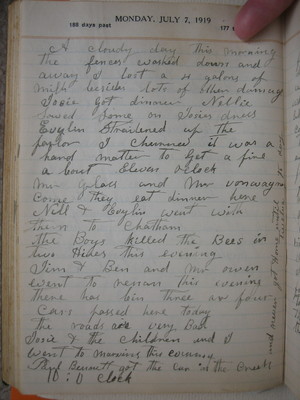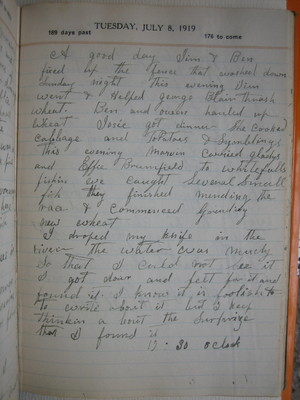 Last edit over 6 years ago by
dy957
1921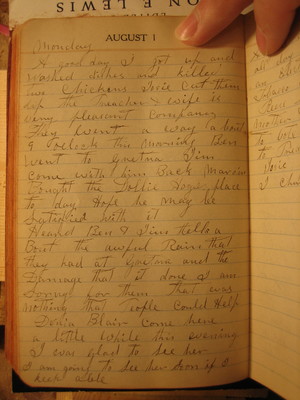 A good day. I got up and washed dishes and killed two chickens. Josie cut them up. The preacher & wife is very pleasant company. They went a way a bout 9 oclock this morning. Ben went to Gretna. Jim come with him back. Marvin bought the Dollie Hays place to day. Hope he may be satisfied with it.
Heard Ben & Jim tells a bout the awful rain that they had at Gretna and the damage that it done. I am sorry for them. That was nothing that people could help.
Denia Blair come here a little while this evening. I was glad to see her. I am going to see her soon if I keep able.
Last edit over 9 years ago by
Ben Brumfield