Search for "Letcher Craddocks" Letchers* Letcher* "my brother" "Brother Letcher" "Letcher Craddock" "my brother"
1920
A clear cold day. Ben went to Chatham for Jim. They got home at dark. They come by Letcher Craddocks and got some honey. Josie washed some. We eat a cold dinner except coffee. I kept the baby. I do the work that has to be done or keep the baby from before light until after dark. I am afraid that I can't hold out at it until spring. I feel so bad I don't see no way to help myself. 9 oclock
Last edit about 10 years ago by
Neil Brumfield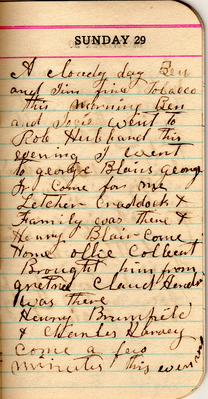 A cloudy day. Ben and Jim fired tobacco. This morning Ben and Josie went to Rob Hubbard. This evening I went to George Blairs. George Jr come for me. Letcher Craddock & family was there & Henry Blair come home. Ollie Colbert brought him from Gretna. Claud Anderson [?] was there. Henry Brumfield & Charles Harvey come a few minutes this evening.
Last edit over 9 years ago by
Linda Tucker
1922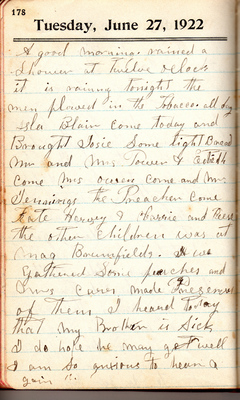 A good morning. Rained a shower at twelve oclock. It is raining tonight. The men plowed in the tobacco all day. Isla Blair come today and brought Josie some light bread. Mr. and Mrs. [Tower?] & [Edieth?] come. Mrs. Owen come and Mr. [Jennings?] the preacher come. Kate Harvey & [Carrie?] and Reese the other children was at [?] Brumfields. We gathered some peaches and Mrs. [?] made preserves'of them. I heard today that my brother is sick. I do hope he may get well. I am so anxious to hear a gain.
Last edit about 6 years ago by
gutterpeach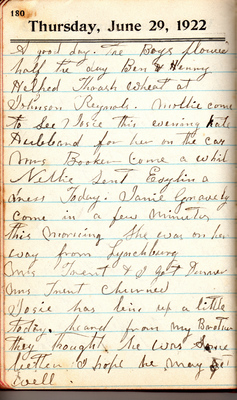 A good day. The boys plowed half the day. Ben & Henry helped thrash wheat at Johnson [Reynolds?]. Mollie came to see Josie this evening. [Kate?] HUbbard for her in the car. Mrs Booker come for a whil [Nellie?] sent [?] a dress today. Janie [?] come ion a few minutes this morning. She was on her way from Lynchburg. Mrs. Trent & I got dinner. Mrs. Trent churned. Josie had [bine?] up a little today. Heard from my brother They though he was [some?] better. I hope he may get well.
Last edit about 6 years ago by
gutterpeach2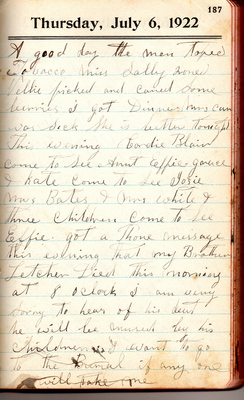 A good day. The men [?] tobacco. Miss Sally [?]. Nellie picked and caned some berries. I got dinner. Mrs. [?] was sick. She is better tonight. This evening [?] Blair come to see Aunt Effie. [?] & Kate come to see Josie. Mrs. Bates & Mrs. White & three children come to see Effie. Got a [phone?] message this evening that my brother Letcher dies this morning at 8 oclock. I am very sorry to hear of his [deth?] He will be missed by his children. I want to go to the burial if any one will take me.
Last edit about 6 years ago by
gutterpeach2