Search for sweater*
1920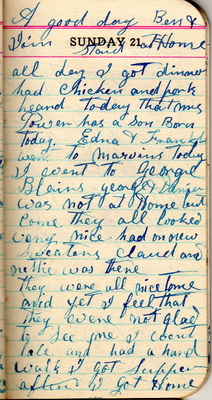 A good day. Ben & Jim staid at home all day. I got dinner had chicken and pork. Heard today that Mrs Power has a son born today. Edna & Franklin went to Marvins today. I went to George Blairs. George & Denia was not at home but come. They all looked very nice. Had on new sweaters. Claud and [?] was there. They were all nice to me and yet I feel that they were not glad to see me. I went late and had a hard walk. I got supper after I got home.
Last edit about 9 years ago by
Linda Tucker
1922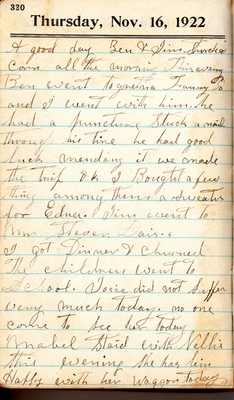 A good day. Ben & Jim shucked corn all the morning. This evening Ben went to Gretna. Fanny [..?] and I went with him. He had a puncture. Stuck a nail through his tire. He had good luck mending it. We made the trip ok. I bought a few thing. Among them a sweater for Edna. Jim went to Mr Steven [Dais's?]. I got dinner & churned. The children went to school. Josie did not suffer very much today. No one come to see her today. Mabel staid with Nellie this evening. She has bin happy with her waggon today.
Last edit almost 6 years ago by
mkstewart
1923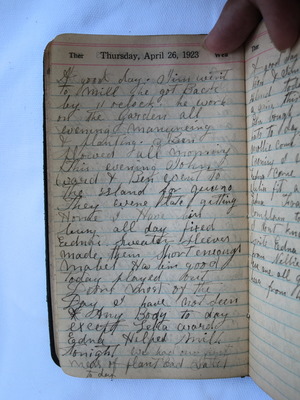 A good day. Jim went to mill. He got back by 11 oclock. He work on the garden all evening manureing and planting. Ben plowed all morning. This evening John Ward and Ben went to the island for guano. They were late getting home. I have bin busy all day. Fixed Ednas sweater sleeves. Made them short enough. Mabel has bin good today. Played out doors most of the day. I have not seen any body to day except Lelia Ward. Edna helped milk tonight. We had or first mess of plant bed salit today.
Last edit over 6 years ago by
Nathani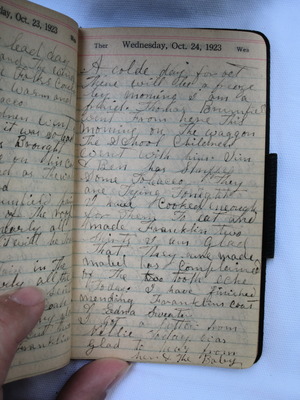 A colde day for Oct. There will be a freeze by morning I am a fraid. Thomas Brumfield went from here this morning on the waggon. The school children went with him. Jim and Ben has stripped some tobacco. They are tying tonight. I have cooked enought for them to eat and made Franklin two shirts. I am glad that they are made. Mabel has complained of the tooth ache today. I have finished mending Franklins coat and Edna sweater. I got a letter from Nellie today. Was glad to her from her and the baby.
Last edit almost 6 years ago by
Nathani