Search for pallet*
1923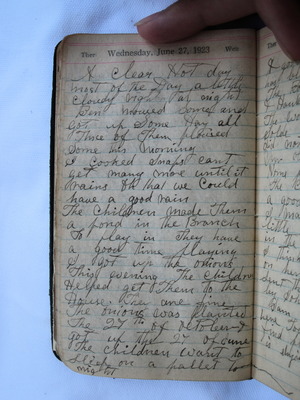 A clear hot day most of the day. A little cloudy right at night. Ben mowed some and got up some hay. All three of them plowed some this morning. I cooked snaps. Can't get many more until it rains. oh that we could have a good rain. The children made them a pond in the branch to play in. They have a good time playing. I got up the onions this evening. The children helped get them to the house. They are fine. The onions was planted the 27th of October and got up the 27 of June. The children want to sleep on a pallet to night.
Last edit almost 7 years ago by
Nathani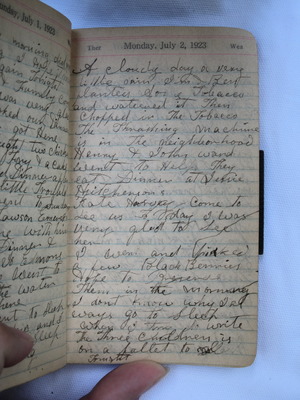 A cloudy day. A very little rain. Jim and Ben planted some tobacco and watered it. Then chopped in the tobacco. The threshing machine is in the neighborhood. Henry and John Ward went to help. They eat dinner at Jessie Hutchersons. Kate Harvey come to see us today. I was very glad to see her. I went and picked a few black berries. Hope to preserve them in the mroning. I don't know why I al ways go to sleep when I try to write. The three children is on a pallet to[?] tonight [sic].
Last edit almost 7 years ago by
Nathani