Search for "West Virginia" "W Virginia" "W Va"
1919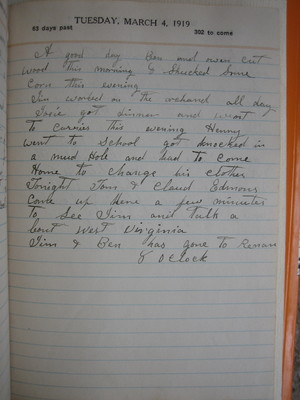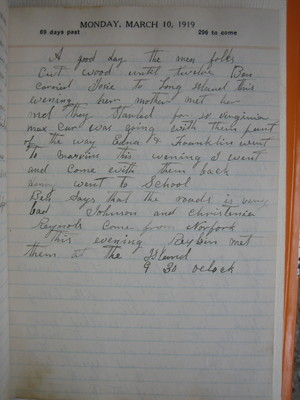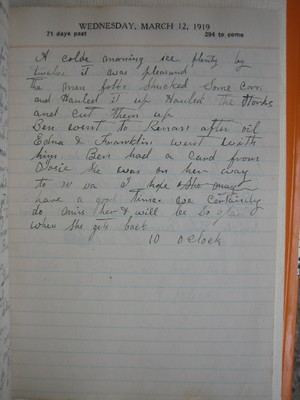 A colde morning. Ice plenty by twelve. It was pleasant.
The men folks shucked some corn and hauled it up. Hauled the storks[sic] and cut them up.
Ben went to Renan after oil. Edna & Franklin went with him. Ben had a card from Josie. She was on her way to W Va. I hope she may have a good time. We certainly do miss her & will be so glad when she gets back.
10 oclock
Last edit almost 11 years ago by
Ben Brumfield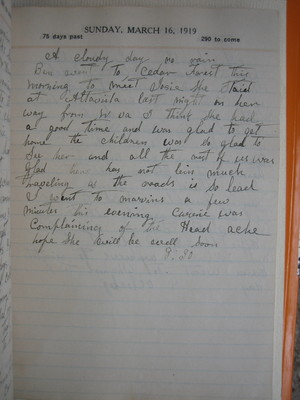 A cloudy day. No rain.
Ben went to Cedar Forest this morning to meet Josie. She staid at Altavista last night on her way from W Va. I think she had a good time and was glad to get home. The children was so glad to see her and all the rest of us was glad. There has not bin much traveling as the roads is so bad.
I went to Marvins a few minutes this evening. Carrie was complaining of the head ache. Hope she will be well soon.
8:30
Last edit almost 11 years ago by
Ben Brumfield