Search for "Jim Thompson" "Jim Thompsons" "Jim Thomsons"
1921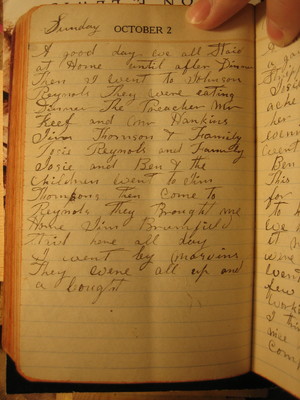 1920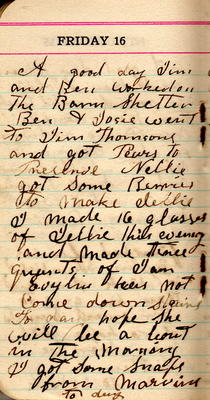 A good day. Jim and Ben worked on the barn shelter. Ben & Josie went to Jim Thomsons and got pears to preserve. Nellie got some berries to make jellie. I made 16 glasses of jellie this evening and made three quarts of jam. Evylin has not come down stairs to day. Hope she will be a bout in the morning. I got some snaps from Marvin to day.
Last edit over 9 years ago by
Linda Tucker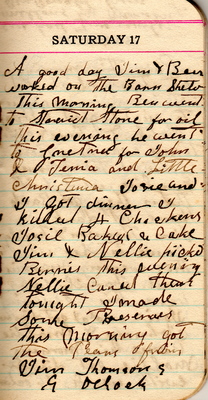 A good day. Jim & Ben worked on the barn shelter this morning. Ben went to Strait Stone for oil this evening. He went to Gretna for John & Tenia and Little Christenia. Josie and I got dinner. I killed 4 chickens. Josie baked a cake. Jim & Nellie picked berries this evening. Nellie caned them. Tonight I made some preserves. This morning got the pears from Jim Thomsons. 9 oclock
Last edit over 9 years ago by
Linda Tucker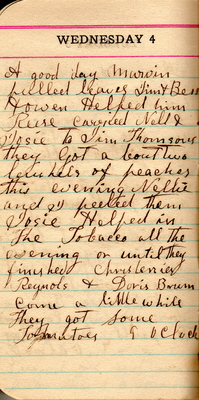 A good day. Marvin pulled leaves. Jim & Ben & Owen helped him. Reese carried Nell & Josie to Jim Thomsons. They got a bout two bushels of peaches. This evening Nellie and I peeled them. Josie helped in the tobacco all the evening or until they finished. Christenia Reynols & Doris Brum come a little while. They got some tomatoes. 9 oclock
Last edit over 9 years ago by
Linda Tucker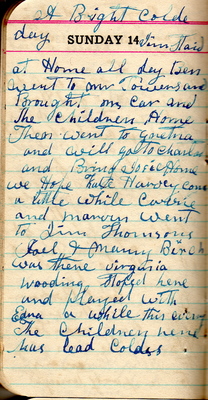 A bright colde day. Jim staid at home all day. Ben went to Mr Powers and brought Mrs Car and the children home then went to Gretna and will go to Charlot and bring Josie home we hope. Kate Harvey come a little while. Carrie and Marvin went to Jim Thomsons. Joel & [?] Birch was there. Virginia Wooding stoped here and played with Edna a while this evening. The children here has bad coldes.
Last edit about 9 years ago by
Linda Tucker
1923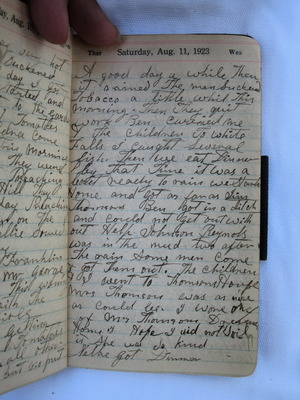 A good day a while. Then it rained. The men suckered tobacco a little while this morning. Then they quit work. Ben carried me and the children to White Falls. I caught several fish. Then we eat dinner. By that time it was a bout ready to rain. We started home and got as far as Jim Thomsons. Ben got in a ditch and could not get out with out help. Johnson Reynolds was in the mud two after the rain. Some men come and got them out. The children and I went to Thomson's house. Mrs. Thomson was as nice as could be. I wore one of Mrs Thomson's dresses home. I hope I did not soil it. She was so kind. Nellie got dinner.
Last edit over 6 years ago by
Nathani