Search for colored*
1918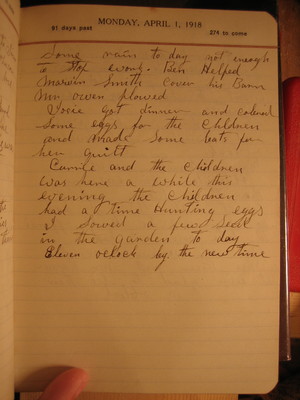 1919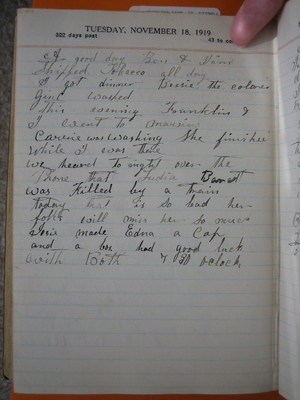 1921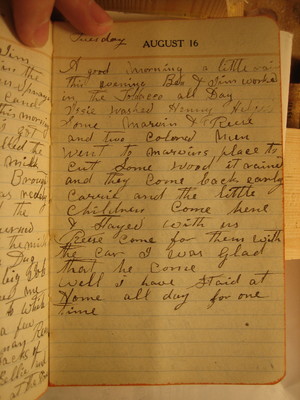 1920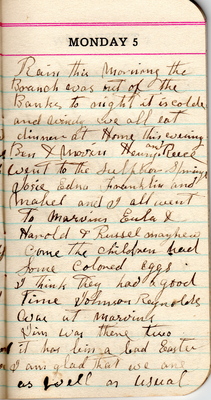 Rain this morning. The branch was out of the banks. To night it is colde and windy. We all eat dinner at home this evening. Ben & Marvin Henry and Reece went to the Sulpher Springs. Josie Edna Franklin and Mabel and I all went to Marvins. Eula & Harold & Russel Mayhew come. The children had some colored eggs. I think they had a good time. Johnson Reynolds was at Marvins. Jim was there two. It has bin a bad Easter. I am glad that we are as well as usual.
Last edit about 10 years ago by
Linda Tucker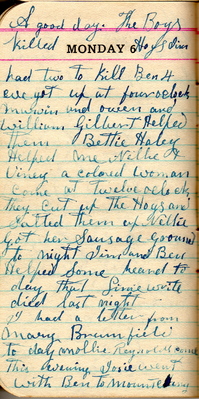 A good day. The boys killed hogs. Jim had two to kill, Ben 4. We got up at four oclock. Marvin and Owen and William Gilbert helped them. Bettie Haley helped me. Nellie & Viney a colored woman come at twelve oclock. They cut up the hogs and salted them up. Nellie got her sausage ground to night. Jim and Ben helped some. Heard to day that Lizzie write died last night. I had a letter from Mary Brumfield to day. Mollie Reynolds come this evening. Josie went with Ben to Mount Airy.
Last edit over 9 years ago by
Linda Tucker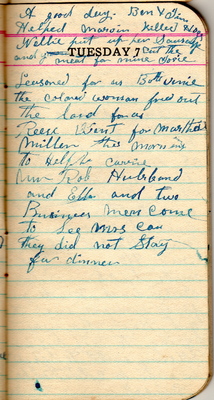 A good day. Ben & Jim helped Marvin kill hogs. Nellie put up her sausage and cut the meat for mine. Josie seasoned for us both. Vinie the colored woman fried out the lard for us. Reese went for Martha Miller this morning to help Carrie. Mr Rob Hubbard and Ella and two business men come to see Mrs Car. They did not stay for dinner.
Last edit over 9 years ago by
Linda Tucker
1923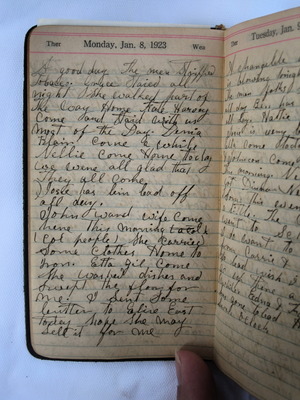 A good day. The men stripped tobacco. Grace staied all night. She walked part of the way home. Kate Harvey come and staid with us most of the day. Demia? Blair come a while. Nellie come home today. We were all glad that they all come.
Jose has been bad off all day.
John Ward wife come here this morning (colored people). She carried some clothes home to iron. Etta Gilbert come. She washed dishes and swept the floor for me. I sent some butter to Elise East today. Hope she may sell it for me.
Last edit almost 8 years ago by
Nathani