Search for Gordon* "Gordon Bennett"
1921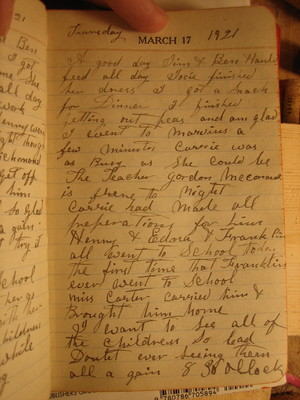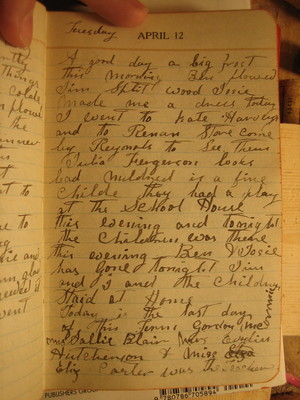 1920
A good day at Tims yet. This evening Lizzie and I went to Gordon Bennetts to see Frances Bennett & her mother. They were getting on fine. Tonight Alma & Paul and Lonnie has gone to Mr Mayhews.
I would be so glad to know how they are getting on at home.
Last edit over 9 years ago by
Linda Tucker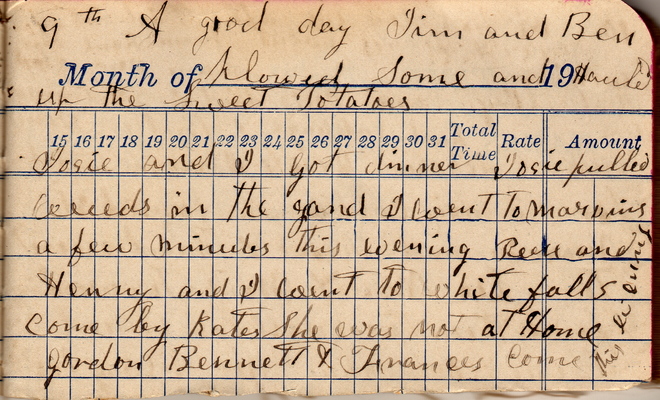 9th A good day. Jim and Ben plowed some and hauled up the sweet potatoes. Josie and I got dinner. Josie pulled weeds in the yard. I went to Marvins a few minutes this evening. Reese and Henry and I went to White Falls. Come by Kates. She was not at home. Gordon Bennett & Frances come this evening.
Last edit about 9 years ago by
Linda Tucker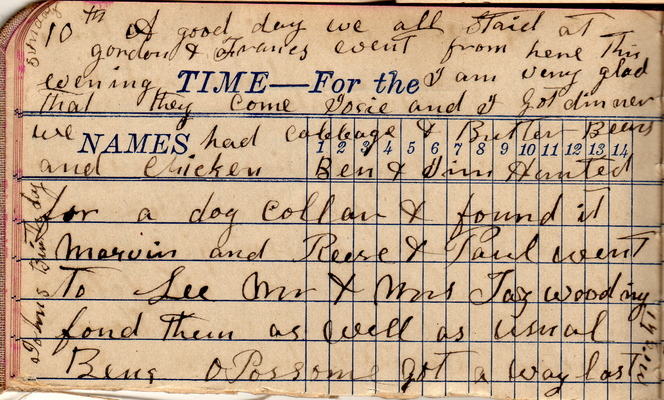 Sunday 10th A good day. We all staid at [home]. Gordon & Frances went from here this evening. I am very glad that they come. Josie and I got dinner. We had cabbage & butter beans and chicken. Ben & Jim hunted for a dog collar & found it. Marvin and Reese & Paul went to see Mr and Mrs Taz Wooding. Fond them as well as usual. Bens opossum got a way last night.
Johns birthday
Last edit about 9 years ago by
Linda Tucker
1922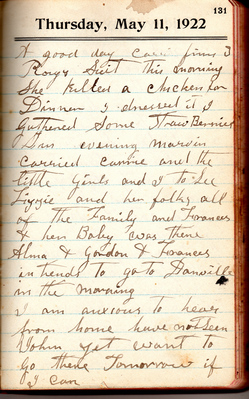 A good day Carrie finished Roys suit this morning she killed a chicken for Dinner I dressed it I gathered some Straw Berries This evening Marvin carried Carrie and the little girls and I to see Lizzie and her folks all of the Family and Frances & her Baby was there Alma & Gordon & Frances intends to go to Danville in the morning I an anxious to hear from home have not seen John yet want to go there tomorrow if I can.
Last edit almost 7 years ago by
Lydia B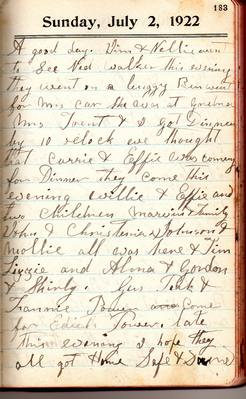 A good day. Jim & Nellie went to see Ned Walker this evening. They went on a buggy. Ben went for Mrs. Car. She was at [?] Mrs. Trent & I got dinner by 10 oclock. We thought that Carrie & Effie was coming for dinner. The come this evening. Willie & Effie and two children [?] & family [?] Mollie all was here & Jim Lizzie and Alma & Gordon & [Shirly?]. [?] Fannie [?] [?] come for Edieth. [?] late this evening. I hope they got home safe & sound.
Last edit almost 6 years ago by
gutterpeach2
A good day. Very warm. We all staid about home but Ben went to Cedar Forest for Mrs Car. They went to Rob Hubbards and spent the day. They got home a bout night. Lizzie & Alma and Gordon & family all come to see Josie this evening. Josie has felt some better today. I and a col[oured] girl got dinner today. I churned. Fanny Power went joy rideing this morning with [Orvel?]& Jamie Gravely. This evening they went to Gretna. Fannie is a fine girl I think. She has waited on Josie faithful all this week.
Last edit almost 6 years ago by
mkstewart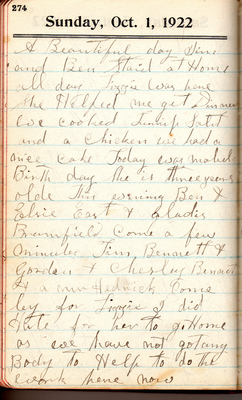 A beautiful day. Jim and Ben staid at home all day. Lizzie was here. she helped me get dinner. We cooked Turnip salit and a chicken. We had a nice cake. Today was Mabel's Birth day. She is three years olde. This evening Ben & Elsie East & Gladis Brumfield come a few minutes. Tim Bennett & Gordon & [Chesley?] Bennett & a Mr Hedrick come by for Lizzie. I did hate for her to go home as we have not got any body to help to do the work here now.
Last edit almost 6 years ago by
mkstewart
1923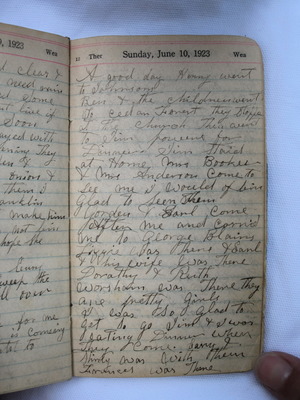 A good day. Henry went to Johnsons. Ben and the children went to Cedar Forest. They stoppe at the church. Then went to Jim Powers for dinner. Jim staid at home. Mrs. Booker and Mrs Anderson come to see me. I would of bin glad to seen them. Gordon and Earl come after me and carried me to George Blains. Lizzie was there and Earl and his wife was there. Dorathy and Ruth Worshan was there. They are pretty girls. I was so glad to get to go. Jim and I was eating dinner when they come. Cary and Shirly was with them. Frances was there.
Last edit over 6 years ago by
Nathani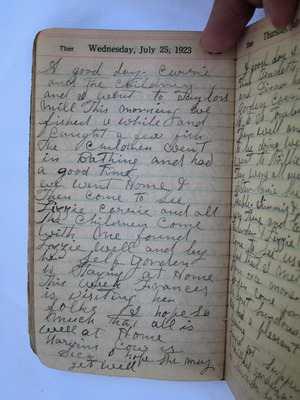 A good day. Carrie and the children and I went to Taylors Mill this morning. We fished a while and caught a few fish. The children went in bathing and had a good time. We went home and then come to see Lizzie. Carrie and all the children come with me. Found Lizzie well and by her self. Gordon is staying at home. This week Frances is visiting her folks. I hope so much that all is well at home. Marvin's cow is sick. I hope she may get well.
Last edit over 6 years ago by
Nathani
A good day. I am at Tim Bennetts. Eat breakfast and dinner here. Then Gorden carried Lizzie and I to Jo Towlers. Found them well and seemed to be doing well. Then went to Billie Bennetts. They were all well but Sister Nan[n]ie. She looks feeble. Jimmie and Bessie was there and Ella and Elender and Lizzie Bennett come to see us. I was glad that I met with them once more. Gordon come for us about sundown. We had a pleasant evening. Lizzie got supper and milked. Gordon milked as she was late.
Last edit over 6 years ago by
Nathani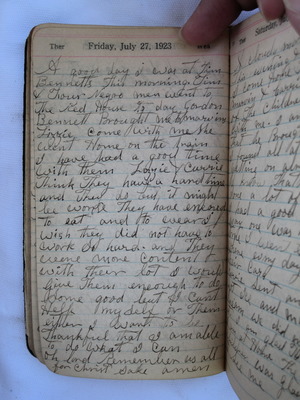 A good day. I was at Tim Bennetts this morning. Tim and four Negro men went to The Red House to day. Gordon Bennett brought me to Marvins. Lizzie come with me. She went home on the train. I have had a good time with them. Lizzie and Carrie think they have a hard time and they do but it might be worse. They have enough to eat and to wear. I wish they did not have to work so hard and they were more content with their lot. I would give them enough to do some good but I can't help mself or them either. I want to be thankful that I am able to do what I can. Oh Lord remember us all for Christ sake. Amen.
Last edit over 6 years ago by
Nathani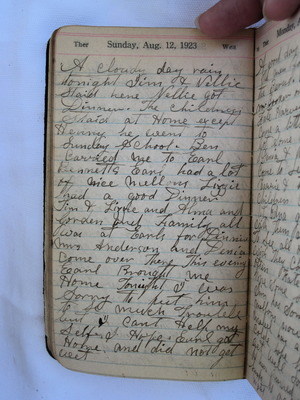 A cloudy day. Rain tonight. Jim and Nellie staid here. Nellie got dinner. The children staid at home except Henry. He Went to Sunday school. Ben carried me to Earl Bennetts. Earl had a lot of nice mellons. Lizzie had a good dinner. Tim and Lizzie and Alma and Gordon and family all was at Earls for dinner. Mrs. Anderson and Denia come over there this evening. Earl brought me home tonight. I was sorry to put him to so much trouble but I can't help my self. I hope Earl got home and did not get wet.
Last edit over 6 years ago by
Nathani