Search for Nettie* "Nettie Blair" "Nettie Blair" "Nettie Blair" Net*
1921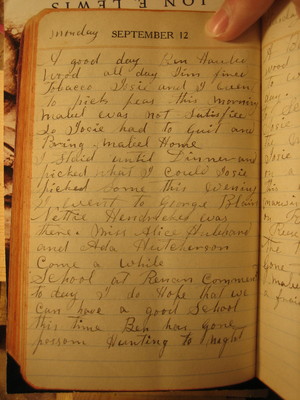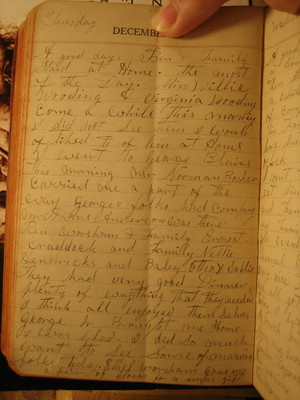 A good day. Ben & family staid at home the most of the day. Miss Willie Wooding & Virginia Wooding come a while this morning. I did not see them. I would of liked to of bin at home. I went to George Blairs this morning. Mr Norman Booker carried me a part of the way. Georges folks had company. Mr & Mrs Anderson was there. Ren Worsham & family, Ernest Craddock and family, Nettie Hendricks and baby, Otho & Sallie. They had very good dinner. Plenty of everything that they needed. I think all enjoyed them selves. George Jr[?] brought me home. I was glad. I did so much want to see some of Marvins folks today. Ethel Worsham gave me a pair of gloves for a Xmas gift.
Last edit over 9 years ago by
Linda Tucker
1920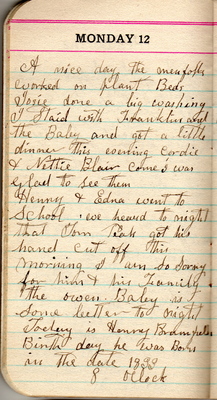 A nice day. The menfolks worked on plant beds. Josie done a big washing. I staid with Franklin and the baby and got a little dinner. This evening Cordie & Nettie Blair come. I was glad to see them.
Henry and Edna went to school. We heard to night that Tom Peak got his hand cut off this morning. I am so sorry for him & his family. The Owen baby is some better to night. Today is Henry Brumfield's birth day. He was born in the date 1833. 8 oclock
Last edit about 9 years ago by
Neil Brumfield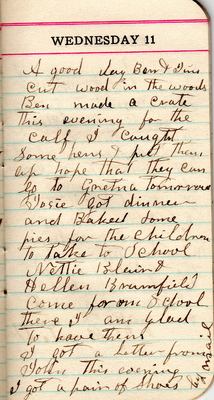 A good day. Ben & Jim cut wood in the woods. Ben made a crate this evening for the calf. I caught some hens & put them up. Hope that they can go to Gretna tomorrow. Josie got dinner and baked some pies for the children to take to school. Nettie Blair & Hellen Brumfield come [?] school there. I am glad to have them. I got a letter from John this evening. I got a pair of shoes by mail.
Last edit about 9 years ago by
Linda Tucker
1922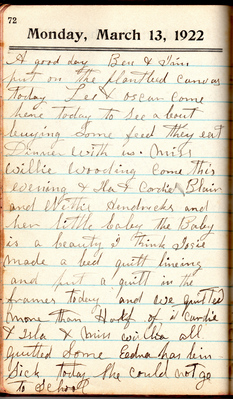 A good day. Ben & Jim put on the plantbed canvas today. Lee & Oscar come here today to see a bout buying some feed. They eat dinner with us. Miss Willie Wooding come this evening & Ila & Cordie Blair and Nettie Hendricks and her little baby. The baby is a beauty. I think Josie made a bed quilt lineing and put a quilt in the frames today and we quilted more than half of it. Cordie & Isla & Miss Willie all quilted some. Edna has bin sick today. She could not go to school.
Last edit almost 5 years ago by
Ladybug1492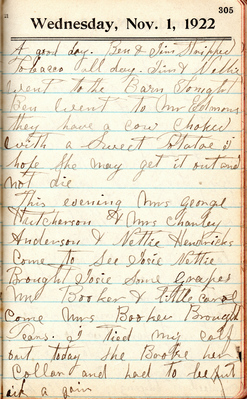 A good day. Ben & Jim stripped tobacco all day. Jim & Nellie went to the barn tonight. Ben went to Mr Edmons. They have a cow choked with a sweet potatoe. I hope she may get it out and not die. This evening Mrs George Hutcherson & Mrs Charley Anderson & Nellie Hendricks come to see Josie. Nettie brought Josie some grapes. Mr Booker & little Carol come. Mr Booker brought pears. I tied my calf but today she broke her collar and had to be put in a gain.
Last edit almost 5 years ago by
mkstewart
1923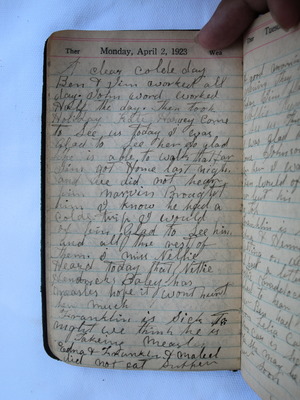 A clear colde day. Ben and Jim worked all day. John Ward worked half the day. Then took holiday. Kate Harvey come to see us today. I was glad to see her. So glad she is able to walk that far. Jim got home last night and we did not hear Jim. Marvin brought him. I know he had a colde trip. I would of bin glad to see him and all the rest of them. I miss Nettie. Hendricks Baley has measles. Hope it wont hurt her much. Franklin is sick to night. We think he is taking measles. Edna and Franklin and Mabel did not eat supper.
Last edit almost 6 years ago by
Nathani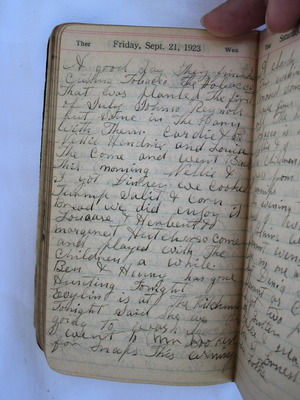 A good day. They finished cutting tobacco.The tobacco that was planted the first of July. Johnson Reynols put some in the barn with them. Cardie and Nettie Hendrix and Louise the[y] come and went back this morning. Nellie and I got dinner. We cooked turnip salit and corn bread. We did enjoy it. Louise and Herbert and Margaret Hutcherson come and played with the children a while. Ben and Henry has gone hunting tonight. Evylin is at the [kitchen?] tonight. Said she was going to wash [?]. I went to Mr. Booker's for snaps this evening.
Last edit about 5 years ago by
Nathani