About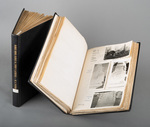 This collection is complete. Transcription has been deactivated.
The
William E. Peters Papers
online collection consists of materials selected from the larger physical manuscript collection which showcase Peters' research and documentation of Athens County, Ohio history and genealogy. The 26-volume scrapbook series of "Range Books" are organized geographically by range, township, and section, and were compiled primarily during the 1940s. They document unique features of Athens County and its surrounding areas, including cemeteries, Native American mounds, schools, and mining sites.
Works
https://media.library.ohio.edu/digital/collection/wepeters/id/1516
311 pages: 100% corrected, 48% needs review
https://media.library.ohio.edu/digital/collection/wepeters/id/5808/
143 pages: 100% corrected, 45% needs review