About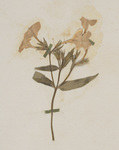 Assembled in 1897 by African American high school student, Walter Alexander (1880-1910) of Ironton, Ohio. Alexander created the notebook when he was around 17 years old while attending Kingsbury Public High School. It features mounted plant specimens, pen-and-ink sketches of botanical details, and descriptions of plant species native to Southern Ohio.
To contribute, create a FromThePage account. Then click the button to Start Transcribing below which will automatically open Pages that need transcription. You can also access Pages that need review if you are new to transcription. Collaborators who are familiar with botanical terms present throughout the volume are encouraged to assist with review. Further instructions & formatting rules will appear at the bottom of the transcription window.
Works
Some pages still need work. Help out!