Collections
Founded in 1854 as the Indianapolis Police Department, the principal law enforcement agency of Indianapolis, Indiana, it was consolidated with the Marion County Sheriff's Office in 2007 and became the Indianapolis Metropolitan Police Department (IMPD). This collection consists of a series of...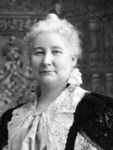 The May Wright Sewall Papers are a collection of documents comprised of approximately 500 letters written to May Wright Sewall dated between 1879 and 1919, and three guest books with remarks and signatures from 197 guests of the Sewall house. The correspondents represented in this collection...
Letters and documents from the Indianapolis Public Library's rich archives.