About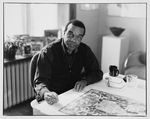 Help us make David C. Driskell's incredible life of art, teaching, and scholarship more accessible to everyone!
David C. Driskell was an inspiration to so many of his colleagues, students, and fellow artists, including Jacob Lawrence and Aaron Douglas. He passed away from complications of COVID-19 on April 1, 2020, and his death was a tragedy for all who knew him personally or through his art. By increasing accessibility to his archive, we can pick up the baton to make sure his influence is felt for generations to come.
David C.Driskell was simply a force of nature. He was a brilliant artist in several media, a curator, a collector, a teacher, and as an art historian, he established the foundations of the study of African American art. His CV is so extensive and impressive, and yet, he is not the household name that he should be. His recent death has prompted an outpouring of stories of his incredible commitment to helping aspiring artists find their voice and to his life-long perseverance in bringing African American art into our cultural consciousness. Find out even more about David C. Driskell.
You are invited to take part in transcribing a curated collection of documents from the David C. Driskell Papers that represent his thoughtfulness and connection to not only his art, but also to his colleagues and students throughout his life. The documents you can transcribe through this project include journal entries, event notes, essay drafts, and letters to and from notable American artists like Lois Mailou Jones and Romare Bearden. In transcribing these documents we hope you can get an intimate picture of Driskell's life and work, understand his profound impact on the history of American art, and perhaps discover something new in the process.
Transcribing these documents makes them more easily accessible to a much wider audience. For example, transcriptions allow these documents to be read by screen-readers for blind and visually-impaired viewers. They also allow the contents of the pages to become searchable making it easier for researchers, teachers, students, and art historians, to glean information from the original source documents. Together, we can transcribe these archival documents quickly and bring this collection to all the people and communities that wish to access it.
For anyone unfamiliar with Driskell's work, once you find out what an incredible human being he was, you will want to discover and study his artwork. And once you experience his art, you will want to help bring his legacy to an even larger audience. Driskell's fundamental contributions to American art are crucial to deepening our understanding of our culture and history, and increasing the accessibility to his archive is essential work towards that goal. For more detailed information and how-to's for participating in this transcription project, take a look at our complete Frequently Asked Questions.
The David C. Driskell Center honors the late University of Maryland Distinguished University Professor Emeritus of art history, David C. Driskell, and was created to provide an academic space to celebrate African American visual art and culture through education and exhibits and various projects. Learn more about the center.
Dorit Yaron is the Deputy Director of the David C. Driskell Center for the Study of the Visual Arts and Culture of African Americans and the African Diaspora at the University of Maryland, College Park (UMCP). Before that she served as the assistant director of the University of Maryland Art Gallery at UMCP. Yaron graduated with an MA from the Department of Art History and Archaeology at UMCP in 2000 after completing her master's thesis, Robin Holder: What's Black and White and Red All Over: An African-American, Russian, Jewish, Red Diaper Baby. In 1997, she earned her UMCP's Dual Baccalaureate in art history and archaeology and studio art.
David Conway is the David C. Driskell Center's archivist and a 2019 graduate of the University of Maryland's MLIS program.
Dr. Victoria Van Hyning is an Assistant Professor of Library Innovation in the College of Information Studies, University of Maryland, and created and taught the course "Outreach, Inclusion, and Crowdsourcing" which led to the creation of this project, in partnership with her students, and colleagues in the Driskell Center.

Student Participants:

Hannah Frisch is a MLIS student at the University of Maryland, College Park, with a specific interest in digital collections and community archives. She graduated from University of North Carolina - Chapel Hill with degrees in American Studies (BA) and Information Science (BS). She currently works on a digitization and crowdsourcing project with the National Archives and NOAA and is a student assistant at the UMD's Special Collections and University Archives.
Jessica Jeffers is a second-year MLIS student at the University of Maryland iSchool. She also has an MA in English and publishing from Rosemont College and has worked with the Federal Communications Commission Library and the Pratt Free Library in Baltimore.
Genevieve Kocienda is a student in the MLIS program at the University of Maryland iSchool. She has an MA in anthropology and over 20 years' experience in ESL teaching, writing, editing and curriculum development for major publishers including Oxford University Press, Cambridge University Press, and National Geographic.
Angela Koukoui earned her BA in integrated arts from the University of Baltimore (UB). She currently works at UB in the Special Collections and Archives Department, coordinating community outreach and public services. Angela is also in her second year of the MLIS program at the College of Information Studies (UMD iSchool) at the University of Maryland.
Rebecca McGivney earned her BA in history of art and history at Johns Hopkins University. As an arts administrator, she has been fortunate to work at a number of organizations including: Luhring Augustine Gallery, The Museum of Modern Art, Ballroom Marfa, Regina Rex Gallery, Free Arts NYC, Studio in a School NYC, and the Baltimore Museum of Art. She is currently in the first year of her MLIS at the University of Maryland College Park.
Tannaz Motevalli is a MLIS student at the University of Maryland, College Park, with interests in equity, diversity, and inclusion in cultural heritage institutions; community outreach and engagement; and medical librarianship. Currently they work as the exhibition coordinator in the History of Medicine Division at the National Library of Medicine.
Images of David C. Driskell, 1996 © Carol Harrison. Photography by Greg Staley, 2019. Gift of Mr. and Mrs. Orrin Harrison III.
Courtesy of David C. Driskell Center at the University of Maryland, College Park
Works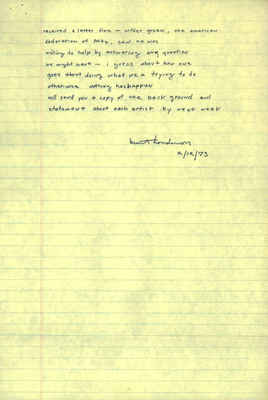 20 pages: 70% complete (0% indexed, 100% transcribed, 30% needs review)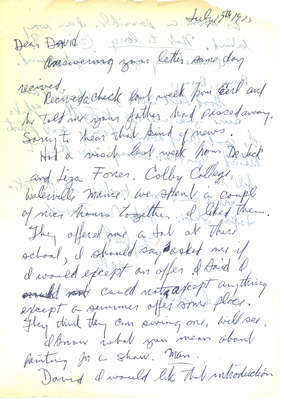 10 pages: 20% complete (0% indexed, 100% transcribed, 80% needs review)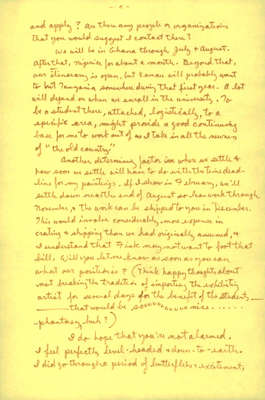 49 pages: 42% complete (0% indexed, 100% transcribed, 57% needs review)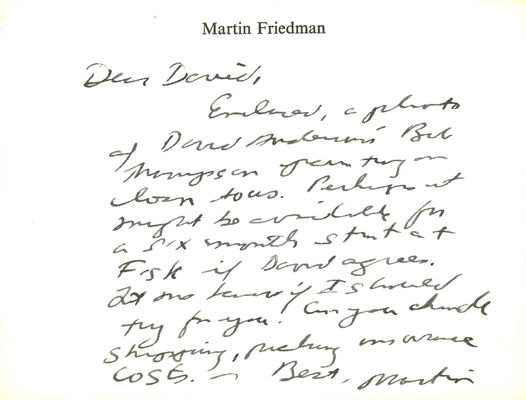 46 pages: 54% complete (2% indexed, 100% transcribed, 46% needs review)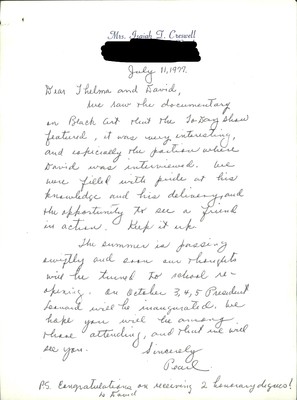 39 pages: 92% complete (0% indexed, 100% transcribed, 8% needs review)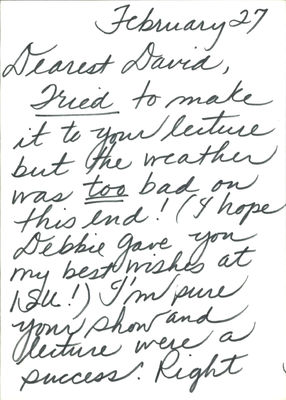 8 pages: 75% complete (0% indexed, 100% transcribed, 25% needs review)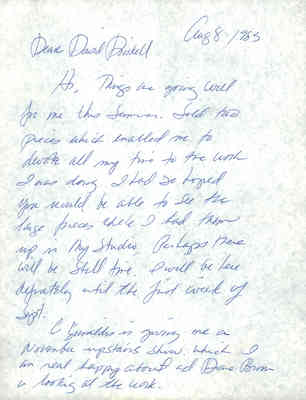 6 pages: 33% complete (0% indexed, 100% transcribed, 67% needs review)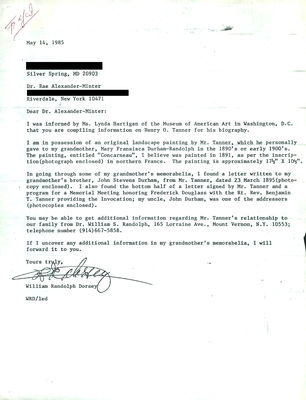 8 pages: 87% complete (0% indexed, 101% transcribed, 13% needs review)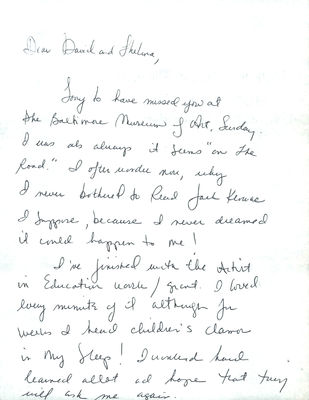 99 pages: 59% complete (0% indexed, 100% transcribed, 40% needs review)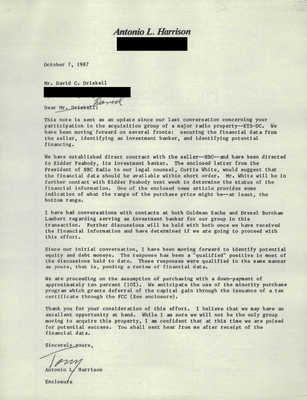 94 pages: 90% complete (0% indexed, 100% transcribed, 10% needs review)
Displaying works 1 - 10 of 36 in total
Subject Categories