About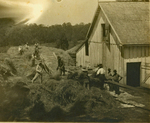 The Enterprise Farmers' Club is an agricultural association in Sandy Spring, Maryland that has met continuously since its formation in 1865. The group meets to discuss and exchange thoughts and information related to agricultural practices and the business of farming. The meeting agendas have changed little since its inception; the host farm is toured, a light meal is shared and then questions or opinions are solicited and addressed. The club's original charter states that "a free interchange of ideas upon agricultural subjects will be expected on the part of all". In the early years, the group was referred to as the "Club Junior" due to it being established in the footsteps of Sandy Spring's first, very successful "Senior" farmer's club that formed in 1844.
Jump to 1868, 1870, 1875, 1877, 1880, 1882, 1884, 1886, 1888, 1893, 1895, 1897, 1899, 1901, 1903, 1905, 1907, 1909
IMAGE: Threshing wheat at Meadow Brook, undated (SSM1983.0067.0005)
Works
Metadata: Identifier: smpa_05-16-01 Title: Club Minutes: Enterprise Farmers Club, 1865-1872 Creator: Enterprise Farmers Club Subject: Enterprise Farmers Club (Society)--Archives; Sandy Spring (Md.)--Societies and clubs; Sandy Spring (Md.)--Social life and customs; Clubs-Maryland--Sandy...
220 pages: 100% transcribed