Description
Francis Edward Bigge (1820—1915) was a pioneer pastoralist and politician in Queensland, Australia. He was a Member of the New South Wales Legislative Council and a Member of the Queensland Legislative Council. He championed the development of Cleveland on Moreton Bay. He was influential in achieving the separation of Queensland from New South Wales, but did not succeed in making Cleveland the capital of Queensland.
Francis Bigge was appointed a Member of the first Queensland Legislative Council on 1 May 1860. Initially it was a five-year appointment, but later it was extended to be a life appointment. He resigned on 16 May 1873.
During this time, Bigge's Camp became the terminus of Queensland's first railway line. The Queensland Governor George Bowen decided that Bigge's Camp was too mundane a name and, being a student of the classics, proposed it be renamed Grandchester, Grand being big and chester being camp in Latin.
Related Subjects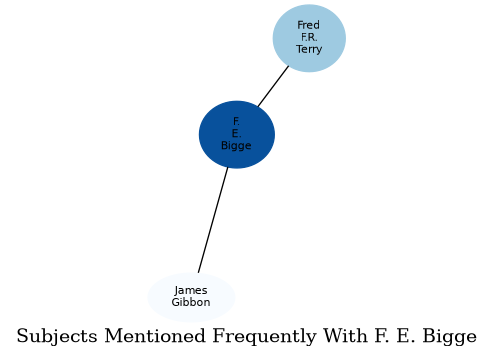 The graph displays the other subjects mentioned on the same pages as the subject "F. E. Bigge". If the same subject occurs on a page with "F. E. Bigge" more than once, it appears closer to "F. E. Bigge" on the graph, and is colored in a darker shade. The closer a subject is to the center, the more "related" the subjects are.