Description
Sir Arthur Hunter Palmer (1819-1898), pastoralist and politician, was born on 28 December 1819 in Armagh, Ireland, son of Arthur Palmer, naval lieutenant, and his wife Emily, née Hunter, of Dublin and Downpatrick. Educated at Youghal Grammar School and by a private tutor in Dublin, Palmer sailed in the City of Edinburgh and arrived at Sydney in 1838. In 1839 he worked on a property in the Illawarra district, probably as a jackeroo, and in 1840 became manager of the New England pastoral holdings of Henry Dangar. Increasingly involved in the affairs of the family, Palmer was entrusted with the care of all their properties and affairs while Dangar and his wife visited England in 1852. More than once Palmer mediated in disagreements between Dangar and his children. On his return in 1856 an agreement was drawn up making Palmer general manager of all the Dangar holdings, thereby enabling him to accumulate much capital and stock. Despite his worth to the family they refused him permission to marry Margaret Dangar in 1857. He did not press his claims and continued to manage the Dangar affairs until 1863 when the conditions of the agreement were fulfilled. From the profits Palmer had by then begun his own pastoral endeavours in Queensland.
In 1866 Palmer was elected for Port Curtis to the Legislative Assembly and as expected aligned himself with the squatter party. After the Macalister government fell in 1867, Palmer became colonial secretary and secretary for public works under R. R. Mackenzie. In this 'political apprenticeship' Palmer proved his worth as an administrator. The ministry had come to power in difficult times, and Palmer initiated stringent economies in the government departments. Because of his affiliation with the squatter party and his retrenchment policy, he was bitterly criticized by the liberal faction, odium that he was to carry long into the next decade. The Mackenzie ministry fell in November 1868 and Palmer joined the Opposition.
When Charles Lilley's ministry fell in May 1870 Governor Blackall asked Palmer to take the reins of government. This request came as a complete surprise for he had arranged to retire from politics and leave Brisbane. The party he gathered around him was the best-organized and cohesive group that the colony had hitherto seen. Palmer was colonial secretary and premier, holding office until January 1874.
https://adb.anu.edu.au/biography/palmer-sir-arthur-hunter-794
Related Subjects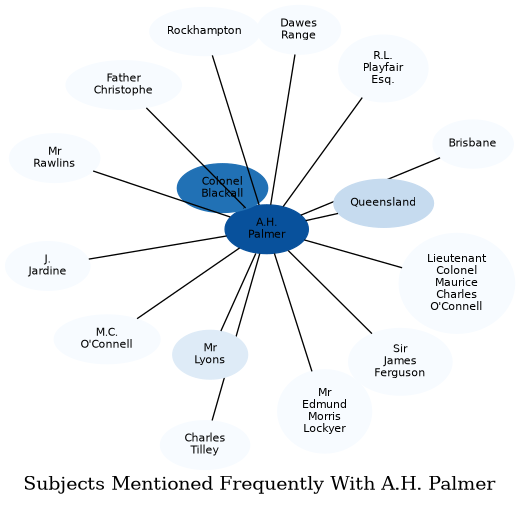 The graph displays the other subjects mentioned on the same pages as the subject "A.H. Palmer". If the same subject occurs on a page with "A.H. Palmer" more than once, it appears closer to "A.H. Palmer" on the graph, and is colored in a darker shade. The closer a subject is to the center, the more "related" the subjects are.