About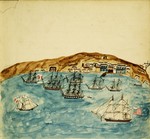 This is a collection of ships' logs and shipboard journals assembled by the Nantucket Historical Association. Logs, generally kept by captains or first mates of vessels, include daily observations of position (latitude and longitude), weather, vessels sighted, and ports visited. For whaling voyages, the logs also record whales seen and/or taken. Some logs contain crew lists, cargo lists, and sometimes personal observations, poems, and drawings. Journals, often written by captains' wives, passengers, or crew members, record sights and events of a voyage, often including accidents, illnesses, weather, pastimes, port visits, and contact with Native people in foreign ports. Voyages departing from Nantucket, Mass., and New Bedford, Mass., are strongly represented in the collection. The majority of the logbooks document whaling voyages.
Works
This log created by Henry Clapp, Jr. documents an 1830 voyage of the Coffin School's teaching ship, the brig Clio from Boston to Brazil. In addition to daily logs about the weather and general activities on the ship, are a description of the riggings, reports to Captain Alexander Pinkham, and...
Collaboration is restricted.
102 pages: 69% transcribed, 27% needs review
This log by Captain Henry B. Gifford follows the brig Minerva on a whaling voyage from New Bedford to the South Atlantic Ocean and Walvis Bay in modern day Namibia, Africa from 1825 to 1827.
60 pages: 88% transcribed, 68% needs review
On July 2, 1846, the ship Alpha set sail under Captain Joseph W. Folger from Nantucket on a four year whaling voyage to the Pacific Ocean. Learn more about the adventures of the Alpha crew by transcribing a few pages of this log kept by Second Mate John P. Rogers.
Collaboration is restricted.
214 pages: 39% transcribed, 29% needs review
Nantucket was struggling to recover from the devastating Great Fire of 1846, when gold was discovered in California in 1848. The Henry Astor became the second Nantucket ship to set out for the promising California Gold Rush, setting sail in 1849 carrying members of both the Astor Mining Company...
72 pages: 98% transcribed, 38% needs review
On March 24, 1880, the ship Horatio set sail under the famed Captain Charles Grant from New Bedford to New Zealand and the South Pacific Ocean. Captain Grant began his whaling career at 11 years old and would become master of the Walter Scott by 30. After 55 years of whaling, often accompanied...
Collaboration is restricted.
110 pages: 19% transcribed, 5% needs review
This log documents the 1849 voyage of the Manchester under Captain Job Coleman from Nantucket to New York, then on to San Francisco to take part in the California Gold Rush.
108 pages: 90% transcribed, 82% needs review
George F. Folger kept this log of the 1840-1844 voyage of the ship Mariner. As the ship sailed from Nantucket to the South Pacific Ocean hunting whales, Folger made daily notes on the weather, whales taken, desertions, and crimes on board, as well as sketching illustrations of birds, musical...
Collaboration is restricted.
250 pages: 18% transcribed, 6% needs review
Journey to the Pacific Ocean on the ship Planter from 1852-1856. This whaling log was kept by the carpenter Stephen Easton Jr. Along with daily entries, Easton also documented songs written by himself and other crew members with names such as "Whaling Song", "The Pirate Song", and "The Pride of...
Collaboration is restricted.
266 pages: 13% transcribed, 2% needs review
This log, kept by Nicholas C. Gardner, follows the ship South America as it sailed between Rhode Island and California to deliver people and equipment during the Gold Rush. Among Gardner's daily entries are poems, diagrams of machinery, and medicinal recipes.
Collaboration is restricted.
172 pages: 57% transcribed, 7% needs review
In this log, Master Reuben Russell documents the 1841-1846 whaling voyage of the ship Susan out of Nantucket, Mass. At over 400 pages, this substantial log is profusely and beautifully illustrated with skillfully done drawings of humpback and sperm whales, ships spoken, coastlines sighted,...
Collaboration is restricted.
435 pages: 54% transcribed, 3% needs review
Displaying works 1 - 10 of 18 in total