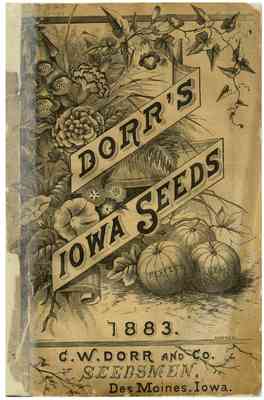 [Cover Page] [Image: Drawing/Scratchboard illustration of vining flowers climbing up a trellis, 3 pumpkins on a vine with caption-Perfect Gem, banner with title-Dorr's Iowa Seed, J. Walton, Del., Sasseville, SC. ]
Dorr's Iowa Seeds 1883 C. W. Dorr and Co. Seedsmen Des Moines, Iowa.
Last edit 3 months ago by
jkalvik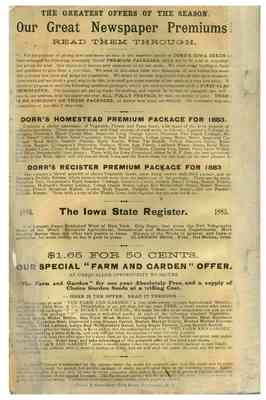 The Greatest Offers of the Season.
Our Great Newspaper Premiums!
Read Them Through.
For the purpose of giving new customers an idea of the superior quality of Dorr's Iowa Seeds, we have arranged the following extremely liberal premium packages, which are to be sold at remarkably low prices, for trial. Our object is to induce new customers to try our seeds. We want every intelligent farmer and gardener to give them a fair trial. We want to introduce them into thousands of new homes this season that you may test them and judge for yourselves. We desire to become acquainted with all who have occasion to plant seeds and we think a good way to do this, is to send you some samples of our seeds at a very low price. We therefore propose to send the following premium packages, which are each accompanied with a First-Class Newspaper. The packages are put up ready for mailing, and cannot be broken or changed; but will be sent to any address, with the paper one year, all fully prepaid, by mail, on receipt of price. There is no discount on these packages, no matter how many are ordered. Old customers may avail themselves of the offer if they wish.
•••
Dorr's Homestead Premium Packages for 1883.
Contains a choice assortment of Vegetable, Flower and Farm Seeds, with many of of the most popular and valuable novelties. There are twenty-four well filled packets of fresh seeds, as follows: Conover's Colossal Asparagus, Dewing's Blood Turnip Beet, Improved Long Orange Carrot, Premium Flat Dutch Cabbage, New Half Dwarf Celery, White Spine Cucumber, Tennis Ball Lettuce, Cuban Queen Water Melon, Improved Canteloupe Musk Melon, Student Parsnip, Early Scarlet White Tip Radish, Yellow Danvers Onion, Boston Marrow Squash, Livingston's Perfection Tomato, White Egg Turnip, Landreth Wheat, Durra, Early Minnesota Amber Cane, Choice English Mixed Pansy, Fine Mixed Verbena, Cypress Vine, Sweet Peas, Sweet William and Phlox Drummondii, (two dozen.) These with the Iowa Homestead, edited by B. F. Gue, the best agricultural weekly in the West, which will tell you all about Iowa and the North-west, for one year, all by mail prepaid for $2.00.
Dorr's Register Premium Package For 1883
Also contains a liberal quantity of choice Vegetable Secds, there being twelve well-filled packets, and one Parson's Prolific Potato, which alone is worth more than the entire cost of the package. These are the seeds: Egyptian Beet, Henderson's Early Summer Cabbage, Danver's Carrot, Golden Dwarf Celery, Boston Pickling Cucumber, Hubbard's Market Lettuce, Cuban Queen Melon, Large Red Wethersfield Onion, Sweet Mountain Pepper, French Breakfast Radish, Golden Bush Squash, Paragon Tomato, (one dozen), and one Parson's Prolific Potato. These with a copy of the Weekly Iowa State Register, for one year for $2.00.
1883. The Iowa State Register. 1883.
The Largest Paper Published West of New York. Only Paper that gives the Full Telegraphic News of the Week Complete Agricultural, Commercial and Miscellaneous Departments. More Reading Matter than any other two papers in Iowa. History of the World in general, and Iowa in particular, for week ending on day it goes to press. Clarkson Bros,, Pubs., Des Moines, Iowa.
--
$1.65 For 50 Cents.
Our Special "Farm and Garden" Offer.
An Unequalled Opportunity To Secure
"The Farm and Garden" for one year Absolutely Free, and a supply of Choice Garden Seeds at a trifling Cost.
-Here Is The Offer. Read It Through.-
We propose to send "The Farm and Garden," a live, wide awake, 20-page Agricultural Monthly, published by Child Bros. & Co., Philadelphia, at 50c per year, for one year, Free, to every person who orders one of our trial packages "F" of Dorr's Iowa Seeds. We make the offer as an inducement for you to try our seeds. Our package "F" contains a well-filled packet of each of the following standard Vegetables: Cuban Queen Water Melon, Bay View Musk Melon, Livingston Perfection Tomato, New Excelsior Cabbage, Egyptian Beet, Improved Long Orange Carrot, Boston Market Celery, Boston Market Cucumber, Prize Head Lettuce, Large Red Wethersfield Onion, Long Sugar Parsnip, Long Scarlet Radish.
The usual price for these seeds, is $1.15 add to this the subscription price of "The Farm And Garden" 50 cents, making a total of$1.65, and you will see what we propose to send for only 50 cents.
We can only hold this offer open for a short time , as the packages must be sent out before our great rush comes in the busy season. Order now, and take advantage of the greatest offer of the kind ever made.
"The Farm and Garden" alone is worth many times the price of the entire package to any family.
Send in your address, with 50 cents in stamps or silver, and we will send the paper one year and the seeds, all fully prepaid.
--
If you are already a subscriber for the papers, order the seeds for yourself and have the paper sent to some friend. If you want the papers, but not the package of seeds, we will send them on the following terms. Either the Homestead or Register will be sent to every customer who orders $10.00 worth of goods at regular catalogue prices, without any of the special discount. The Farm and Garden will be sent with any order for $2.00 worth of goods on the same terms. Customers must state in their orders which paper is wanted.
Union & Advertister Co's Print, Rochester, N. Y.
Last edit 3 months ago by
jkalvik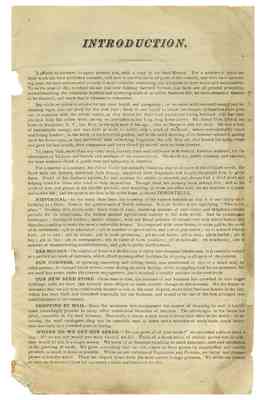 Introduction.
It affords us pleasure, to again present you, with a copy of our Seed Manual. For a number of years our little work has been published annually, and sent to our friends in all parts of the country, and with each succeeding year, we have endeavored to make it more valuable, interesting and adequate to their wants and anticipations To us the year of 1882, to which we are just now bidding farewell forever, has been one of general prosperity. notwithstanding the vexatious troubles and worrying trials of an active business life, we have abundant reasons to be thankful, and much that is pleasant to remember.
But while we pause to rejoice for our own health and prosperity; as we enter with renewed energy and increasing vigor, into our work for the new year; there is one family to whom our deepest sympathies have gone out, in common with the whole nation, as they mourn for their kind parent and loving husband, who has been checked from his active work among us, and taken to his long, long home above. Mr. James Vick, died at his home in Rochester, N. Y., last May, in the 64th year of his age; after an illness of only five days. He was a man of indomitable energy, and was hard at work, to within only a week of his death; where surrounded by loved and loving kindred; in the midst of his beautiful garden, just in the early morning of its Summer splendor; gazing upon his flower pets, as they perfumed, with refreshing fragrance, the soft May air, that fanned his dying cheek and gave his last breath, their companion and lover closed his mortal eyes on them forever.
To James Vick, more than any other man, is every lover and cultivator of flowers in America indebted, for the adornment of his lawn and beauty and perfume of his conservatory. His death is a public calamity, and touched the most sensitive chord of public love and sympathy in America.
For a quarter of a century, his Floral Guide has annually found its way to all parts of the civilized world. He lived with the flowers, exhibited their beauty, suggested their fragrance, and taught the people how to grow them. Proud of his business success, he was anxious for others to succeed, and always had a kind word and helping hand for those who tried to help themselves. Though dead, his memory must always live; and as we write of him, and glance at the life-like portrait, ever watching us from our office wall, we are inspired to a purer and nobler life; and we seem to see him in his spirit home, a chosen Immortelle.
Historical - As we write these lines, the booming of the cannon reminds us that it is our thirty-sixth birthday as a State. Iowa is the garden spot of North America. It is an Indian word, signifying, "This is the place." Its deep, rich, fertile soils; thick veins of coal; charming streams of pure water, and delightful climate provide for its inhabitants, the richest natural agricultural country in the wide world. And its picturesque landscapes; intelligent settlers; thrifty villages; with our broad prairies all dotted over with school houses and churches combine to make the most comfortable homes. As compared with other States, it ranks 34th in the order of its settlement; 29th in admission; 14th in number of square miles, and 10th in population; 1st in acres of tillable land; 1st in corn; 2nd in wheat; 2nd in pork producing; 4th in coal lands; 5th in oats; 5th in barley: 5th in hay; 5th in flax; 5th in newspapers; 6th in value of farm products; 5th in railroads; 7th in schools; 10th in number of manufacturing establishments; and 30th in public indebtedness.
Des Moines - The capital of Iowa is a thrifty city of thirty-five thousand inhabitants. It is centrally located in perfect net work of railroads, which afford us unequalled facilities for shipping to all parts of the country.
Our Business, of growing, importing and selling Seeds, was established in 1871, in a small way, by other parties; it changed hands several times during its early history, while struggling hard for an existance, but not until late years, under the present management, has it attained a notable position in the seed trade.
Our New Seed Store-From time to time, the increase of our business has crowded us into larger buildings, until we have just recently been obliged to make another change on this account. We are happy to announce that we are now comfortably located in one of the most elegant, stone front business houses in the city, which has been built and furnished especially for our business, and is said to be one of the best arranged seed establishments in the country.
Shopping By Mail - Since the seedsmen first inaugurated the system of shopping by mail, it has become exceedingly popular in many other commercial branches of business. The advantages to the buyer are great, especially in the seed business. Practically it places a seed store at every post office in the world; on receiving the seed catalogues, they can be carefully read at home and a selection of seeds made, much better, than hurriedly in a crowded store in Spring.
Where Do We Get Our Seeds - "Do you grow all of your seeds ?" we are asked a dozen times a day. We do not, nor would you want them if we did. Think of a dozen kinds of melons grown side by side; they would all mix in a single season. We know of no business requiring as much judgment, care and calculation as the growing of seeds. We grow everything that we can, others we have grown by experienced and careful growers, as much in Iowa as possible. While certain varieties of Vegetables and Flowers, are better and cheaper grown across the water. These we import direct from the most careful foreign growers. We invite our friends to visit our home seed farm (of 240 acres) 5 miles northwest of the city.
Last edit 3 months ago by
jkalvik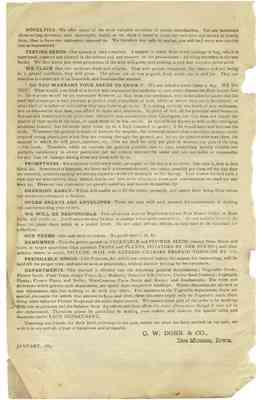 Novelties-We offer many of the most valuable novelties of recent introduction. Yet are backward about selling novelties, unti. [until] thoroughly tested, as we think it better to loose our own time and money in testing them, than to have our customers imposed on. We therefore feel safe in saying, you will find every new variety just as represented.
Testing Seeds - Our system is very complete. A sample is taken from every package or bag, which is numbered, counted and planted in the natural soil and manner in the green-house [greenhouse]; all being recorded in the test books. We then know just what proportion of the seed will grow, and nothing is sold that does not prove good.
We claim that our seeds are fresh and reliable. That with proper treatment, the climate and soil being in a proper condition, they will grow. The prices are as low as good, fresh seeds can be sold for. That our business is conducted in an honorable and business-like manner.
'Do You Warrant Your Seeds To Grow ?"-We are asked a dozen times a day. We Do Not! What would you think of a doctor who warranted his medicine to cure every disease the flesh is ever heir to, his warrant would be as reasonable however, as that from the seedsman, who undertakes to insure that his seed will always grow and produce a perfect crop, regardless of how, when or where they are to be planted, or what kind of weather or cultivation they may have to grow in. It is asking entirely too much of any seedsman, and no responsible sane man, can afford to make such warrants. In proof of this, all the principal seed houses in Europe and America plainly print their refusal or non-warrants in their Catalogues, but this does not injure the quality of their seeds in the least, or cause them to be less careful. In fact nobody knows as well as the intelligent seedsman himself, that his seeds must come up to a high standard of quality if he would keep and increase his trade. Whenever the planter is ready to warrant the weather, the ravenous insects that sometimes destroy entire crops of young plants just when they are coming through the ground, and before the planter ever sees them, the manner in which he will plant, cultivate, etc., then we shall be only too glad to warrant our part of the crop-The Seeds. Therefore, while we exercise the greatest possible care to have everything strictly reliable and perfectly satisfactory in every particular, yet we cannot warrant the same and are not liable or responsible for any loss or damage arising from any seeds sold by us.
Promptness-We endeavor to fill every order, promptly on the day it is received. Our rule is, first in first filled, &c. Sometimes it happens, we have such a tremendous rush, we cannot possibly get them off the day they are received, notwithstanding we always expect to work till midnight in the Spring. Last season we had such a rush that we were several days behind, but in our new store with more room and conveniences we shall try and keep up. However our customers can greatly assist us, and benefit themselves by
Ordering Early-Which will enable us to fill the orders promptIy, and assure their being filled before our stocks are exhausted or broken.
Order Sheets and Envelopes - These are sent with each manual, for convenience in making out and forwarding your orders.
We Will Be Responsible-That all money sent by Registered Letter, Post Money Order, or Bank Draft will reach us. Small amounts may be sent in stamps when more convenient. Do not moisten them in the least, but place them safely in a sealed letter. Do not send private checks, as they have to be returned for collection.
Our Terms-Are cash with all orders. No goods sent C. O. D.
Remember-That the prices quoted on Vegetable and Flower Seeds, (except Peas, Beans and Corn, in larger quantities than packets) Trees and Plants, Potatoes By The Pound ; and other articles where so noted, Include Mail Or Express Charges Prepaid Through By Us.
Perishable Goods-Like Potatoes, &c, which are ordered before the season for forwarding, will be held till the proper time, and sent as soon as practicable, without further writing by the customers.
Departments-This manual is divided into the following general departments: Vegetable Seeds; Flower Seeds; Fruit Trees, Grape Vines, &c.; Mulberry Trees for Silk Culture; Choice Seed Potatoes; Vegetable Plants; Flower Plants and Bulbs; Miscellaneous Farm Seeds and Roots; and Implements. The rules and directions which govern each department, are under their respective headings. Where discounts are allowed in one department, this has nothing to do with any other. For instance in the Vegetable department, there are special discounts for orders that amount to $5.00 and over, these discounts apply only to Vegetable Seeds, there being other rules for Flower Seeds and the other departments. We cannot allow part of the order to be made up from one department and the balance from the others and then allow the same discount as though it was all in one department. Therefore please be particular in making your orders, and observe the special rules and discounts under Each Department.
Thanking our friends for their kind patronage in the past, which we trust has been merited on our part, we wish you one and all, a year of happiness and prosperity.
C. W. Door & Co., Des Moines, Iowa. January, 1883.
Last edit 3 months ago by
jkalvik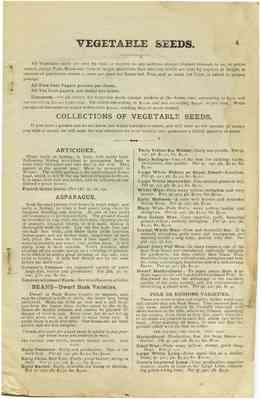 Vegetable Seeds.
All Vegetable seeds are sent by mail or express to any address, charges prepaid through by us, at prices named, except Peas, Beans and Corn in larger quantities than packets, which are sent by express or freight at expense of purchaser, unless 25 cents per quart for Beans and Peas, and 20 cents for Corn, is added to prepay postage.
All Five Cent Papers 50 cents per dozen. All Ten Cent papers, one dollar per dozen.
Discounts.-On all orders for vegetable seeds (except packets at the dozen rate) amounting to $5.00 and not exceeding $10.00, 5 per cent. On orders amounting to $10.00 and not exceeding $25.00, 10 per cent. Write for special discounts on larger orders than $25.00, sending lists of seeds wanted.
Collections of Vegetable Seeds. If you have a garden and do not know just which varieties to select, and will send us the amount of money you wish to spend, we will make the best selections for your locality, and guarantee a liberal quantity of seeds .
***
Artichoke.
Plant early in Spring, in deep, rich, sandy loam. Following Spring transplant to permanent beds in rows three feet apart and two feet in the row. They mature in the second year. Must be protected in Winter. The edible portion is the undeveloped flower head, which is only fit for use before it begins to bloom. It is eaten both raw and boiled, and by epicures is considered a great luxury. French Green Globe-Per pkt. 5c; oz. 25c.
Asparagus,
Soak the seed twenty-four hours in tepid water; sow early in Spring, in rows a foot apart; keep clean by frequent weeding and hoeing. At one or two years old transplant to permanent beds. The ground should be trenched or dug over, two feet deep, burying plenty of manure, decayed leaves, or leaf mold, mixing it thoroughly with the soil. Lay out the beds four and one-half feet wide, and draw three drills fourteen inches apart and six inches deep, lengthwise of each bed; place the roots in them a foot apart, in their natural position, and cover four inches deep . A rich sandy loam is most suitable. Every Autumn, after clearing off the stalks, spread on a covering of manure, to be forked in with a good dressing of fine salt, very early in Spring. A new bed should not be cut over before the third year. Conover's Colossal-An improved variety of extra large size, tender and productive. Per pkt. 5c; oz. 10c; 1/4lb. 20c; lb. 6oc. Conover s Colossal Roots-See miscellaneous articles.
Beans-Dwarf Bush Varieties.
Dwarf or Bush Beans require no support, and, may be planted in hills or drills, the latter way being preferred. Make the drills an inch and a half deep, and drop the beans three inches apart in the drills. Beans are tender annuals and cannot be planted till danger of frost is past. Keep clean, but do not hill up or hoe when wet, as it tends to make them rust. A sandy loam is most desirable. Our beans are all hand picked and are fine samples.
Twenty-five cents per quart must be added to pay postage when beans are ordered by mail. Per Packet, Ten Cents, Except Where Noted. Post Paid.
Early Valentine-Early and productive. One of the very best. Per qt. 25c: pk. $1.50; bu. $5.00. Early China Red Eye-Early, great bearer; string or shell. Per qt. 25c; pk. $1.50; bu. $5.00. Early Rachel-Early, desirable for string or shelling. Per qt. 25c; pk. $1.50, bu. $5.00 Early Yellow Six Weeks-Early and prolific. Per qt. 25c; pk. $1.50; bu. $5.00. Early Refugee-One of the best for pickling; hardy, productive, fine quality. Per qt. 25c; pk. $1.50; bu. $5.00. Large White Kidney or Royal Dwarf-Excellent. Per qt. 25c; pk. $1.50; bu. $5.00. Large White Marrowfat-Fine shelled, green or dry. Per qt. 25c; pk. $1.50; bu. $5.00. White Wax-Pods waxy yellow, stringless and very tender. Per. qt. 40c; pk. $2.00; bu. $7.00. Early Mohawk-A very well known and desirable String Bean. Per qt. 25c; pk. $1.50. Black Wax-Pods fleshy, waxy yellow; tender and stringless. Per qt. 40c; pk. $2.00; bu. $7.00. New Golden Wax-Very superior, early, beautiful golden yellow, entirely stringless . Per qt. 40c; pk. $2.50; bu. $9.00. Crystal White Wax-New and decidedly fine. It is entirely stringless; pods waxy and transparent, remaining tender a long time; quality very fine. Per pkt. 15c; qt. 60c. Jones' Ivory Pod Wax- In many respects one of the best Wax Beans yet introduced, especially valuable for gardeners; ten days earlier than Black Wax; beautiful long ivory colored pods, stringless and brittle, being exceedingly handsome and of a rich creamy flavor. Per qt. 40c; pk. $2.50. Dwarf Horticultural - To many tastes there is no Bean equal to the old London Horticultural Pole. In this dwarf we have the advantage of the excellent quality of the pole variety, and the convenience of cultivating a dwarf sort. Per qt. 40c; pk. $2.50.
Pole Or Running Varieties These are more tender and require rather more care and culture than the Bush Beans. They succeed best in clay loom, which should be liberally enriched with short manure in the hills, which are formed, according to the variety, from three to four feet apart; from five to six seeds are planted in each hill, about two inches deep. After planting all beans, be sure and firm the ground either with the feet or roller.
Per Packet, Ten Cents. Post Paid.
Horticultural-Productive, fine for Snap Beans or shelled. Per qt. 30c; pk. $2.25; bu. $8.00. Giant Wax-Pods waxy yellow, tender, good Snap Bean. Per qt. 50c. Large White Lima-None equal this as a shelled Bean; qt. 50c.; pk. $3.50; bu. $12.00. Dreer's Improved Lima-Very productive; superior quality; nearly as large as the Large Lima; remaining green a long time. Per qt. 50c; pk. $3.50.
Last edit 3 months ago by
jkalvik
Displaying Page 1 - 5 of 46 in total