38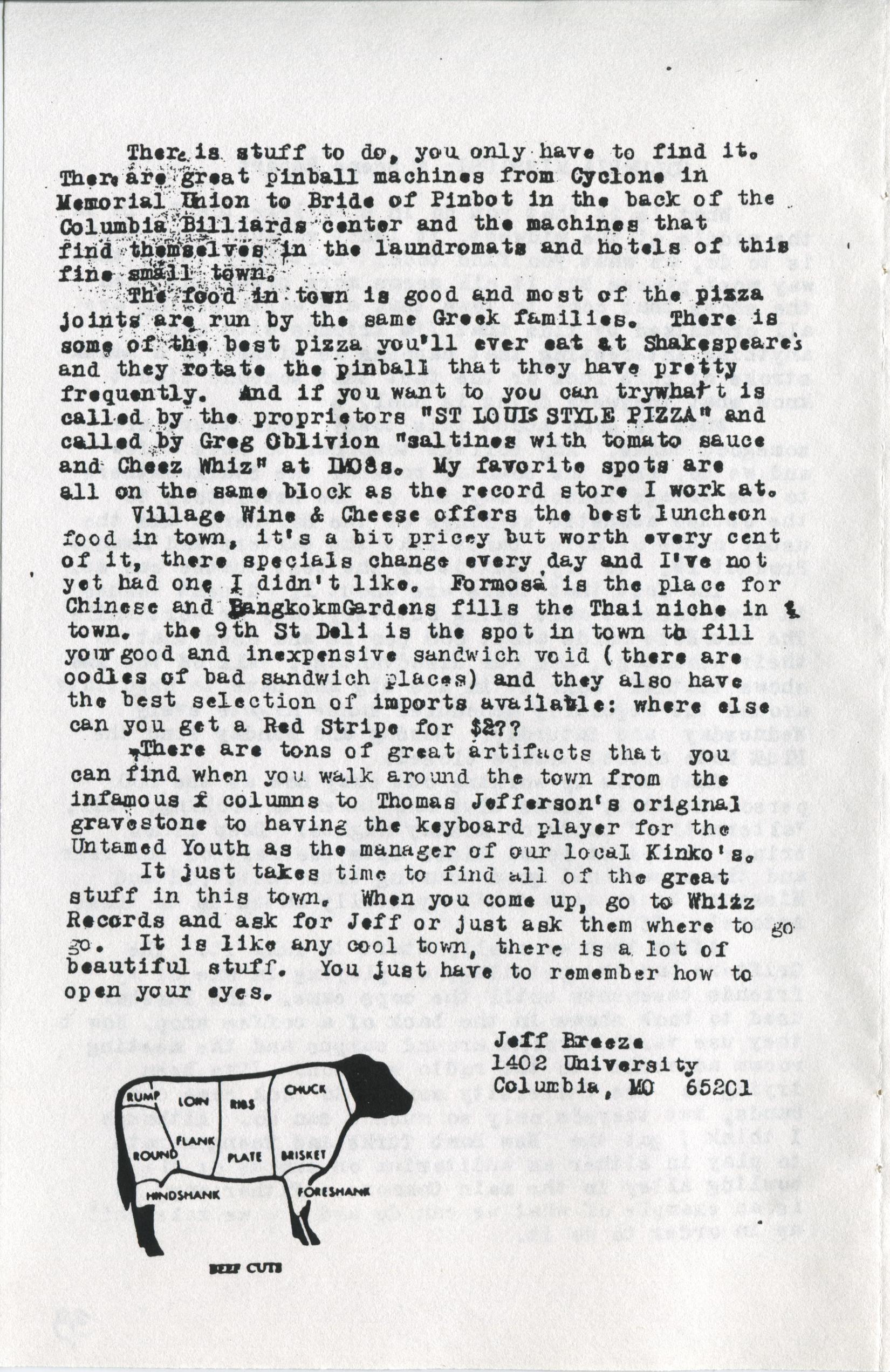 There is stuff to do, you only have to find it. There are great pinball machines from Cyclone in Memorial Union to Bride of Pinbot in the back of the Columbia Billiards center and the machines that find themselves in the laundromats and hotels of this fine small town.

The food in town is good and most of the pizza joints are run by the same Greek families. There is some of the best pizza you'll ever eat at Shakespeare's and they rotate the pinball that they have pretty frequently. And if you want to you can try what is called by the proprietors "ST LOUIS STYLE PIZZA" and called by Greg Oblivion "saltines with tomato sauce and Cheez Whiz" at IMO's. My favorite spots are all on the same block as the record store I work at.

Village Wine & Cheese offers the best luncheon food in town, it's a bit pricey but worth every cent of it, there specials change every day and I've not yet had one I didn't like. Formosa is the place for Chinese and Bangkok Gardens fills the Thai niche in town. the 9th St Deli is the spot in town to fill your good and inexpensive sandwich void (there are oodles of bad sandwich places) and they also have the best selection of imports available: where else can you get a Red Stripe for $2??

There are tons of great artifacts that you can find when you walk around the town from the infamous columns to Thomas Jefferson's original gravestone to having the keyboard player for the Untamed Youth as the manager of our local Kinko's.

It just takes time to find all of the great stuff in this town. When you come up, go to Whizz Records and ask for Jeff or just ask them where to go. It is like any cool town, there is a lot of beautiful stuff. You just have to remember how to open your eyes.

Page Notes
Nobody has written a note for this page yet
Please sign in to write a note for this page