Search for whipped*
1922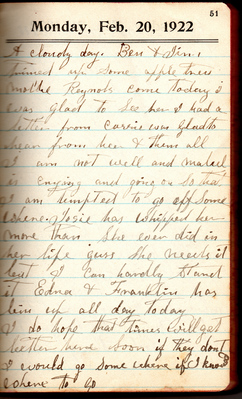 A cloudy day. Ben & Jim trimmed up some apple trees. Mollie Reynols come today. I was glad to see her. I had a letter from Carrie. Was glad to hear from her & them all. I am not well and Mabel is crying and going on so that I am tempted to go off some where. Josie has whipped her more than she ever did in her life. Gess she needs it but I can hardly stand it. Edna & Franklin has bin up all day today. I do hope that times will get better here soon. If they dont I would go some where if I knowed where to go.
Last edit about 6 years ago by
mkstewart
1923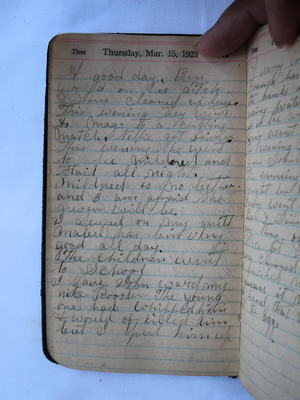 A good day. Ben worked on his ditch and Jim cleaned up [land?]. This evening they went to Mays to a cutting match. Nellie got dinner. This evening she went to see Mildred and staid all night. Mildred is no better and I am afraid she never will be. I sewed on my quilt. Mabel has bin very good all day. The children went to school. I gave John Ward my nice rooster. The young one had whipped him and would of killed him but I put him up.
Last edit over 7 years ago by
Nathani