Search for "played games" "played games"
1919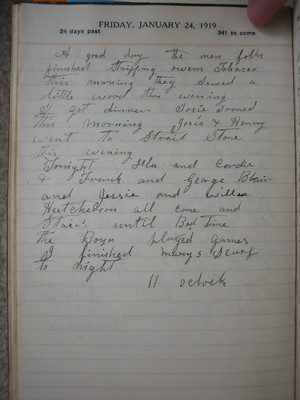 1922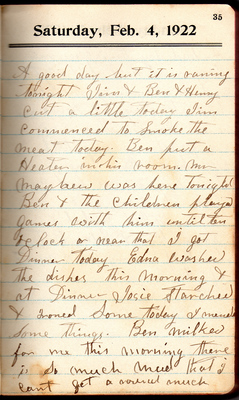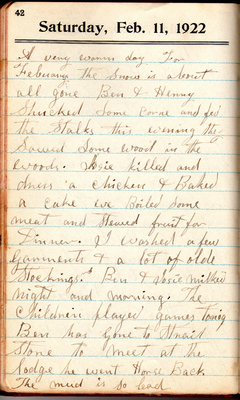 1923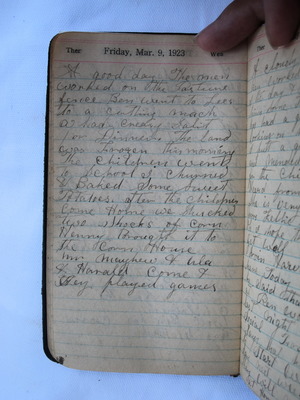 A good day. The men worked on the pasture fence. Ben went to Lee's to a [cutting mach?]. We had [creasy salit] for dinner. The land was frozen this morning. The children went to school. I churned and baked some sweet potatoes. Afther the children come home, we shucked two shocks of corn. Henry brought it to the corn house. Mr. Mayhew and Eula and Harold come and they played games.
Last edit over 7 years ago by
Nathani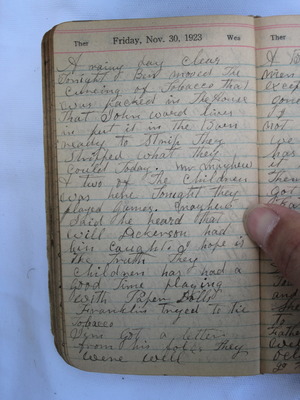 A rainy day. Clear tonight. Ben moved the cureing of tobacco that was packed in the house that John Ward lives in. Put it in the barn ready to strip. They stripped what they could today. Mr. Mayhew and two of the children was here tonight. They played games. Mayhew said he heard that Will Dickerson had bin caught. I hope is the truth. They children has had a good time playing with paper dolls. Franklin tryed to tie tobacco. Jim got a letter from his folks. They were well.
Last edit about 6 years ago by
Nathani