Search for "Level Run"
1918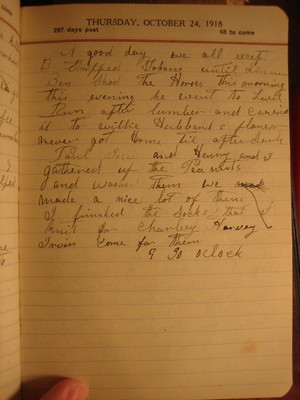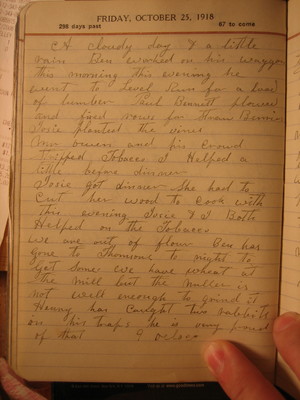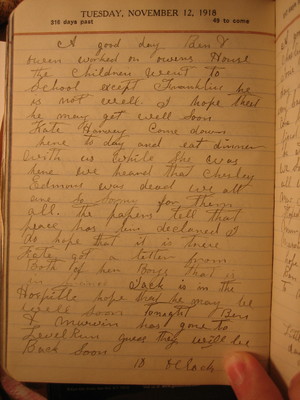 1922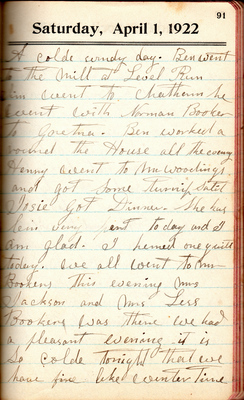 A colde windy day.Ben went to the Mill at Level Run. Jim went to Chatham. He went with Norman Booker to Gretna. Ben worked a round the house all the evening. Henry went to Mr. Woodings and got some turnip salit. Josie got dinner. She has bin very [pert?pent] to day and I am glad. I hemed one quilt today. We all went to Mr. Booker's this evening. Mrs Jackson and Mrs Less Bookers was there. We had a pleasant evening. It is so colde tonight that we have fire like winter time.
Last edit about 6 years ago by
mkstewart
1923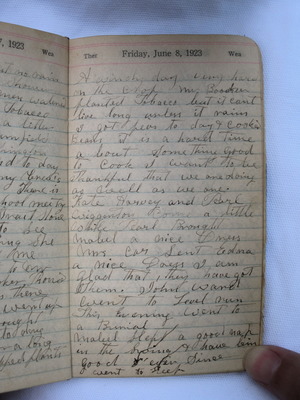 A windy day. Very hard on the crop. Mr. Booker planted tobacco but it can't live long unless it rains. I got peas to day and cooked beans. It is a hard time a bout something good to cook. I want to be thankful that we are doing as well as we are. Kate Harvey and Pearl Wiggenton come a little while. Pearl brought Mabel a nice dress. Mrs. Car sent Edna a nice dress. I am glad that they have got them. John Ward went to Level Run to a burial. Mabel slept a good nap in the [s?ing] and have bein good ever since. Went to sleep.
Last edit about 7 years ago by
Nathani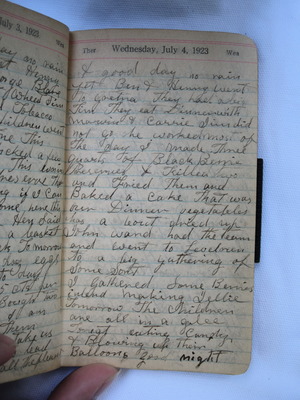 A good day. No rain yet. Ben and Henry went to Gretna. They had a big tim. They eat dinner with Marvin and Carrie. Jim did not go. He worked most of the day. I made three quarts of black berrie preserves and killed two and fried them and baked a cake. That was our dinner. Vegetables has a bout dried up. John Ward had the team and went to Level Run to a big gathering of some sort. I gathered some berries. Intend making jellie tomorrow. The children are all in a glee tonight eating candy and blowing up their balloons. Good night.
Last edit almost 7 years ago by
Nathani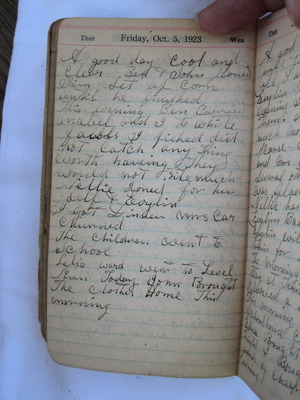 A good day. Cool and clear. Ben and John plowed. Jim set up corn until he finished. This evening Ben carried Mabel and I to White Falls. I fished. Did not catch any thing worth haveing. They would not bite much. Nellie ironed for her self and Evylin. I got dinner. Mrs Car churned. The children went to school. Lelia Ward went to Level Run today. John brought the clothes home this morning.
Last edit over 6 years ago by
Nathani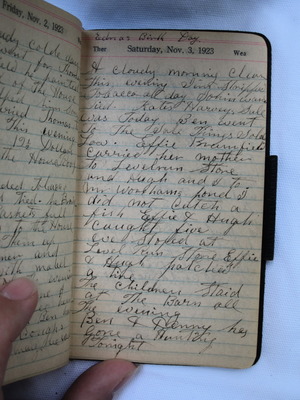 Ednas birth day [written at the top of the page] A cloudy morning. Clear this evening. Jim stripped tobacco all day. John Ward tied. Kates Harveys sale was today. Ben went to the sale. Things sold low. Effie Brumfield carried her mother to Levelrun store and Hugh and I to Mr. Worshams pond. I did not catch a fish. Effie and Hugh caught five. We stoped at Level Run store. Effie and Hugh patched a tire. The children staid at the barn all the evening. Ben and Henry has gone a hunting tonight.
Last edit over 6 years ago by
Nathani