Search for professor*
1921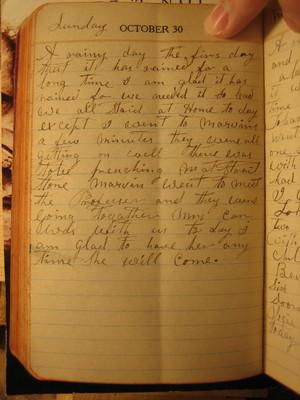 A rainy day. The firs day that it has rained for a long time. I am glad it has rained for we needed it so bad.
We all staid at home to day except I went to Marvins a few minutes. They were all getting on well. There was to be preaching at Strait Stone. Marvin went to meet the professor and they were going togather. Mrs Car was with us to day. I am glad to have her any time she will come.
Last edit almost 8 years ago by
Ben Brumfield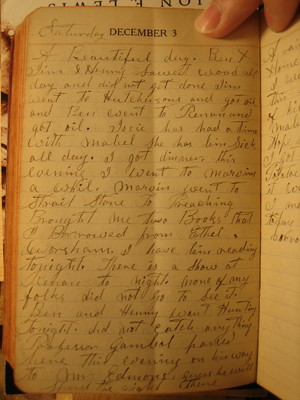 A beautiful day. Ben & Jim & Henry sawed wood all day and did not get done. Jim went to Hutchersons and got oil and Ben went to Renan and got oil. Josie has had a time with Mabel. She has bin sick all day. I got dinner. This evening I went to Marvins a whil. Marvin went to Strait Stone to preaching. Brought me two books that I borrowed from Ethel Worsham. I have bin reading tonight. There is a show at Renan to night. None of my folks did not go to see it. Ben and Henry went hunting tonight. Did not catch any thing. Professor Gambol passed here this evening on his way to Mr Edmons. Guess he will spend the night there.
Last edit over 10 years ago by
Linda Tucker