Search for "Jim Thomson"
1921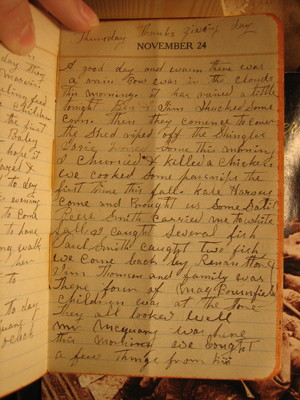 A good day and warm. There was a rain bow was in the clouds this morning. It has rained a little tonight. Ben & Jim shucked some corn. Then they comence to cover the shed. Riped off the shingles. Josie ironed some this morning. I churned & killed a chicken. We cooked some parships the first time this fall. Kate Harvey come and brought us some salit. Reese Smith carried me to White Falls. I caught several fish. Paul Smith caught two fish. We come back by Renan store. Jim Thomson and family was there. Four of Mag Brumfield children was at the store. They all looked well. Mr Meguary[?]was here this morning. We bought a few things from him.
Last edit over 10 years ago by
Linda Tucker
1920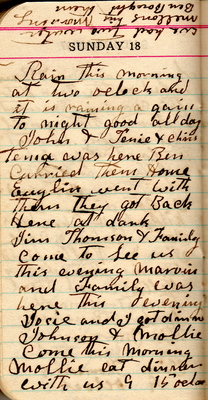 Rain this morning at two oclock and it is raining a gain to night. Good all day. John & Tenie and Chris tenia was here. Ben carried them home. Evylin went with them. They got back here at dark. Jim Thomson & family come to see us this evening. Marvin and family was here this evening. Josie and I got dinner. Johnson & Mollie come this morning. Mollie eat dinner with us. We had two water mellons this morning. Ben bought them. 9:15 oclock
Last edit over 9 years ago by
Linda Tucker
1922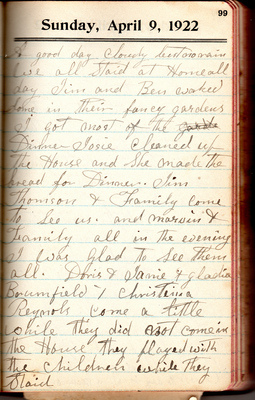 A good day. Cloudy but no rain. We all staid at home all day. Jim and Ben worked some in their fancy gardens. I got most of the dinner. Josie cleaned up the house and she made the bread for dinner. Jim Thomson & family come to see us. And Marvin & family all in the evening. I was glad to see them all. Doris & Jamie & Gladice Brumfield & Christina Reynols come a little while. They did not come in the house. They played with the children while they staid.
Last edit about 6 years ago by
mkstewart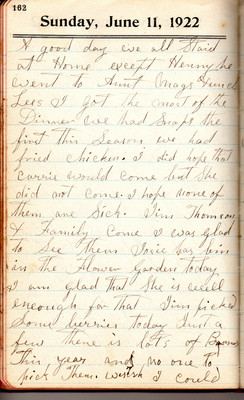 A good day we all staid at home except Henry. He went to Aunt Mags & Uncle Lees. I got the most of the dinner. We had snaps the first this season. We had fried chicken. I did hope that Carrie would come but she did not come. I hope none of them are sick. Jim Thomson & family come. I was glad to see them. Josie has bin in the flower garden today I am glad that she is well enough for that. Jim picked some berries today just a few. There is lots of Berries this year and no one to pick them. [Wish?] I could
Last edit over 6 years ago by
Jaime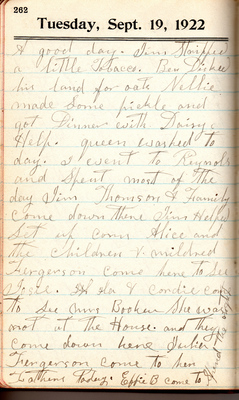 A good day. Jim stripped a little tobacco. Ben disked his land for oats. Nellie made some pickle and got dinner with Daisys help. Queen washed to day. I went to Reynols and spent most of the day. Jim Thomson & family come down there. Jim helped set up corn. Alice and the children & Mildred Fergerson come here to see Josie. [Ila?] & Cordie come to see Mrs Booker. She was not at the house and they come down here. Julia Fergerson come to her fathers today. Effie B come to spend the night.
Last edit about 6 years ago by
mkstewart
1923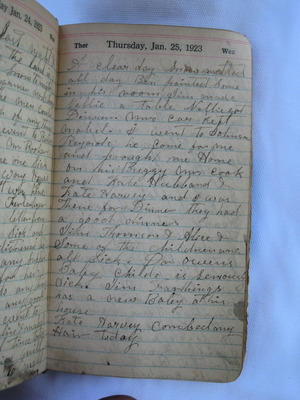 Last edit almost 8 years ago by
Nathani