Search for "Walter Owen" "Walter Owen"
1921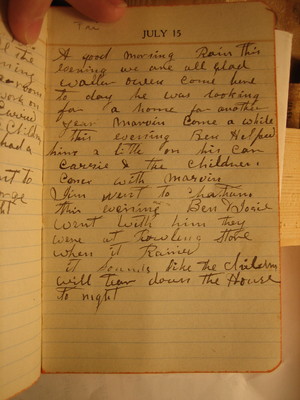 A good morning. Rain this evening. We are all glad.
Walter Owen come here to day. He was looking for a home for another year. Marvin come a while this evening. Ben helped him a little on his car. Carrie & the children come with Marvin.
Jim went to Chatham this evening. Ben & Josie went with him. They were at Rowling store when it rained.
It sounds like the children will tear down the house to night.
Last edit over 9 years ago by
Ben Brumfield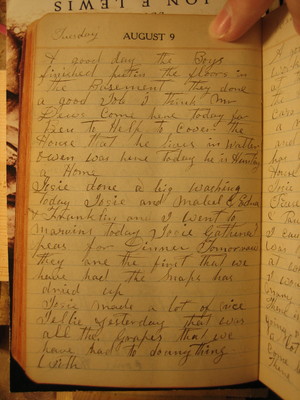 A good day. The boys finished puttin the floors in the basement. They done a good job I think. Mr Dews come here today for Ben to help to cover the house that he lives in. Walter Owen was here today. He is hunting a home.
Josie done a big washing today. Josie and Mabel & Edna & Franklin and I went to Marvins today. Josie gathered peas for dinner tomorrow. They are the first that we have had. The snaps has dried up.
Josie made a lot of nice jellie yesterday. That was all the grapes that we have had to do anything with.
Last edit over 9 years ago by
Ben Brumfield