Search for Hildna*
1921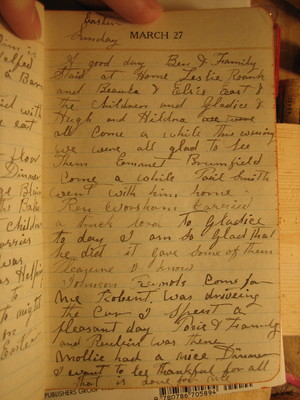 1920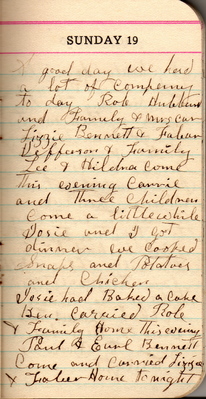 A good day. We had a lot of company to day. Rob Hubbard and family & Mrs. Car[,] Lizzie Bennett & Fabar Jefferson & family. Lee & Hildna come this evening. Carrie and three children come a little while. Josie and I got dinner. We cooked snaps and potatoes and chicken. Josie had baked a cake. Ben carried Rob & family home this evening. Paul & Earl Bennett come and carried Lizzie & Faber home tonight.
Last edit over 9 years ago by
Linda Tucker
1923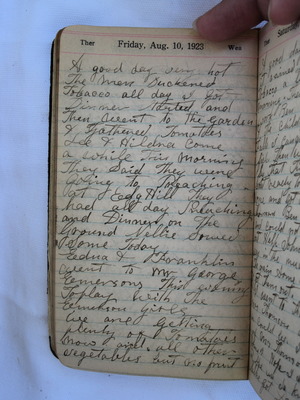 A good day. Very hot. The men suckered tobacco all day. I got dinner started and then went to the garden and gathered tomatoes. Lee and Hildna come a while this morning. They said they were going to preaching at Edge Hill. They had all day preaching and dinner on the ground. Nellie sewed some today. Edna and Franklin went to Mr. George Emersons this evening to play with the Emmerson girls. We are getting plenty of tomatoes now and all other vegetables but no fruit.
Last edit over 6 years ago by
Nathani