Search for Easter*
1918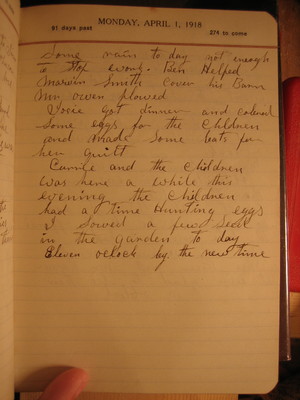 1919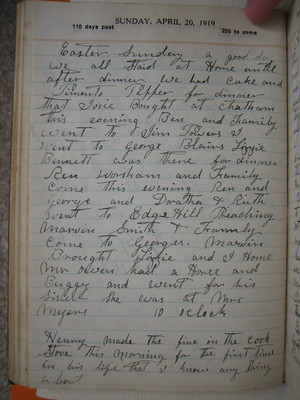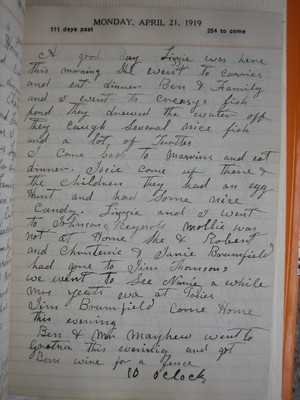 1921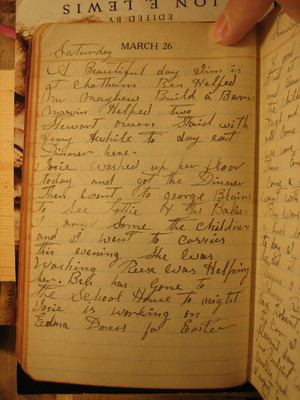 1920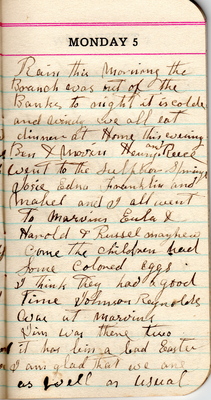 Rain this morning. The branch was out of the banks. To night it is colde and windy. We all eat dinner at home this evening. Ben & Marvin Henry and Reece went to the Sulpher Springs. Josie Edna Franklin and Mabel and I all went to Marvins. Eula & Harold & Russel Mayhew come. The children had some colored eggs. I think they had a good time. Johnson Reynolds was at Marvins. Jim was there two. It has bin a bad Easter. I am glad that we are as well as usual.
Last edit over 10 years ago by
Linda Tucker
1922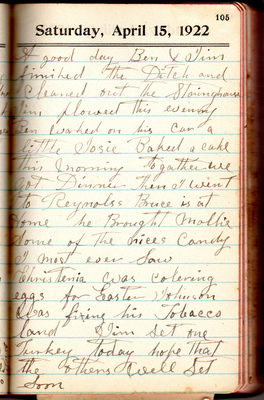 A good day Ben & Jim finished the ditch and cleaned out the springhouse. Jim plowed this evening. Ben worked on his car a little. Josie baked a cake this morning. Together we got dinner then I went to Reynols's. Bruce is at home. He brought Mollie some of the nices candy I most ever saw.
Christenia was colering eggs for Easter. Johnson was fixing his tobacco land. Jim set one turkey today. Hope that the others will set soon.
Last edit about 6 years ago by
mkstewart
1923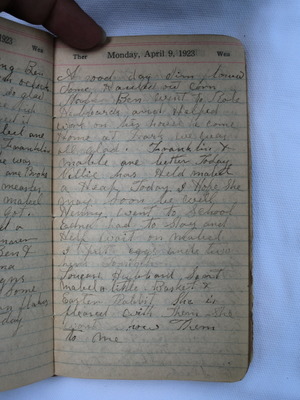 A good day. Jim plowed some. Hauled out corn stalks. Ben went to Rob Hubbards and helped work on his house. He come home at dark. We was all glad. Franklin and Mabel are better today. Nellie has held Mabel a heap today. I hope she may soon be well. Henry went to school. Edna had to stay and help wait on Mabel. I put eggs under two hens tonight. [Louease?] Hubbard sent Mabel a little basket and Easter rabbit. She is please with them. She wont show them to me.
Last edit about 7 years ago by
Nathani