Search for "dr books" books*
1921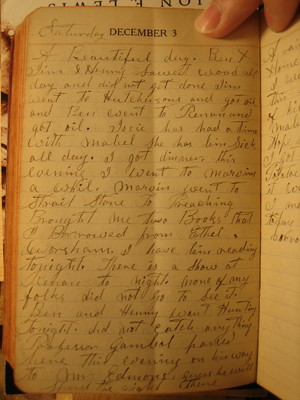 A beautiful day. Ben & Jim & Henry sawed wood all day and did not get done. Jim went to Hutchersons and got oil and Ben went to Renan and got oil. Josie has had a time with Mabel. She has bin sick all day. I got dinner. This evening I went to Marvins a whil. Marvin went to Strait Stone to preaching. Brought me two books that I borrowed from Ethel Worsham. I have bin reading tonight. There is a show at Renan to night. None of my folks did not go to see it. Ben and Henry went hunting tonight. Did not catch any thing. Professor Gambol passed here this evening on his way to Mr Edmons. Guess he will spend the night there.
Last edit almost 11 years ago by
Linda Tucker
1922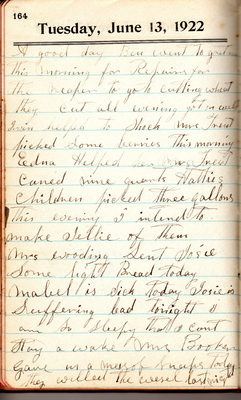 A good day. Ben went to Gretna this morning for repairs for the reaper to go to cutting wheat. They cut all evening. Got in walk. Irvin helped to shock. Mrs. [Freid] picked some berries. This morning Edna helped her. [Mrs. Freid] caned nine quarts. Hattie's children picked three gallons.
This evening I intend to make jellie of them. Mrs Wooding sent Josie some light bread today. Mabel is sick today. Josie is suffering bad tonight. I am so sleepy that I can't stay awake. Mrs. Booker gave us a mess of [books] today. They willed the [easel lastnig]
Last edit over 6 years ago by
Ben Brumfield
1923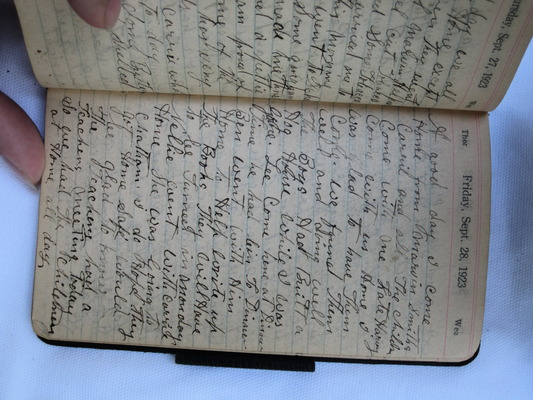 A good day. I come home from Marvin Smiths. Carrie and all the children come with me. Kate Harvey come with us home. I was glad to have them come. We found them well and doing well. The boys had built a hog house while I was gone. Lee come here at dinner time. He had bin to dinner. Ben went with him home to help write up the books. They will have to be turned in Monday. Nellie went with Carrie home. She was going to Chatham. I do hope they got home safe. Would be glad to know. The teachers had a teachers meeting today so we had the children at home all day.
Last edit over 6 years ago by
Nathani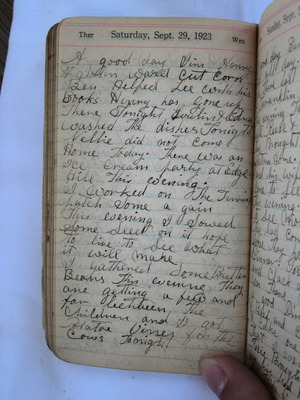 A good day. Jim and Henry and John Ward cut corn. Ben helped Lee with his books. Henry has gone up there tonight. Evelin and Edna washed the dishes tonight. Nellie did not come home today. There was an ice cream party at Edge Hill this evening. I worked on the turnip patch some a gain this evening. I sowed some seed on it. Hope to live to see what it will make. I gathered some butter beans this evening. They are getting a few and far between. The children and I got potatoe vines for the cows tonight.
Last edit over 6 years ago by
Ben Brumfield