Search for paint* painted*
1919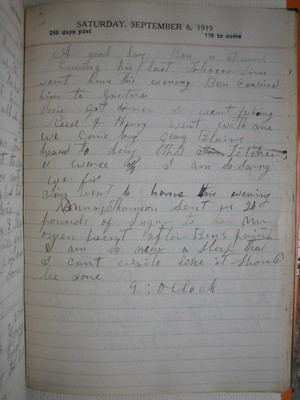 A good day. Ben is at work curing his last tobacco. Jim went home this evening. Ben carried him to Gretna.
Josie got dinner. I went fishing. Reese & Henry went with me. We come by Georg Blairs. Heard to day that Letcher is worse off. I am so sorry.
We fi[sh?]
Jim went home this evening.
[?] Thomson sent us 20 pounds of sugar to day. Mr Owen went after Bens paint.
I am so near a sleep that I cant write like it should be done.
9: oclock
Last edit over 6 years ago by
dy957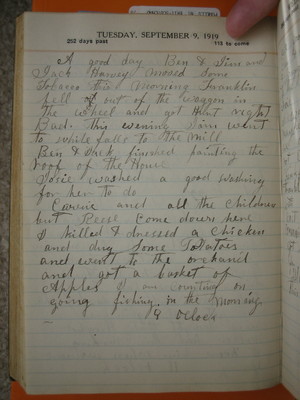 Last edit over 6 years ago by
dy957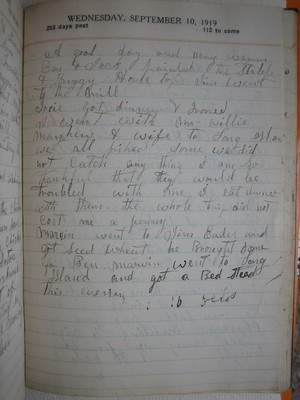 Last edit over 6 years ago by
dy957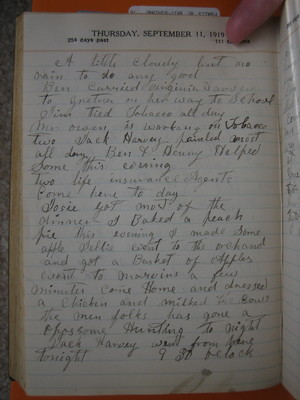 1923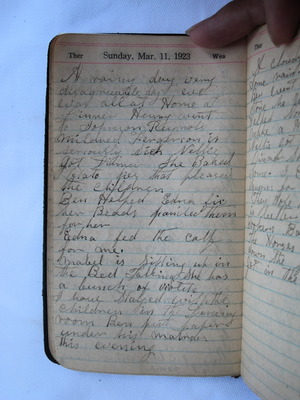 A rainy day very disagreable day. We was all at home at dinner. Henry went to Johnson Reynolds. Mildred Ferguson is seriously sick. Nellie got dinner. She baked potato pies that pleased the children. Ben helped Edna fix her beads. Painted them for her. Edna fed the calf for me. Mable is sitting up in the bed talking. She has a bunch of violets. I have stayed with the children in the dining room. Ben put papers under his mattress this evening.
Last edit over 7 years ago by
Nathani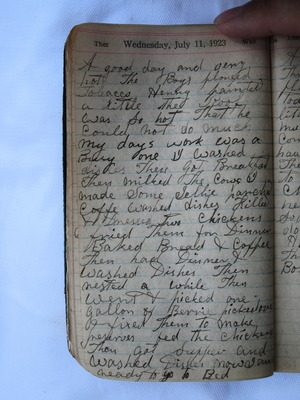 A good day and very hot. The boys plowed tobacco. Henry painted a little. The roof was so hot that he could not do much. My days work was a busy one. I washed dishes. Then got breakfast. Then milked the cows. I made some jellie. Parched coffee. Washed dished. Killed and dressed two chickens. Fried them for dinner. Baked bread and coffee. Then had dinner and washed dishes. Then rested a while. Then went and picked one gallon of berrie. Picked over and fixed them to make preserves. Fed the chickens. Then got supper and washed dishes. Now I am ready to go to bed.
Last edit almost 7 years ago by
Nathani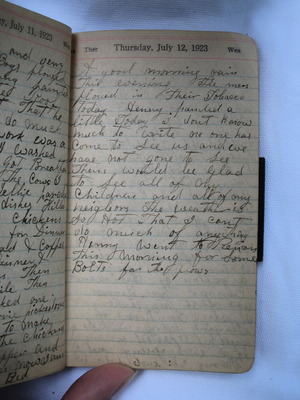 A good morning rain. This evening the men plowed in their tobacco. Today Henry painted a little. Today I don't know much to write. No one has come to see us and we have not gone to see them. Would be glad to see all of my children and all of my neighbors. The weather is so hot that I can't do much of anything. Henry went to Renan this morning for some bolts for the plows.
Last edit almost 7 years ago by
Nathani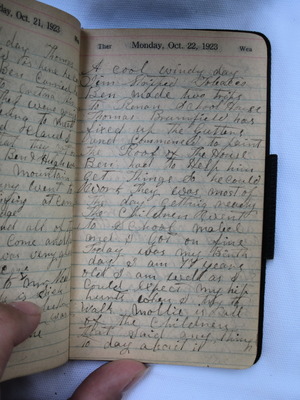 A cool windy day. Jim stripped tobacco. Ben made two trips to Renan school house. Thomas Brumfield has fixed up the gutters and commenced to paint the roof of the house. Ben had to help him get things so he could work. They was most of the day getting ready. The children went to school. Mabel and I got on fine. Today was my birth day. I am 77 years old. I am well as I could expect. My hip hurts when I try to walk. Mollie is all of the children that said any thing to day about it.
Last edit over 6 years ago by
Nathani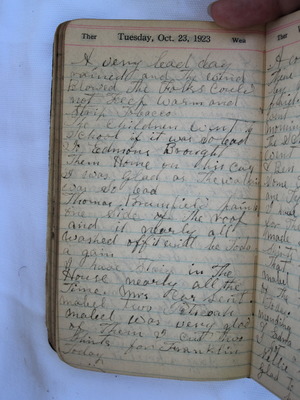 A very bad day. Rained and the wind blowed. The folks could not keep warm and strip tobacco. The children went to school. If [sic, she may have meant "but"] it was so bad Jo Edmons brought them home on his car. I was glad as the walking was so bad. Thomas Brumfield painted one side fo the roof and it nearly all washed off. It will be [tode?] a gain. I have staid in the house nearly all the time. Mrs. Car sent Mabel two peticoats. Mabel was very glad of them. I cut two shirts for Franklin today.
Last edit over 6 years ago by
Nathani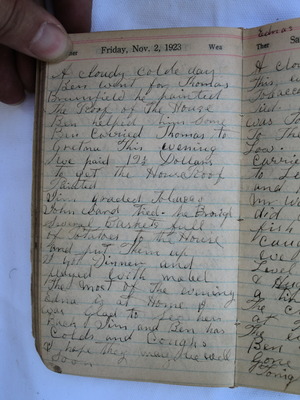 A cloudy colde day. Ben went for Thomas Brumfield. He painted the roof of the house. Ben helped him some. Ben carried Thomas to Gretna this evening. We paid 12 1/2 dollars to get the house roof painted. Jim graded tobacco. John Ward tied. He brough [sic] several gaskets full of potatoes to the house and put them up. I got dinner and played with Mabel the most of the evening. Edna is at home. I was glad to see her back. Jim and Ben has colds and coughs. I hope they may be well soon.
Last edit over 6 years ago by
Nathani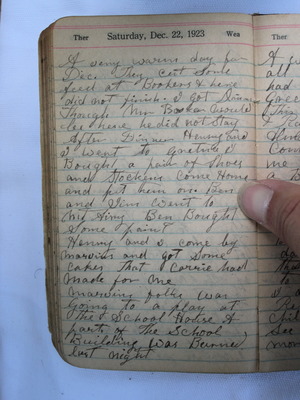 A very warm day for Dec. They cut some feed at Booker's and here. Did not finish. I got dinner. Though[t?] Mr. Booker would be here. He did not stay. After dinner Henry and I went to Gretna. I bought a pair of shoes and stockens. Come home and put them on. Ben and Jim went to Mt. Airy. Ben bought some paint. Henry and I come by by Marvin's and got some cakes that Carrie had made for me. Marvin's folks was going to a play at the school house. A part of the school building was burned last night.
Last edit about 6 years ago by
Nathani