Search for hotel*
1919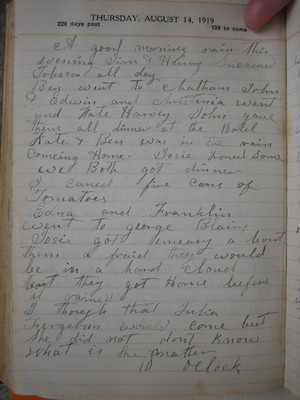 1920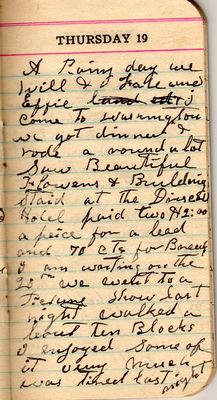 A rainy day. We Will & Kate and Effie [and] I come to Washington. We got dinner & rode a round a lot. Saw beautiful flowers & building. Staid at the Driscoll Hotel. Paid two $2:00 a peice for a bed and 70 cts for break[fast]. I am wasting on the 20.00. We went to a picture show last night. Walked a bout ten blocks. I enjoyed some of it very much. Was tired last night.
Last edit over 9 years ago by
Linda Tucker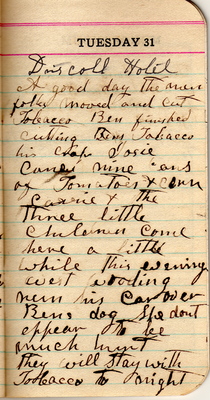 Driscoll Hotel [written in a different ink from the rest of the entry] A good day. The men folks moved and cut tobacco. Ben finished cutting Bens tobacco his crop. Josie caned nine cans of tomatoes & corn. Carrie & the three little children come here a little while this evening. West Wooding run his car over Bens dog. She dont eppear to be much hurt. They will stay with tobacco to night.
Last edit over 9 years ago by
Linda Tucker