Search for swarmed*
1920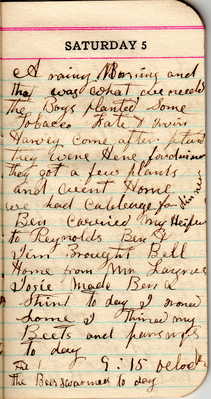 A rainy morning and that was what we needed. The boys planted some tobacco. Kate & Irvin Harvey come after plants. They were here for dinner. They got a few plants and went home. We had cabbage for dinner. Ben carried my heifer to Reynolds. Ben & Jim brought Bell home from Mr Laynes. Josie made Ben a shirt to day. I ironed some. I thined my beets and parsnips to day. 9:15 oclock The bees swarmed to day.
Last edit about 10 years ago by
Linda Tucker
1922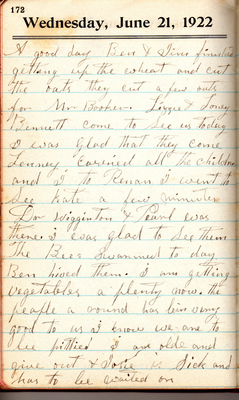 A good day. Ben & Jim finished getting the wheat and cut the oats. They cut a few oats for Mr. Booker. Lizzie & [Loney?] Bennett come to see us today. I was glad that they come. Lenney carried all the children and I to [Renan?]. I went to see Kate a few minutes. Dr. Wigginton & Pearl was there. I was glad to see them. The bees swarmed today. Ben hived them. I am getting vegetables a plenty now. The people around has bin very good to us. I know we are to be pittied. I am olde and give out & Josie is sick and has to be waited on.
Last edit over 6 years ago by
gutterpeach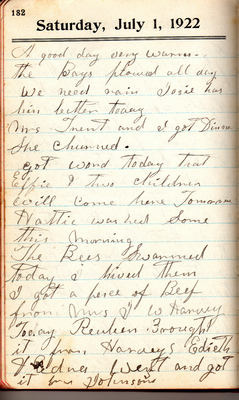 A good day very warm. The boys plowed all day. We need rain. Josie has bin better today. Mrs. Trent and I got dinner. She churned. Got word today that Effie & two children will come here tomorrow. Hattie washed some this morning. The bees swarmed today. I hived them. I got a [?] of beef from Mrs. [?] W. [?] today. Reuben brought it from Harveys. Edieth [?] went and got it from [?]
Last edit over 6 years ago by
gutterpeach2