Search for swarmed*
1919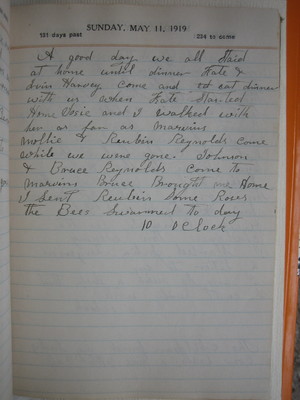 1921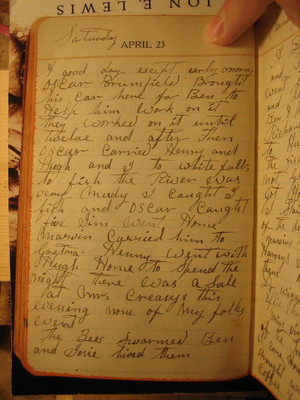 A good day except early morning. Oscar Brumfield brought his car here for Ben to help him work on it. They worked on it until twelve and after then Oscar carried Henry and Hugh and I to White Falls to fish. The river was very mudy. I caught 3 fish and Oscar caught five. Jim went home. Marvin carried him to Gretna. Henry went with Hugh home to spend the night. There was a sale at Mrs Creasys this evening. None of my folks went.
Last edit almost 7 years ago by
dy957
1920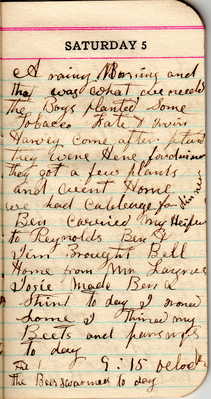 A rainy morning and that was what we needed. The boys planted some tobacco. Kate & Irvin Harvey come after plants. They were here for dinner. They got a few plants and went home. We had cabbage for dinner. Ben carried my heifer to Reynolds. Ben & Jim brought Bell home from Mr Laynes. Josie made Ben a shirt to day. I ironed some. I thined my beets and parsnips to day. 9:15 oclock The bees swarmed to day.
Last edit about 10 years ago by
Linda Tucker
1922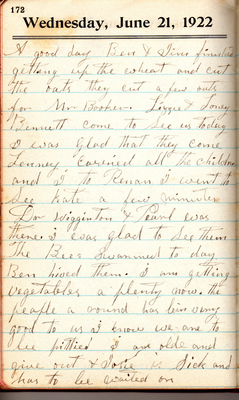 A good day. Ben & Jim finished getting the wheat and cut the oats. They cut a few oats for Mr. Booker. Lizzie & [Loney?] Bennett come to see us today. I was glad that they come. Lenney carried all the children and I to [Renan?]. I went to see Kate a few minutes. Dr. Wigginton & Pearl was there. I was glad to see them. The bees swarmed today. Ben hived them. I am getting vegetables a plenty now. The people around has bin very good to us. I know we are to be pittied. I am olde and give out & Josie is sick and has to be waited on.
Last edit over 6 years ago by
gutterpeach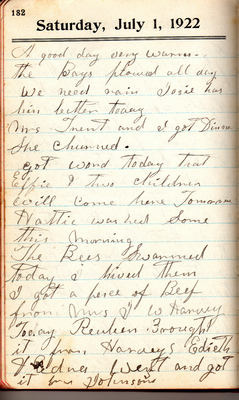 A good day very warm. The boys plowed all day. We need rain. Josie has bin better today. Mrs. Trent and I got dinner. She churned. Got word today that Effie & two children will come here tomorrow. Hattie washed some this morning. The bees swarmed today. I hived them. I got a [?] of beef from Mrs. [?] W. [?] today. Reuben brought it from Harveys. Edieth [?] went and got it from [?]
Last edit over 6 years ago by
gutterpeach2