Search for bulbs*
1918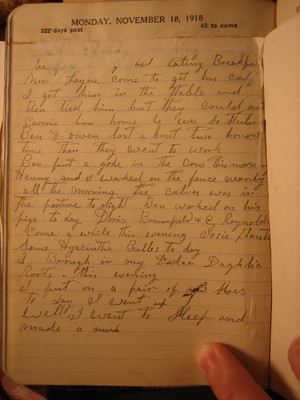 1919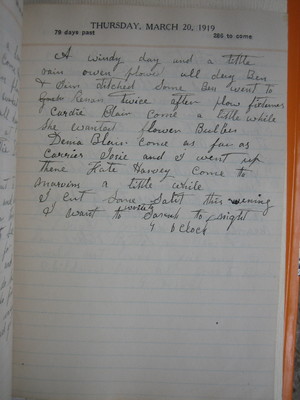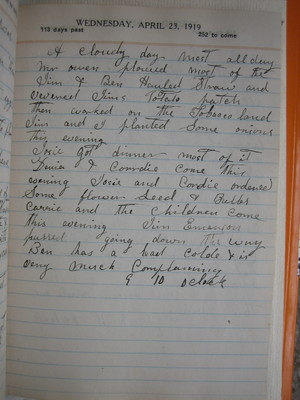 1922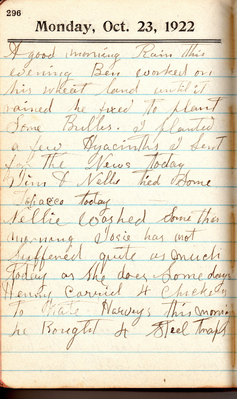 A good morning. Rain this evening. Ben worked on his wheat land until it rained. He fixed to plant some bulbs. I planted a few hyacinths. I sent for the News today. Jim & Nellie tied some tobacco today.
Nellie washed some this morning. Josie has not suffered quite as much today as she does some days. Henry carried 4 chickens to Kate Harveys this morning. He bought 4 steel traps.
Last edit over 6 years ago by
mkstewart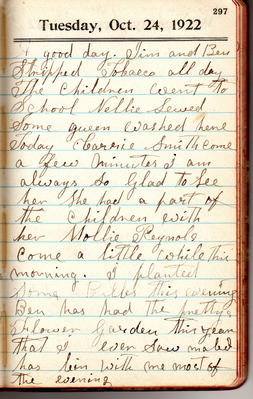 A good day. Jim and Ben stripped tobacco all day. The children went to school. Nellie sewed some. Queen washed here today. Carrie Smith come a few minutes. I am always so glad to see her. She had a part of the children with her. Mollie Reynols come a little while this morning. I planted some bulbs this evening. Ben has had the prettys flower garden this year that I ever saw. Mabel has bin with me most of the evening.
Last edit over 6 years ago by
mkstewart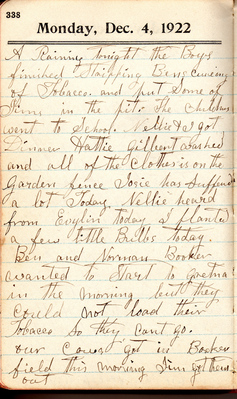 A raining tonight. The boys finished stripping Bens cureing of tobacco and put some of Jims in the pit. The children went to school. Nellie & I got dinner. Hattie Gilbert washed and all of the clothes is on the garden fence. Josie has suffered a lot today. Nellie heard from Evylin today. I planted a few little bulbs today. Ben and Norman Booker wanted to start to Gretna in the morning but they could not load their tobacco so they cant go. Our cows got in Booker field this morning. Jim got them out.
Last edit over 6 years ago by
mkstewart
1923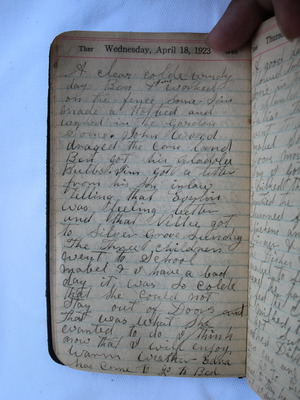 A clear colde windy day. Ben and Jim worked on the fence some. Jim made a hotbed and worked in the garden some. John Ward draged the corn land. Ben got his gladolis bulbs. Jim got a letter from his son inlaw telling that Evylin was feeling better and that Nellie got to Silver Grove Sunday. The three children went to school. Mabel and I have a bad day. It was so colde that she could not stay out of doors and that was what whe wanted to do. I think now that I will enjoy warm weather. Edna has come to go to bed.
Last edit about 7 years ago by
Ben Brumfield