Search for "hauled some stalks" "toated stalk" "hauled stalks"
1918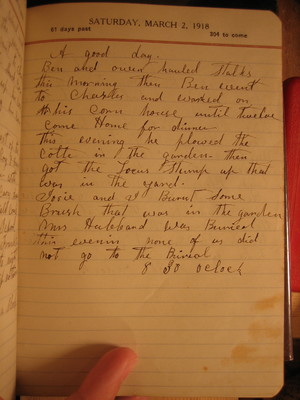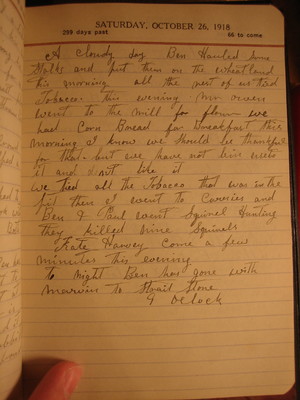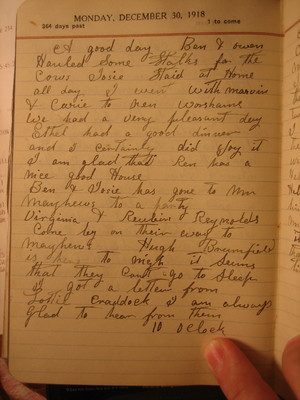 1919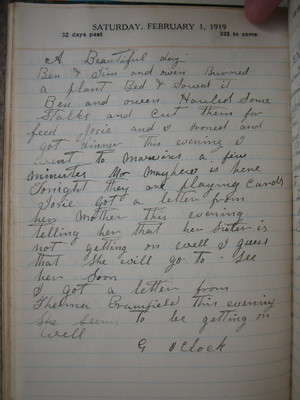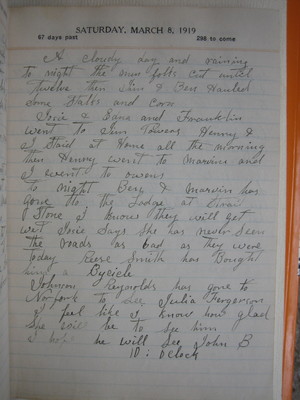 1921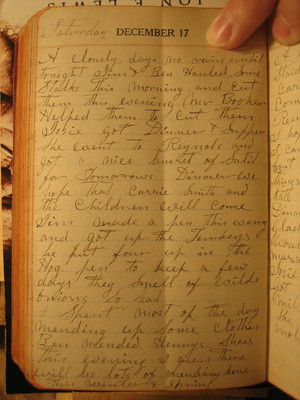 A cloudy day. No rain until tonight. Jim & Ben hauled some stalks this morning and cut them this evening. Mr Booker helped them to cut them. Josie got dinner & supper. She went to Reynols and got a nice bucket of salit for tomorrows dinner. We hope that Carrie Smith and the children will come. Jim made a pen this evening and got up the turkeys. He put four up in the hog pen to keep a few days. They smell of wilde onions so bad. I spent most of the day mending up some clothes. Ben mended Henrys shoes this evening. I guess there will be lots of mending done this winter & spring.
Last edit almost 11 years ago by
Linda Tucker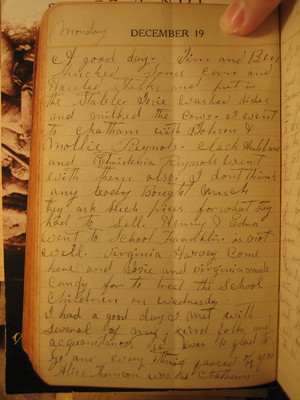 A good day. Jim and Ben shucked some corn and hauled stalks and put in the stable. Josie washed dishes and milked the cows. I went to Chatham with Johson & Mollie Reynols. Clack Hubbard and Christenia Reynols went with them also. I dont think any body bought much. They ask such prices for what they had to sell. Henry & Edna went to school. Franklin is not well. Virginia Harvey come here and Josie and Virginia made candy for to treat the school children on Wednesday. I had a good day. I met with several of my kind folks and acquaintances. I was so glad to go and every thing [?] of good. Alice Thomson was at Chatham.
Last edit almost 11 years ago by
Linda Tucker
1923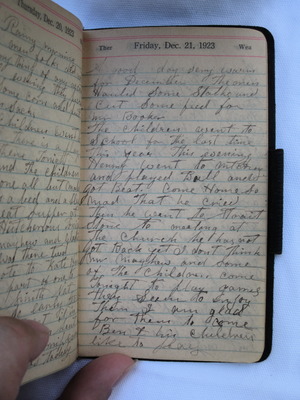 A good day. Very warm for December. The men hauled some stalks and cut some feed for Mr. Booker. The children went to school for the last time this year. This evening Henry went to Mt. Airy and played ball and got beat. Come home so mad that he cried. Then he went to Strait Stone to meeting at the church. He has not got back yet I don't think. Mr. Mayhew and some of the children come tonight to play games. They seam to enjoy them. I am glad for them to come. Ben and his children like to play.
Last edit about 6 years ago by
Nathani